Taking Aim at Racism
PME anti-racism task force prepares findings, recommendations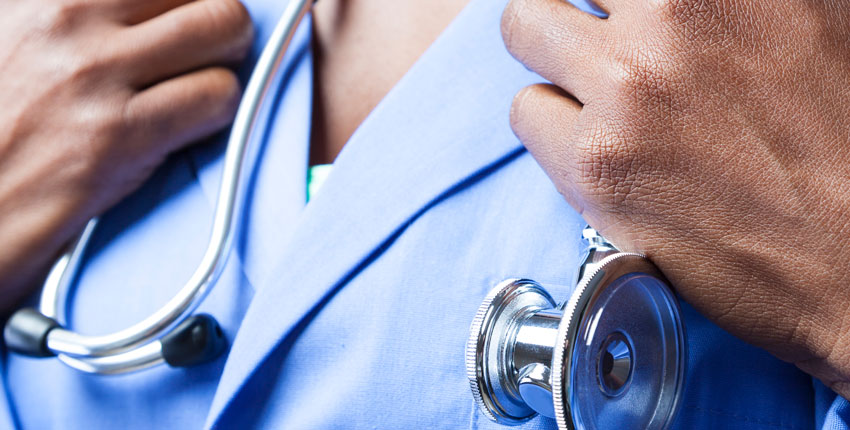 In the fall of 1850, Harvard Medical School admitted its first three Black students, Daniel Laing, Isaac Snowden, and Martin Delaney. By the following spring, however, all three had been expelled. A group of white students protested the black students' presence in the class, and Dean Oliver Wendell Holmes dismissed the trio the following March.
Although some may still disagree, it is increasingly recognized, and supported by data, that race is, and has long been, a factor in medicine and medical education, with resulting racism and health disparities manifesting in the way patients are cared for; in how medical students are treated, taught, and graded; and in how faculty are recruited, trained, or promoted.
In hospitals, for example, a Muslim woman who indicates she would rather not have males present during her baby's delivery may have her request ignored. White patients may be more likely to receive an EKG for chest pains in the emergency room than people of color, while non-whites may be more likely to be physically restrained in the ER. For decades Black people, Hispanic people, and Native Americans have had lower rates of access to health care in the U.S. and higher rates of sickness and death than whites.
"We know that these disparities exist, but the better question is, how do we take it from knowing that disparities exist to doing the things that are going to make sure that all of our patients are safe in the hospital and they receive the level of care that they deserve?" said Alden Landry, assistant dean for diversity and community partnership at HMS and assistant professor of emergency medicine at Beth Israel Deaconess Medical Center.
Part of the answer, Landry said, involves education—for medical school faculty and students.
"We need to empower our students so that when they leave HMS and they are practicing, whether it's neurology in Arizona or psychiatry in Florida or internal medicine here in Boston, they give every patient high quality care that's devoid of bias—the care that patient needs at that time, in that setting," Landry said.
Task Force to Address Racism
HMS, which has been engaged in focused efforts to promote diversity and inclusion on campus, is continuing to take steps to eradicate racism in medicine, address health care inequities, and become a more inclusive, diverse, and anti-racist institution.
Landry is part of the PME Task Force to Address Racism formed in 2020 to investigate racism within the HMS Program in Medical Education (PME) and offer concrete recommendations and possible solutions.
Since last summer, the task force, co-chaired by Associate Dean for Student and Multicultural Affairs Andrea Reid and Dean for Students Fidencio Saldaña and comprised of 150 students, faculty, and staff, has been reviewing and analyzing policies and programs across PME.
They are examining the School's learning environment, as well as the curriculum, faculty and staff development, admissions processes, assessment practices, and student affairs.
Landry is co-leading the task force subcommittee that focuses specifically on curriculum development — an area that the School has already begun to address — with Camila Mateo, HMS instructor in pediatrics at Boston Children's Hospital.
"Dismantling racism is not an extracurricular endeavor, it is a necessary part of our work as health professionals and educators," said Mateo. "Doing this work isn't just important, it's essential. Integral to this process is collaboration across the organization and looking inward with a willingness to challenge the status quo."
The task force is preparing to present its findings and recommendations to the School's Educational Policy and Curriculum Committee this month.
"This has been an incredible grassroots effort by many, many faculty and students, to take a hard, bottom-up look at every aspect of the MD program," said HMS Dean for Medical Education Edward Hundert.
The task force's goal is to take a comprehensive approach to addressing a history of white supremacist culture at the School, he said, and HMS is not alone in this kind of effort. HMS hospital affiliates, where HMS students train, have also launched their own anti-racism initiatives, and medical schools around the U.S. have been asking the same tough questions of their programs.
All involved with the PME task force are trying to determine what change or improvement is needed within their programs, making an effort to propose solutions that will create a more inclusive, welcoming environment at HMS, both on the Quad and at the hospitals.
"When we don't retain as many of our underrepresented students, as many of our Black students, in our own residencies, as we do our white students, we have a problem. We have to hold that up, address it, and work on it," said Hundert.
The task force work is divided among five sub-committees. John Dalrymple, associate dean for medical education quality improvement and the Ellen and Melvin Gordon Associate Professor of Medical Education at Beth Israel Deaconess, is faculty lead on the assessment subcommittee.
"We wanted to ensure that we were going to be transparent about how we were going about this, and transparent with what we would find out. We also wanted to make sure that we allowed people to speak freely and share their experiences and concerns. And this was mostly coming from the students' perspectives of how they've experienced the learning environments and assessment and evaluation," he said.
The assessment subcommittee is examining how well faculty are prepared and trained in their roles as assessors and graders, and whether there are opportunities to ensure that unconscious bias, microaggressions, and discrimination that may occur during assessments are recognized and addressed.
After months of investigation and discussion, Dalrymple said, there is a clear need for further internal analysis and examination of how students who are underrepresented in medicine (URiM) are being assessed compared with non-URiM students.
"It is imperative that grading and assessments are equitable, meaning that the same rubrics and standards are used across the board for all students. Students from one cohort, affinity group, or background should not be held to a different standard, be that higher or lower," Dalrymple said.
Student views
For HMS students serving on the task force, exploring these issues is key to enacting substantive change at HMS and throughout the larger medical profession. They said it's been critical that task force members reflect a wide range of diverse opinions and experiences.
"You have members from the Harvard medical community at every stage of training, in every type of position," said Derek Soled, a fifth-year MD-MBA student who is a member of the student affairs subcommittee.
"You have a combination of students: pre-Principal Clinical Experience (PCE) students, PCE students, post-PCE students, fifth-year students; you have attendings at all the different hospitals sites. Some of the attendings are involved in direct student teaching. Others are actually not involved with undergraduate medical education," he said. "They're involved with resident teaching, or they're employed by teaching hospitals."
As a result, Soled said, not only is there a diversity of voices, but it has been clear from the start what the goals would be and that feedback would be solicited in an organized fashion.
Several students serving on the task force say that some of the inequities they've witnessed or experienced while in medical school are not limited to race but have also extended to gender and disability as well.
Task force members shared examples of these kinds of microaggressions, such as when an attending might fail to use a student's appropriate gender pronoun or when a teaching physician tells students that females aren't well suited to surgery because of the stress levels associated with that particular specialty. They've talked about the inequities that may occur when students are graded or assessed differently on the wards depending on race, gender, or disability.
"As a student among faculty and leadership, it could be very easy to feel intimidated or not speak up, but in this case we felt empowered to voice our experiences," said fourth-year student Bina Kassamali, who served on the faculty development subcommittee.
"I might bring up problems that I see, where patients face mistreatment because of a microaggression, and a faculty member may see a completely different problem based on their level of training or the stage of their career," Kassamali said. "It brings to light that there are a lot of things that need to be worked on. But it also brings me hope that this discussion is happening, because the only way to come up with solutions is to really expose the problems," Kassamali said.
Although there's more work to be done, Kassamali added that she's optimistic the subcommittee's close look at faculty development will have a long-range impact.
"Ultimately we are shaped by the people who train us," Kassamali said. "It helps me feel confident that, going forward, I'm going to be trained by faculty who are thoughtful about these problems. And once I leave, we will continue to have faculty who center equity and justice in thinking about medical practice, and we'll move toward a much more inclusive and diverse environment."
Amanda Jowell, a second-year student who is in the midst of her clinical rotations, said she brought her hospital experiences to the table on the student affairs subcommittee, where some of the discussions have centered around anti-racism training for students and hospital faculty.
"We, as students, learn how to be doctors in these hospitals. So, if we are not learning in an environment that is actively anti-racist, we are very much at risk for not learning how to bring that lens into our practice, and therefore we'll do a significant disservice to our future patients and the communities we hope to serve," she said.
First-year student Inam Sakinah, who serves on the admission subcommittee, just went through the HMS admissions process last year. She said wide-ranging discussions included reflections on whether it might make sense in the future to conduct initial admissions interviews remotely, as has been done during the pandemic, to make the HMS process even more accessible to candidates from financially disadvantaged backgrounds who may have difficulty covering travel and lodging costs in Boston.
The group also explored expanding the leadership criteria that is used to evaluate candidates to include broader experiences, such as taking into consideration an applicant's successful efforts to pay for their own schooling, support their families, or participate in activities aimed at addressing structural inequities.
"We are trying to leave no stone unturned. Every aspect of the admissions process is up for discussion—from the application review to the interview day to the deliberations after interview day to the revisit. Every single component of the process has been discussed in sequence, and the floor has been open for critique and for questions and for all of us to think imaginatively and critically about how we can do this better," Sakinah said.
"The urgent next step is for HMS to turn these discussions into bold, persistent action to recruit and train a diverse generation of future doctors to confront and address racism and inequity in medicine and beyond," she added.
The road ahead
Each of the subcommittees has come away with a greater understanding of the breadth and complexity of the issues and a recognition that much more work is needed to achieve constructive change.
Diversifying faculty representation on admission subcommittees in the future, for example, may require additional support, incentives, and coordination with hospital affiliates, according to Robert Mayer, faculty associate dean for admissions and the HMS Stephen B. Kay Family Professor of Medicine at Brigham and Women's Hospital/Dana-Farber Cancer Institute.
Improvements to faculty development protocols will need to be scaled out to the School's 12,000 faculty, with a focus on its core group of about 3,000 who interact the most with HMS medical students but who also face competing demands of educating students while caring for patients, conducting research, and teaching residents and fellows, said Barbara Cockrill, director of faculty development in PME and one of the faculty development subcommittee co-chairs. Still, she has been encouraged by the level of dedication and engagement that has gone into the task force investigations and discussions.
"I actually think this is the 'easy' work. The hard work is implementing it," said Cockrill, the Harold Amos Academy Associate Professor at HMS and Brigham and Women's. "Also, how do we monitor and how do we measure whether or not what we're doing makes a difference? That's the hard part. But I'm hopeful. I feel like there are a lot of devoted people who really feel strongly about making this work and about making HMS a better place."
Mateo agreed that much more work is still ahead.
"While an important one, this is only the first step," she said. "With this effort we have collected the local experiential and academic knowledge needed to identify what work must be done to achieve equity in our learning community. We must now move from identification to intervention. It will be important that these recommendations not only be accepted but be appropriately funded, implemented, and evaluated in order to see meaningful change in the right direction."
"This is not a process that's going to happen overnight. But I think the end result will be something the entire Harvard community will be proud of," Landry said.
"Ultimately we are shaped by the people who train us. It helps me feel confident that, going forward, I'm going to be trained by faculty who are thoughtful about these problems."
HMS Student Bina Kassamali