State of HMS Is Strong, Daley Says
Dean praises School's people and its restlessness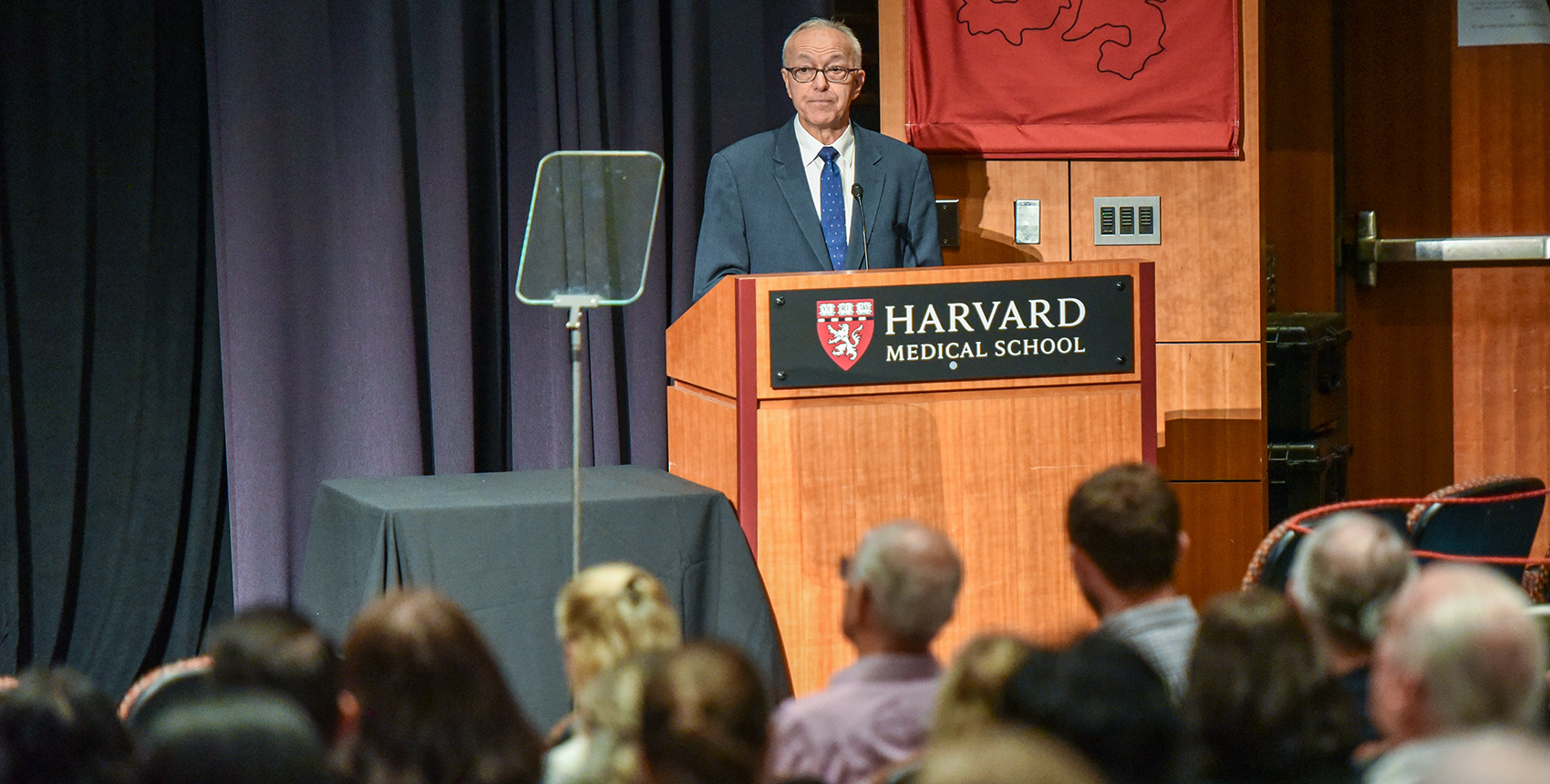 HMS Dean George Q. Daley speaks to community members in the Martin Amphitheater and online during the State of the School address on Sept. 13. Image: Steve Lipofsky
Having experienced early in life her sister's death by suicide and having witnessed violent crime in her neighborhood, Caroline Palavicino-Maggio decided to pursue the science of neurochemistry and the roots of aggression as a way of understanding what had happened.
When she came to Harvard Medical School as a research fellow in the Department of Neurobiology, she was embraced by a community of mentors. Now she is an HMS assistant professor of psychiatry who runs the Neurobiological Mechanisms of Aggression Laboratory at McLean Hospital.
"Caroline's story represents everything we hope the HMS experience can be," HMS Dean George Q. Daley said in his annual State of the School address on Sept. 13.
"It shows us that no matter who you are or where you come from, when you strive to make a difference through your research, your teaching, your clinical service, or your crucial administrative support for our mission, you become the embodiment of Harvard Medical School."
Daley told a crowd assembled in the Joseph B. Martin Amphitheater and those joining online that HMS remains a beacon of leadership in biomedical discovery, education, and innovation thanks to the community's hard work and passionate commitment to the improvement of health and well-being for all.
"In reflecting today on the state of Harvard Medical School, I want to say that we have the great fortune of celebrating a strong, resilient, and restless institution," he said.
"Yes, I say restless, because this institution is never satisfied with the status quo. Our students, our faculty, staff, postdocs, trainees, alumni, and the many supporters of our mission are constantly striving to learn and grow and contribute — to make a difference."
Financial stability in challenging times
Reporting on the financial health of HMS, Daley noted that the school finished FY 2023 with a balanced budget for the second year in a row, after years of deficit spending stretching back to 2009.
While acknowledging significant financial challenges — including inflation and higher interest rates on capital investments — Daley said that the School is investing in its people, pursuing financially prudent practices, and focusing on long-term, sustainable efforts.
He also celebrated that FY 2023 was the School's most successful fundraising year in history, with more than $321 million raised.
Tools to accelerate scientific discovery and create medicines of the future
Daley outlined several ways that the school supports faculty research, including ongoing investments in HMS core facilities, which he said "raise the productivity of every scientist in our community."
The School is prioritizing programs that distribute resources across the community, through mechanisms such as the Bertarelli Rare Cancers Fund and the Ludwig Center at Harvard, he said.
Daley also highlighted internal funding opportunities for new research and technology development through the Blavatnik Therapeutics Challenge Awards and Dean's Innovation Awards.
Nearly half of HMS Quad-based faculty have received funding through Q-FASTR, the Quadrangle Fund for Advancing and Seeding Translational Research. Building on roughly $11.5 million in Q-FASTR grants, faculty have generated more than $160 million in follow-on funding, Daley reported.
HMS researchers receive additional support through the School's therapeutics infrastructure, research computing group, and Center for Computational Biomedicine, Daley said.
He noted that seven companies — four of them founded by Quad faculty — are now up and running in the Blavatnik Harvard Life Lab Longwood, an incubator laboratory space that had its grand opening last fall.
"Our objective is to equip exceptional laboratory investigators with the tools and resources to conduct basic science and collaborate on translational science in parallel, increasing the potential that the impact of their discoveries can be expanded as a medicine," Daley said.
Integrating AI into medicine and research, with a human touch
One of the great challenges for physicians is how to integrate artificial intelligence and machine learning tools into their practice. Daley said that HMS will be making comprehensive and thoughtful adjustments to medical, graduate, and external education so students are equipped to use AI models wisely and ethically.
"Let us think fearlessly and act boldly in the face of new ideas and new challenges, so that we can lead in this new era of transformative change," he said.
The goal of using AI will not be to replace scientists, health care workers, staff, or educators, Daley said, but to harmonize the new technology with the critical reasoning skills and compassionate care that only humans can deliver.
Daley also noted that the School is making enhancements to master's and PhD education, including a new AI in Medicine PhD program, and improving physical spaces for learning and community-building on campus.
Leadership for health care access, equity, delivery
In the wake of the U.S. Supreme Court decision striking down affirmative action policies in university admissions, Daley said that HMS will comply with the directive and underscored that the School's "commitment to the importance of diversity and equity in health care will never waver."
"We will never cease in our quest to level the playing field and ensure a workforce of scientists and clinicians that reflects the patients they serve," he said.
Daley highlighted that the well-documented connection between a diverse workforce and better health outcomes, particularly among patients of color, is crucial to the School's mission of improving health and well-being for all.
"Until our national cadre of caretakers reflects the full spectrum of humanity, I fear that our society will continue to be unjust — and less healthy," he said.
Daley added that HMS has the responsibility not just to nurture its community of caregivers but to channel their expertise toward inspiring the next generation of change-making care providers.
To follow through on that charge, Daley said, HMS must reinstate the primacy of primary care, position itself at the apex of health care leadership and practice transformation in the U.S., and weave health equity into everything the community does.
Addressing the gathered HMS community, Daley emphasized that the drive for all of the efforts he outlined come from the people of HMS — staff, students, trainees, faculty, alumni, and dedicated supporters — who he said embody the School, define its values, and shape its success.
"Indeed, you are working to transform the U.S. and global health care systems so that well-being and vitality are ascendant for all people — and so that no disease is ever a death sentence," Daley said.