Facts & Figures
HMS Mission
To create and nurture a diverse community of the best people committed to leadership in alleviating human suffering caused by disease
History
Established September 19, 1782
Leadership
Jeffrey S. Flier, MD
Dean of the Harvard University Faculty of Medicine
Departments
Number of hospital-based clinical departments 56
HMS by the Numbers 2014-15
Total faculty 12,426
Tenured and tenure-track faculty on the HMS campus, in nine preclinical departments 175
Voting faculty, campus and affiliates 5,537
Full-time faculty, campus and affiliates 9,673
Nobel Prizes (Medicine or Physiology; Peace) 9 prizes, 15 recipients
Howard Hughes Medical Institute investigators 36
Members, Institute of Medicine (living) 189
Members, National Academy of Sciences 65
Total MD students 726
Total PhD students 803
     MD-PhD students (included in MD and PhD counts)
     Basic Sciences 162
     Social Sciences 16
Total DMD students 145
Total MMSc students 127
Total DMSc students 37
Trainees (residents and postdoctoral fellows) 9,202
 
Students
Entering MD students, 2015:
MD (includes 14 MD–PhD students) 165
Applicants 6,113
Admitted 224 (3.7%)
Matriculated (includes 14 MD-PhD students) 165 [as of 8/3]
Men 83 (50%)
Women 82 (50%)
Underrepresented in medicine (African-American, Native American, Hispanic, Mexican-American) 28 (17%)
Asian 57 (35%)
Entering PhD, DMD and MMSc students, 2014:
PhD 139
DMD 35
MMSc 70
DMSc 3
Additional joint-degree programs:
MD-MBA; MD-MPH; MD-MPP
Medical school alumni 9,813 (MD and MMSc degrees)
MD Financial Aid (Fiscal Year 2015)
Average scholarship $43,880
Annual unit loan $30,400 (entering students); $28,300 (2nd year students); $26,950 (3rd year students); $24,500 (4th year students)
Students receiving financial aid (excluding MD–PhD students) 79%
Students graduating with loans 110
Average loan debt at graduation $111,585
Range of debt (Class of 2014) $8,500–$282,144
Tuition and Fees (2014–2015)
Tuition $54,200
Fees $3,951
Tuition and Fees (2015–2016)
Tuition $55,850
Fees $4,025
Affiliated Hospitals and Research Institutions
Centers, Divisions and Institutes
Library
The Francis A. Countway Library of Medicine comprises the Harvard Medical School library and Boston Medical Library
Special Collections (available through Countway)
History of medicine (802 incunabula)

European books printed 16th–20th centuries

English books published 1475–20th century, American books 18th–20th centuries, Bostoniana

Medical Hebraica and Judaica 14th–20th centuries

Manuscripts and archives, especially of New England origin (20 million items)

Medical library of Oliver Wendell Holmes (900 titles)

Warren Library of early works in surgery (2,000 volumes)

Friedrich Tiedemann collection of anatomy and physiology (4,000 items)

Historical Collection in Radiology

National Archives of Plastic Surgery

Medical prints, photographs and artwork (35,000)

Renowned collection of medical medals (6,000)

Archives of Harvard Medical School, Harvard School of Dental Medicine and Harvard School of Public Health

The Archives for Women in Medicine
Nobel Laureates
Fifteen researchers have shared in nine Nobel prizes for work done while at HMS.
George Minot and William P. Murphy, 1934, Physiology or Medicine
Research on liver treatment of the anemias
Fritz A. Lipmann, 1953, Physiology or Medicine
Identified coenzyme A and discovered basic principles of the way cells generate energy
John F. Enders, Frederick C. Robbins* and Thomas H. Weller, 1954, Physiology or Medicine
Application of tissue-culture methods to the study of viral diseases, such as polio
Baruj Benacerraf, 1980, Physiology or Medicine
Discovered genetically determined structures on the surface of immune system cells that regulate immunological reactions
David Hubel and Torsten Wiesel, 1981, Physiology or Medicine
Research on information processing in the visual system
Herbert Abrams, Eric Chivian and James Muller (with Bernard Lown of the Harvard School of Public Health), 1985, Peace
Cofounders, with Evgueni Chazov, Leonid Ilyin, and Mikhail Kuzin from the Soviet Union, of the International Physicians for the Prevention of Nuclear War
Joseph E. Murray, 1990, Physiology or Medicine
Developed procedures for organ and cell transplantation in humans (with E. Donnall Thomas, Fred Hutchinson Cancer Research Center)
Linda Buck**, 2004, Physiology or Medicine
Discovered odorant receptors and the organization of the olfactory system, explaining the sense of smell (with Richard Axel, Columbia University)
Jack Szostak, 2009, Physiology or Medicine
The discovery of how chromosomes are protected by telomeres and the enzyme telomerase (with Elizabeth Blackburn, University of California, San Francisco, and Carol Greider, Johns Hopkins University)
*Robbins was awarded the Nobel Prize for work done while a member of the Harvard Faculty. When the award was made, he was a member of the faculty of Western Reserve University.
**Buck was awarded the Nobel Prize for work done, in part, while a member of the Harvard faculty. When the award was made, she was a member of the faculty of Fred Hutchinson Cancer Research Center.
Fundraising Highlights
Harvard Medical School depends upon a generous philanthropic community whose members believe deeply in our mission to alleviate human suffering caused by disease. In fiscal year 2014, our circle of supporters—including nearly 4,200 alumni, friends, faculty, staff, foundations, corporations and leadership volunteers—gave nearly $135 million to support work in the School's areas of highest priority: education, discovery, service and leadership. 
In education, these gifts are helping to lift the debt burden for students and to create state-of-the-art spaces for teaching and learning. In the area of discovery, these gifts propel the largest biomedical research engine in the world, supporting research in virtually every field, from gleaning new insights into the basic biology of cancer to probing the role of chronic inflammation in the origin and progression of disease. Our service initiatives are being amplified through gifts bolstering our commitment to transforming health care systems in the U.S. and abroad, such as supporting tuberculosis treatment, improving the delivery of surgical care worldwide, transforming primary care practice and education, addressing evolving ethical questions and shaping policies. And finally, in the area of leadership, discretionary gifts provide the dean with the flexibility to help incubate innovation and pilot change toward improved human health. 
Learn more about the impact of philanthropy through the School's Honor Roll of Donors at http://hms.harvard.edu/honor-roll.
 
FY14 GIFT DESIGNATIONS
Research 60%
Professorships & Faculty Support 24%
Unrestricted 8%
Financial Aid 3%
Other 5%
Financial Report
Harvard Medical School reports another year of remarkable progress, achieved while holding its finances steady in the face of continued pressures on funding for research and education. HMS ended the 2014 fiscal year (FY14) with a $45.0 million deficit, as compared with $44.7 million in 2013. While we are pleased to have halted the growth of the deficit, we are not satisfied with the current fiscal position and have begun developing responsive new programs and strategies to lead the School toward an increasingly sustainable financial model.
In FY14, operating revenues totaled $617 million, an increase of $12.1 million, or 2.0 percent. Revenue from research grants decreased by 1 percent, yet the School benefited from greater distribution of the endowment, generous current-use gifts, new graduate and continuing education course revenue and increased rents from leased properties.
Total operating expenses in FY14 increased by $12.4 million, or 1.9 percent, to $662 million. We limited most costs to an inflationary increase and began to benefit from our efforts to generate operating efficiencies across the School. The nature of new research grants was collaborative and global, which resulted in more subcontracts and purchased services. We also increased our budget to allow for the maintenance of our campus. 
We have much to look forward to as we pursue key initiatives. Among our most promising ventures is the creation of the Office for External Education. We also are planning for a bold new curriculum redesign within our Program in Medical Education. As in the past, our HMS faculty remain in the vanguard of biomedical research. We are grateful for the partnerships that make this progress possible and that enable us to advance our mission to alleviate human suffering caused by disease.
FY 2014 Operating Revenue
Research grants and contracts $265,924,287 (43%)
Endowment distribution for operations $159,556,535 (26%)
Other revenues* $79,301,702 (13%)
Rental income $50,165,361 (8%)
Gifts for current use $41,797,547 (7%)
Tuition (net) $20,391,928 (3%)
Total $617,137,359
*Includes continuing medical education, publications, service income and royalties
 
FY 2014 Operating Expenses
Personnel costs $256,977,563 (39%)
Supplies and other expenses $186,679,133 (28%)
Plant operations and interest $86,080,347 (13%)
Research subcontracts and affiliates $85,280,974 (13%)
Depreciation $47,092,523 (7%)
Total $662,110,540
 
Buildings on Campus
South Quad

Main Quadrangle, opened 1906

Armenise Building, 1906 (named 2000)
Goldenson Building, 1906 (named 1994)

Gordon Hall of Medicine, 1906 (named 2000)
Tosteson Medical Education Center, 1906 (named 1997)

Francis A. Countway Library, 1965 (re-dedicated 2000)

Laboratory for Human Reproduction and Reproductive Biology, 1969

Seeley G. Mudd Building, 1977

Building E Addition, 1987
Warren Alpert Building, 1992 (named 1993)
Jeffrey Modell Immunology Center, 2007
North Quad

Vanderbilt Hall (student residence), 1927

Harvard Institutes of Medicine (named 1996)

New Research Building, 2003

Joseph B. Martin Conference Center (named 2007)
East Campus
160–164 Longwood Avenue (purchased 1959)
641 Huntington Avenue (purchased 1959)
180 Longwood Avenue (purchased 1976)
158 Longwood Avenue (purchased 2002)
Harvard School of Dental Medicine
Main Building, 1909
New Research and Educational Building, 2005
Our
Mission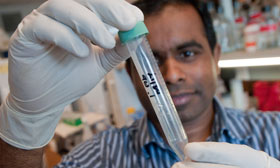 To create and nurture a diverse community of the best people committed to leadership in alleviating human suffering caused by disease