Financial Report
Financial Report
This past year, Harvard Medical School achieved remarkable progress in advancing its academic and scientific mission while continuing the work of improving its financial situation. Promising new investments continued in FY16, including greater educational and research opportunities created through the Office for External Education and the launch of the Department of Biomedical Informatics. HMS continues to invest in recruiting the world's most talented faculty—with new hires in biological chemistry and molecular pharmacology, biomedical informatics and neurobiology and several searches in progress. Members of the inaugural class in the redesigned medical education curriculum, Pathways, completed their first year of coursework to prepare for clerkships in their second year. Also, the School leadership, our hospital partners and the University Provost plan to coinvest in the creation of a cryo-electron microscopy facility on the Quad in order to offer our faculty access to a worldclass imaging resource.
We continue to expand support for information technology through a bold, multiyear investment that will reshape the School's IT foundation, streamline service and create a more sustainable IT environment to support our medical curriculum and biomedical research. Much of this continued investment is possible because of donors' generous gifts and pledges that allow HMS to pursue its strategic priorities. These funds are enabling us to educate future leaders, advance science for the benefit of all and maintain our reputation as the leading academic medical center in the world.
Keeping our strategic priorities in mind, HMS has a number of key initiatives underway to realize cost savings and increase School revenues. We are currently reviewing all administrative and academic units with a careful eye toward preserving all that makes HMS great. We believe we can gain substantial efficiencies in many areas, from facilities management and planning to increasing revenue from new and exciting academic programs. We will continue on our strategic path toward financial health by making adjustments in these areas. HMS is unwavering in the pursuit of its academic and scientific mission and will continue to invest in areas that most benefit faculty and students.
In summary, HMS ended FY16 with a $36.0 million operating deficit, compared to $31.8 million in 2015. In FY16, operating revenues totaled $656 million, an increase of $40 million compared to the previous year. Revenue growth was led by robust research activity resulting in an increase in grants of 9 percent. Total operating expenses in FY16 increased by $44 million, or 7 percent, to $692 million, mainly attributable to the growth in sponsored research activity. As we begin FY17, we are optimistic that the good work of the last several years will continue to improve the School's financial outlook.
FY 2016 Operating Revenue
Research grants and contracts $271,496,784 (41%)
Endowment distribution for operations $176,661,620 (27%)
Other revenues* $76,889,670 (12%)
Gifts for current use $57,234,798 (9%)
Rental income $49,692,942 (7%)
Tuition (net) $24,217,829 (4%)
Total $656,193,643
*Includes continuing medical education, publications, service income and royalties
FY 2016 Operating Expenses
Personnel costs $257,052,862 (37%)
Supplies and other expenses $204,750,884 (30%)
Research subcontracts and affiliates $97,559,528 (14%)
Plant operations and interest $84,145,024 (12%)
Depreciation $48,727,887 (7%)
Total $692,236,185
Our
Mission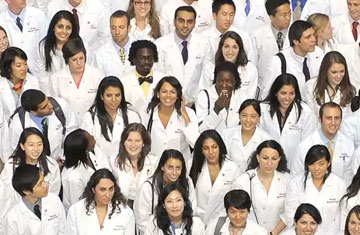 To create and nurture a diverse community of the best people committed to leadership in alleviating human suffering caused by disease.