HMS Affiliates
Nestled in the heart of Boston's Longwood Medical Area, Harvard Medical School's iconic quadrangle serves as an international hub for learning and discovery.
It's a place where dedicated educators mentor aspiring physicians and scientists, a place where world-renowned researchers probe biological processes to generate knowledge and lay the foundation for new therapies.
Students spend their first years of medical school in classrooms on the Quad, which also provides laboratories and offices for more than 170 tenured and tenure-track faculty members in basic and social science departments. In addition, the Quad houses a number of core research facilities and the school administration, including the dean of the faculty of medicine.
But teaching and research extend beyond the Quad. Unlike many medical schools, HMS does not own or operate hospitals, relying instead on agreements with 16 clinical affiliates and research institutes, vital partners that provide patient care and clinical training. These hospitals and institutes employ many physicians and scientists with Harvard Medical School faculty appointments. All told, the Faculty of Medicine includes more than 12,000 individuals working in classrooms, clinics and laboratories across Boston and Cambridge.
To leverage this network of talent, Harvard Medical School advocates collaboration across institutions. A number of newer entities—such as Harvard Catalyst, the Broad Institute, the Harvard Stem Cell Institute, the Center for Primary Care and the Wyss Institute for Biologically Inspired Engineering—embody the synergistic approach to problem solving. The School plays a major role in supporting and guiding them.
Harvard Medical School's centers, divisions and institutes also unite faculty, staff and students in pursuit of common goals. Through these organizations, community members are addressing the nation's primary care crisis, building awareness of the ethical dimensions of medicine, tackling neurologic diseases and more.
Our
Mission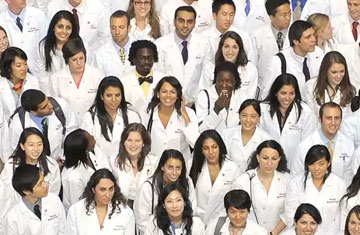 To create and nurture a diverse community of the best people committed to leadership in alleviating human suffering caused by disease.