Harvard Medical School Leaders Reaffirm Commitment to Diversity
'Better Together: Moving Forward' town hall emphasizes environment where all can thrive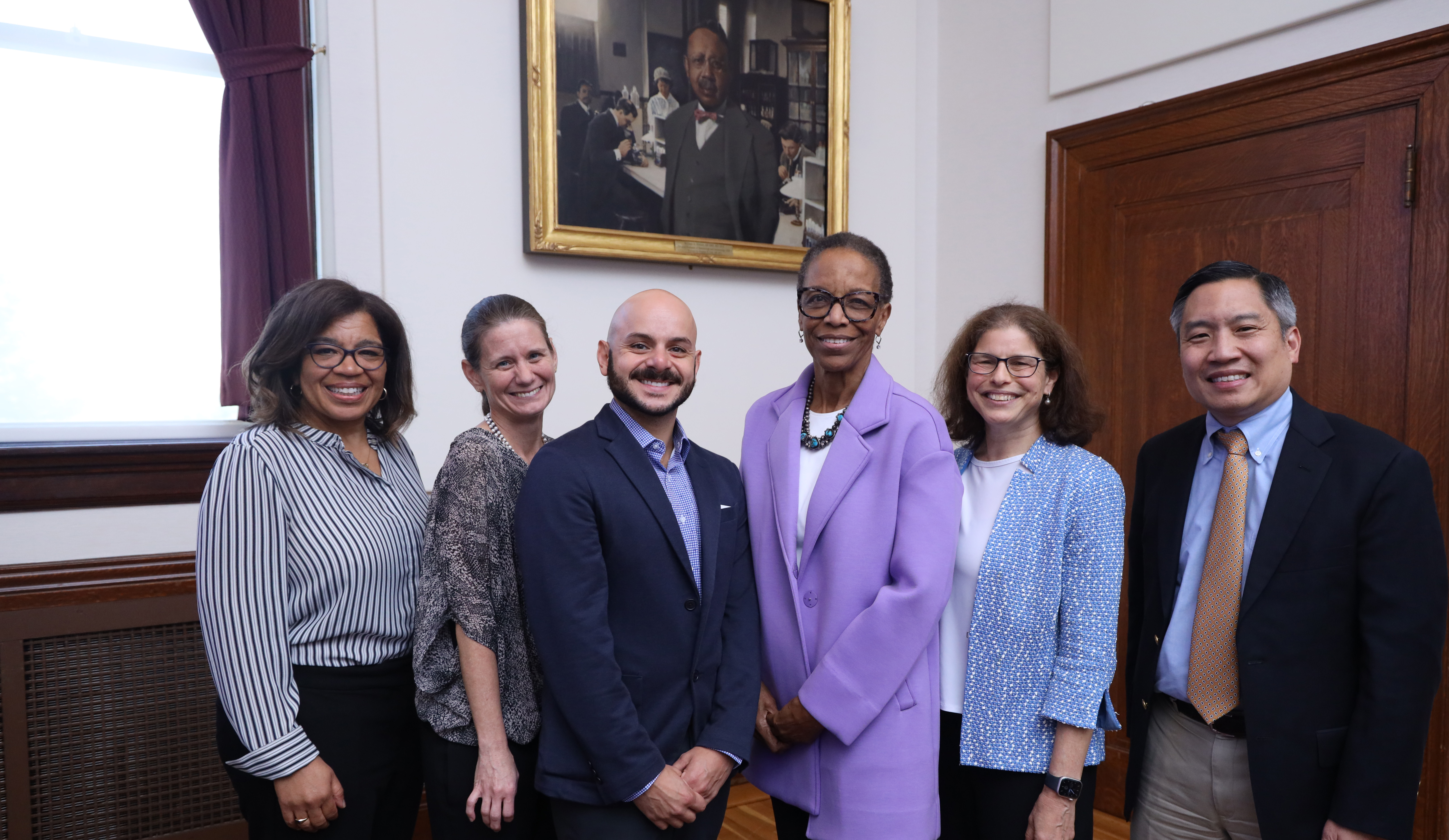 Left to right: Andrea Reid, Kristin Bittinger, Jose Martinez, Joan Reede, Rosalind Segal, and Bernard Chang pose in front of a portrait of pioneering bacteriologist William Augustus Hinton. Image: Jeff Thiebauth

In the wake of the U.S. Supreme Court decision striking down the use of race-conscious college admissions programs, Harvard Medical School leaders met with community members to emphasize that while the School will comply with the court's decision, it remains committed to fostering diverse perspectives and inclusive working and learning environments that create a community where everyone can thrive and that provide the world with the health care and biomedical research needed to improve well-being for all.
HMS Dean George Q. Daley, HMS Dean for Diversity and Community Partnership Joan Reede, , and a panel of leaders from across HMS and Harvard University shared this message at a town hall meeting on Oct. 2.
Faculty, students, postdocs, and staff attended the hybrid event in Gordon Hall on the HMS campus, with some panelists and more than 250 audience members joining online.
In addition to the Supreme Court decision, discussion topics included Harvard's new non-discrimination and anti-bullying policies and the history and future of HMS' efforts to promote diversity, inclusion, and equity on campus, in health care, and in the sciences.
"Harvard Medical School is and always will be firmly committed to its mission, its diversity statement, and its community values," Daley said.
Daley added that the School's Better Together plan, produced by HMS students, faculty, postdocs, and staff, articulates a shared responsibility to champion people of all backgrounds and identities throughout the community, while also grounding the School in what he called "the moral imperative to address issues of health disparities, equity, and social justice in all aspects of our work."
The Supreme Court decision and diversity in admissions
Daley said the School is already revising its admissions policies to comply with the Supreme Court decision. He highlighted that while the ruling means that schools cannot base admissions decisions or participation in recruitment or academic programming on a person's race, ethnicity, or national origin, there are many other ways HMS can maintain its focus on building and supporting a diverse community of students.
Ara Gershengorn and Brad Abruzzi, university attorneys in Harvard's Office of the General Counsel, outlined the key findings of the ruling and what it means for HMS.
They said that the Supreme Court decision did not find that Harvard College had discriminated against any specific group of applicants, but rather that its admissions policies did not comply with the principles of federal equal protection laws.
The ruling doesn't say that colleges and universities must ignore race and ethnicity, Gershengorn said, nor does it deny that race and ethnicity can have an impact on the lives of applicants in ways that are relevant to their admission.
The decision means that schools can continue to consider the effects of race or ethnicity on applicants in the context of their specific, individual experiences, accomplishments, and goals, she said.
"The Supreme Court's opinion described Harvard's diversity-related goals as commendable," Gershengorn said, noting that the court acknowledged that the admissions system was well-intentioned and implemented in good faith.
In practical terms, the panelists said that going forward, people involved in admissions decisions at HMS will not know which race, ethnicity, or national origin applicants list and will not see photographs of applicants. Information about the racial and ethnic identities of the matriculated class will continue to be collected and aggregated to measure recruitment efforts and help inform any needed changes to such efforts for future years.
Gershengorn and Abruzzi also noted that the case was sent back to a lower court for further findings, which could offer more specific guidance on how to proceed with admissions reforms.
Creating opportunities for future doctors and scientists
Much of the work HMS is already doing beyond admissions is in line with the Supreme Court decision, including so-called pathway programs intended to improve access, awareness, and ability to succeed for young people before they get to college or a professional school.
Any student can apply for those programs, Reede noted, and selection is not based on race or ethnicity.
"We're looking at the journey they've had, the experiences they've had, the potential that they have, the kind of opportunities that they have been denied," she said.
Reede said that since the medical school sits in Boston, it offers several programs to students in the Boston Public School system — 78 percent of whom qualified for free or reduced-cost meals due to low family income and nearly 85 percent of whom were members of racial and ethnic minorities in the 2022-23 school year.
"Just by reaching out and serving those in our own community, in our own backyard, the individuals who use our hospitals and walk down our streets, we are reaching a diverse population," Reede said.
Upholding community values
Kristin Bittinger, HMS dean for faculty and research integrity, gave an update on Harvard's new non-discrimination and anti-bullying policies, which were announced by the provost's office in March 2023 and went into effect on Sept. 1.
These policies are in place to provide protection and recourse for any staff member, faculty member, student, or trainee experiencing harassment severe or pervasive enough that it is objectively offensive to a reasonable person, creating a hostile work or educational environment, Bittinger said.
The non-discrimination policies cover community members who are harassed as being part of protected groups.
The anti-bullying policies cover those who are mistreated for reasons unrelated to being part of any protected group.
Gender- and disability-based discrimination, sexual harassment, and retaliation will continue to be handled under existing policies, Bittinger said.
She highlighted the importance of collaborating on the implementation of these policies with the leaders of HMS' affiliated hospitals and research institutes, where many HMS faculty, students, and trainees work and learn.
Community members will have a role in defining the kinds of behaviors considered offensive under the shared community values, Bittinger said.
Education and research for a diverse world
Panelists and audience members highlighted several ways that community members are working to enhance diversity and belonging across HMS and in medical education, clinical practice, and science more broadly.
Bernard Chang, HMS dean for medical education, emphasized that diversity retains its primacy among HMS values.
"Not only is [supporting diversity] the right thing to do for students as fellow human beings, but I think it's the right thing to do to create the best educational environment and to be the best providers of physicians to society," he said.
He pointed out that research shows that students learn better in diverse working groups and that patients have better health outcomes when care providers represent the diversity of the communities they serve.
Rosalind Segal, HMS dean for graduate education, said that by building and supporting a diverse community in its master's and PhD programs, HMS can develop the research and the researchers required to meet the health needs of a diverse world.
Andrea Reid, HMS associate dean for student and multicultural affairs and director of the Office of Recruitment and Multicultural Affairs, said that many students are taking leadership roles, designing new programs and conferences, and creating opportunities for young people from communities underrepresented in science and medicine to pursue education and careers in the health sciences.
Joan Reede said that when she started working at HMS more than three decades ago, support for diversity was off to the side, not woven into the fabric of the institution.
"Diversity, inclusion, and equity are now front and center," she said. "It's so good to be in a place that recognizes that this is essential. Not just to Harvard Medical School. This is essential in medicine. This is essential to the health of our country. I'm very proud to be here."
"I look forward to working with all of you to continue moving us forward," she added. "The battle is not over, the victory is not won, so let's charge ahead."