Supporting the Future
Spotlight on Medical Education celebrates HMS students, philanthropists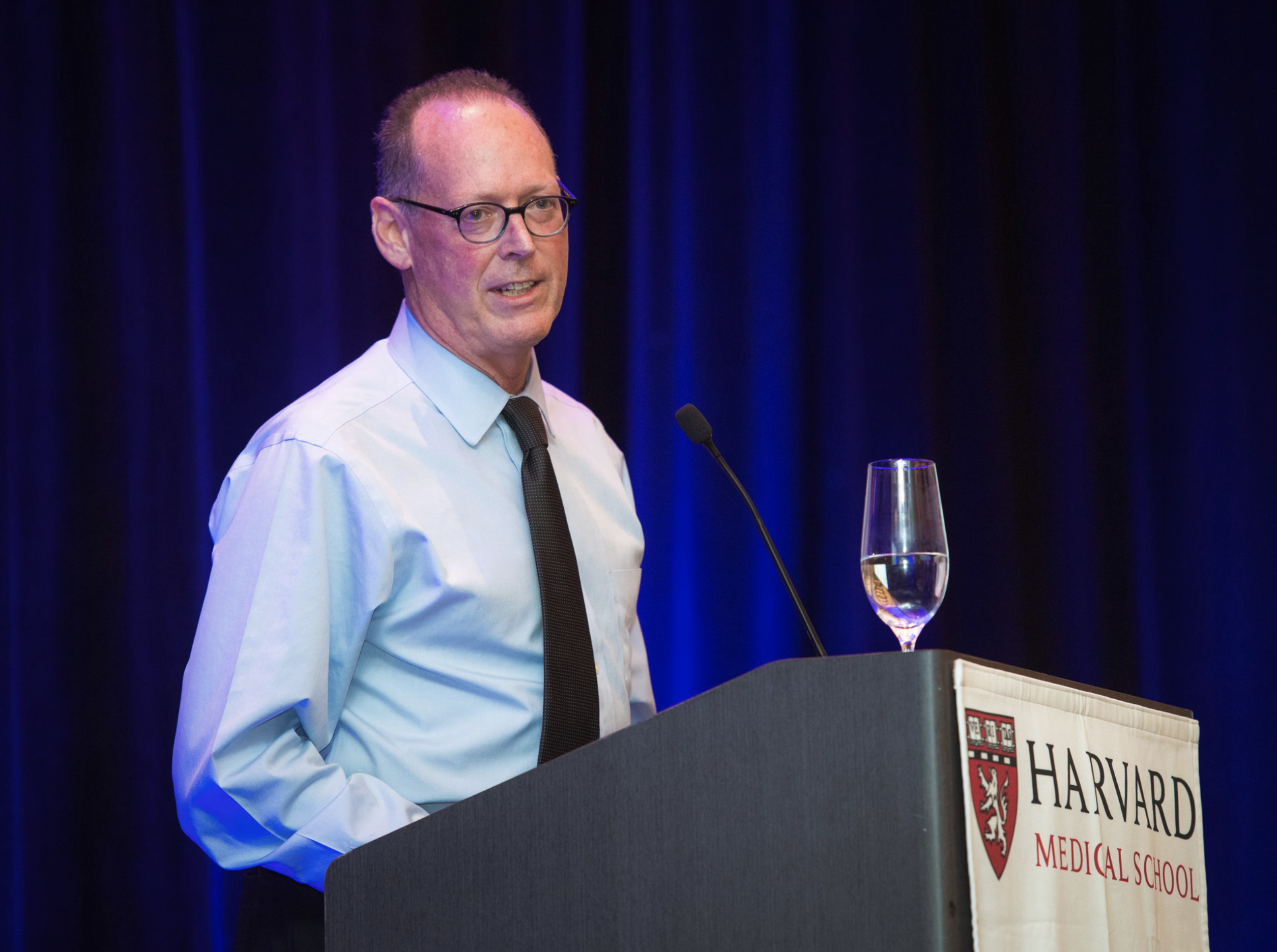 When Paul Farmer applied to Harvard Medical School in 1983, nothing about his future was assured. His father died not too long after he was accepted at HMS, and his mother was working as a cashier at a Winn-Dixie supermarket in Florida to try to support the family of six children.
Farmer said he knew he couldn't expect financial support from his parents to pursue his dream of becoming a medical anthropologist and physician, especially as his mother was also hoping to enroll in college at the time.
"So, it was 'make it or break it' for me when I applied," said Farmer, now the Kolokotrones University Professor and chair of the Department of Global Health and Social Medicine at HMS. "Either I got in and got a scholarship, or possibly my mother wouldn't go to college."
HMS awarded Farmer a scholarship to pursue his MD-PhD degree, and his mother did eventually attend and graduate from Smith College. Farmer's scholarship money was entirely provided through philanthropic support since no federal funding existed for that purpose at the time, he said. Within three years of beginning medical school, Farmer became a research assistant in preventive medicine at HMS.
Now, Farmer is internationally known for his research and activism promoting global health in resource-poor countries. Called "The man who would cure the world," in a book by the Pulitzer Prize winning author Tracy Kidder, Farmer is a co-founder of Partners In Health, an author, a United Nations special advisor, and the recipient of numerous awards for his work creating community-based strategies for providing high quality health care in developing nations.
Financial support from Harvard is what made much of his career possible, he said, and now the School is continuing to educate the next generation of global health providers by fully funding participants in the Master of Medical Sciences in Global Health Delivery program.
"Now we can choose to open doors that would otherwise be closed," Farmer said.
Spotlight on Medical Education
Farmer was the keynote speaker at the third annual Spotlight on Medical Education dinner on Sept. 13. Hosted by the HMS Board of Fellows, the event celebrates the School's students and the people who have invested in teaching, learning and financial aid at HMS.
"Eighty percent of Harvard Medical School students receive need-based financial aid, and a full 20 percent of students come from families earning $50,000 or less," HMS Dean George Q. Daley told the more than 160 people attending the event.
"The scholarships you support account for the economic diversity of our student body. In turn, diversity of every sort in biomedicine will strengthen the clinical practice of medicine, expand the reach of academic training and push the frontiers of discovery."
Daley added that many of the School's international students are ineligible for federal funding and would not be able to attend without the help of private philanthropy.
"Because so many of our training grants are restricted to U.S. residents, we need to raise money for our international students," Daley said, adding that more than a third of Nobel prizes awarded to natural scientists in the U.S. since 2000 have been earned by immigrants.
"Think about the political implications [for science] of closing our borders to these incredibly talented students," he said, drawing applause.
Two students who spoke to the group also underscored their need for support and their gratitude for it.
Parisa Fallah, a third-year Pathways MD student, said she developed an interest in helping the underserved when she witnessed great poverty while a young girl growing up in Seoul, South Korea, where her father was working.
Undergraduate work at the University of Texas, and a mentor there from India, reinforced her wish to combine her interest in surgery with a desire to help the less fortunate.
After entering HMS, Fallah launched the Global Surgery Student Alliance. The group hosted a symposium last year that drew more than 200 from around the U.S. to Boston and was livestreamed to 20,000 people around the world.
Fallah has also been working on creating an online global surgery curriculum and last summer she was able to continue her education and training in Kigali, Rwanda.
None of it would have been possible without financial support, she said.
"Knowing I could attend such an institution was life changing," Fallah said. "Being at HMS has put me in a place that I honestly could never have imagined."
Rachel Wolfson, in her eighth and final year of the Harvard/MIT MD-PhD program, said her desire to help patients in the clinic while studying the biology of their diseases in the lab led her to cancer research at HMS.
Wolfson spent four years working in the lab of David Sabatini at MIT before returning to medical school. She is currently applying to residency in internal medicine and hoping to continue to do basic science research in the future.
"The scientific community here is unparalleled," said Wolfson, who expressed her gratitude for being fully funded during her entire HMS career.
Like the support given to Farmer, assistance for students like Wolfson and Fallah will have "an incredible ripple effect" on the world, said Dean for Medical Education Edward Hundert.
For Farmer, advances in medicine and improvements in human health stem directly from such support.
"The big shifts come not in the eureka moments," Farmer said, "but in the investments in possibility."
Image: Paul Farmer speaking at the 2018 Spotlight on Medical Education dinner. Photo by: Gretchen Ertyl
Related links:
https://hms.harvard.edu/news/perfect-day-medical-education
https://hms.harvard.edu/news-events/multimedia/spotlight-medical-education