Inspiring the Next Generation of Global Surgeons
Student-run symposium draws national, global audience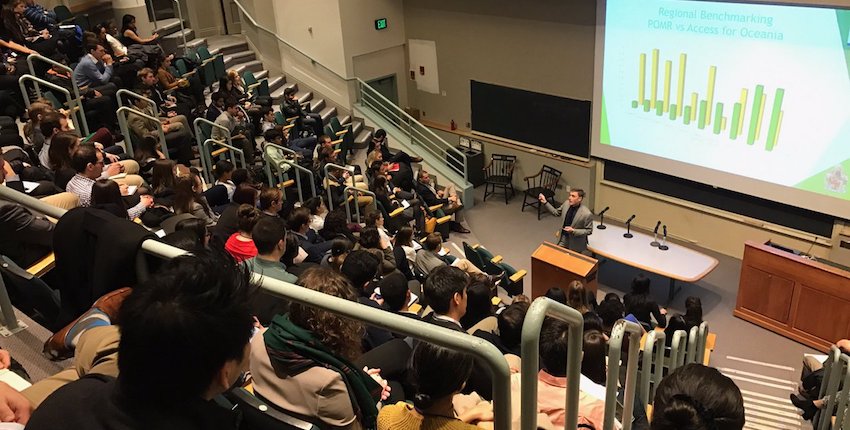 More than 200 students from 12+ schools across the northeast listen as Dr. John Meara shares insights at the Boston Global Surgery Symposium. Image: Ahmed Elnaiem and Stacey Giles.
It was a testament to the power of students and their ability to advocate for change. For many of them, surgery had too long been left out of global health and global health had too long been left out of surgery.
But now, with more students asking for global surgery opportunities at medical schools across the U.S. and around the world, the hope is that surgical programs will expand their framework for academic surgery to include global health.
To that end, on March 4, a wide-ranging group of medical students held the first ever Boston Global Surgery Symposium at Harvard Medical School, hosted by the Global Surgery Student Alliance (GSSA).
Drawing medical students not only from Harvard but also from Boston University, Tufts University, the University of Massachusetts, Dartmouth University, Brown University, Yale University and Penn State College of Medicine, the audience also included undergraduate students and surgical residents from the Boston area as well as two population health researchers from the United Nations.
"What you guys have accomplished in a few months is just spectacular. I've never seen anything like it. So, don't underestimate what you've done and what you could do in the future. You are just a force of nature and you are the future," said keynote speaker John Meara, the Steven C. and Carmella R. Kletjian Professor of Global Surgery and Social Medicine at HMS and co-chair of the Lancet Commission on Global Surgery.
More than 19,000 people from around the world joined in via livestreaming to watch the symposium and have viewed subsequent recordings of the different talks on the GSSA website.
Viewers included students from more than 50 medical schools across the U.S. and from 37 different countries. Many more watched via an HMS livestream on video-sharing and social media sites from as far away as South Africa, Morocco, China, Brazil, England and Belgium.
Meara talked about the Lancet Commission's work and plans for global surgery from the present day through the year 2030, elaborating on the importance of sustainably increasing surgical care worldwide by focusing on infrastructure, workforce, service delivery, finances and information management.
"This symposium made me so much more confident that there will always be a place for me [in global surgery] regardless of what I ultimately want to do." — Monika Pyarali
He strongly encouraged students to get involved. Many said they finally saw a future career that captured what they wanted to do by combining global health and surgery.
Others said they realized they could contribute to global surgery no matter what specialty they went into, how often they traveled abroad, what research they did or which patients they saw.
"Each of the presentations was so informative and inspiring. It was incredible to hear from people of such different specialties working together to bring surgery to underserved areas across the world," said Monika Pyarali, a medical student from Baylor College of Medicine who watched via the livestream.
"This symposium made me so much more confident that there will always be a place for me [in global surgery] regardless of what I ultimately want to do."
After the keynote speech, students attended panel sessions led by 16 global surgery leaders from 13 specialties, ranging from trauma surgery and neurosurgery to obstetrics and gynecology and anesthesia.
One speaker even joined via video conference call from Benin while another flew in from North Carolina to speak to students.
They spoke on topics ranging from education and capacity building to crisis and humanitarian aid; talks on subspecialties in global surgery, global surgery research and global surgery innovation were also featured.
The symposium concluded with a plenary session on how students can pursue careers in global surgery and how they can tie their interest in surgery to their goals of contributing to the world.
Some speakers said the symposium ended up inspiring them, too. They each overcame many obstacles to become global surgeons and said they felt energized to see that the next generation was speaking out and advocating for their field.
"Today, I am overwhelmed not merely by the interest of students in global surgery but by the leadership, innovation, foresight and, I believe, the commitment to improve the lot for destitute sick and injured people in the world today," said Robert Riviello, an HMS assistant professor of surgery and a trauma surgeon at Brigham and Women's Hospital who is extensively involved in global surgery capacity-building efforts.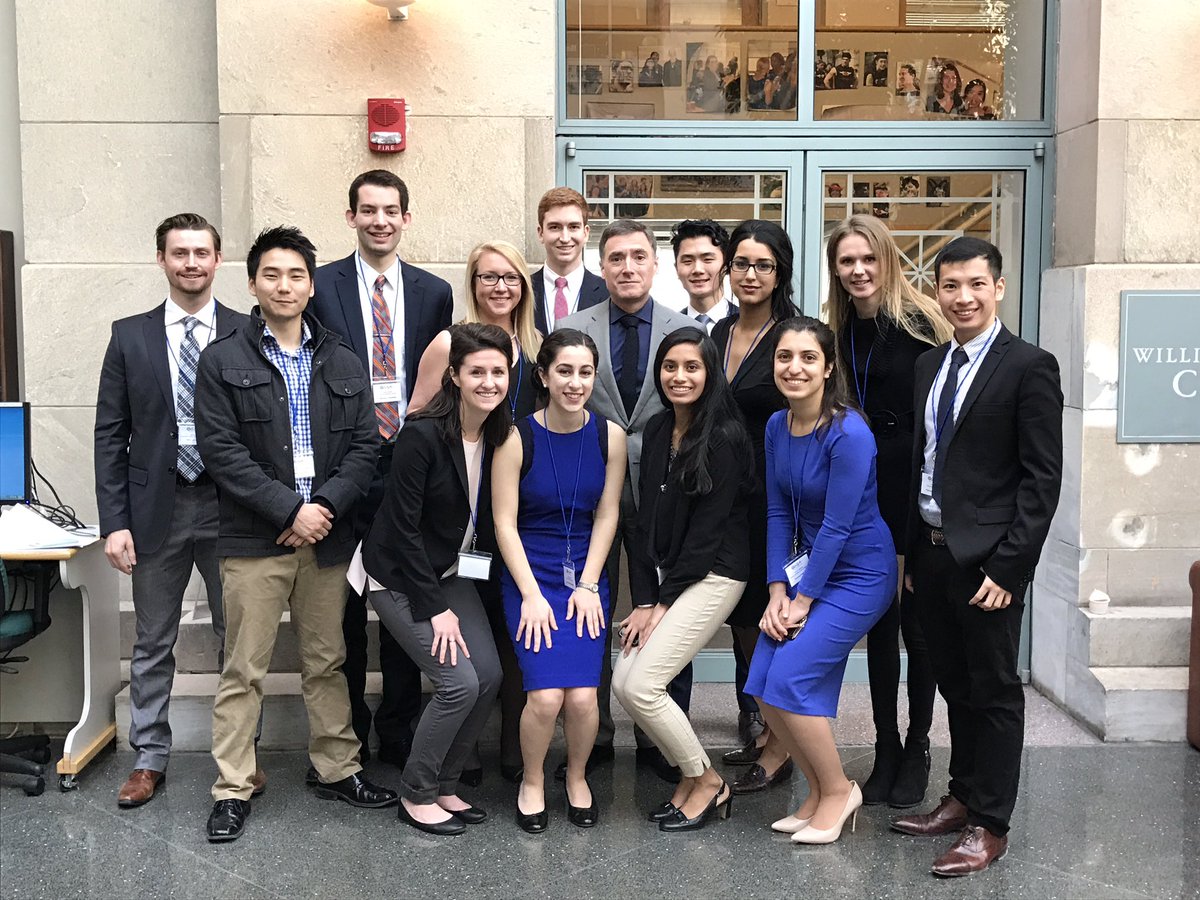 Quick Start
The goal of the symposium was to increase awareness of global surgery among medical students and to bring more students into the field. In only four short months, a group of 15 medical students (most of whom were first-years) and residents from HMS/HSDM, Boston University School of Medicine and the Harvard T.H. Chan School of Public Health came together, established a national team, created the globalsurgerystudents.org website, and reached out to 43 schools across 20 states. They also connected with an international global surgery team and contacted speakers and donors in preparation for the symposium.
Since officially launching the group and website in mid-January, students at more than 15 schools have started to work on creating global surgery teams at their institutions by hosting events designed to get them connected to global surgery faculty and engaged in the field.
Next steps for the GSSA include continued systematic national outreach to connect with interested students at more medical schools across the U.S. while partnering with more surgical and global health organizations. Their plan is to create tools to help students create and maintain global surgery working groups at their schools, as well as encouraging student action for global surgery around the country.
The group is also creating a database of global surgery contacts so students can know who to contact to get involved.
Moving forward, the GSSA hopes to be a unifying force that encourages collaboration among students across the country so that efforts can be coordinated and can more effectively impact the field of global surgery in a meaningful way.
The Global Surgery Student Alliance is the national student global surgery working group for the U.S.
To watch the talks from the Boston Global Surgery Symposium, visit: globalsurgerystudents.org/live-streaming-recording.
To learn more, visit:
Website: globalsurgerystudents.org
Twitter: @gsurgstudents
Email: globalsurgerystudents@gmail.com
The GSSA would like to thank the Audio Visual Communications Division of the HMS Education Computing Department for their hard work in making the livestreaming and recording of the conference possible so that people around the world could watch. They would also like to thank the Program in Global Surgery and Social Change at HMS, the Center for Surgery and Public Health at Brigham and Women's, the HMS Department of Global Health and Social Medicine, the Department of Plastic and Oral Surgery at Boston Children's Hospital, and the Harvard Chan Student Surgery Society at the Harvard Chan School for their donations that made the symposium a reality.