A Perfect Day for Medical Education
HMS alumnus and Emmy Award-winning writer Neal Baer on the power of storytelling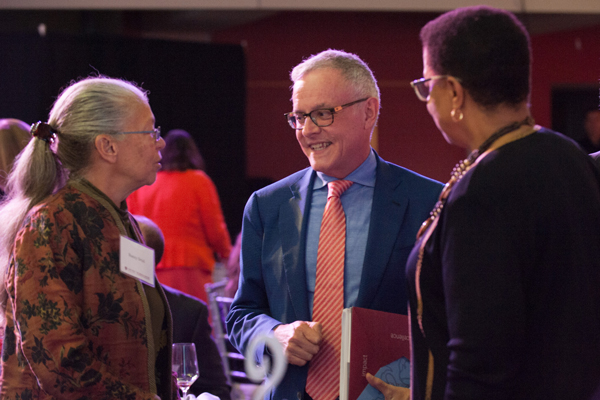 From left: Nancy Oriol, Neal Baer and Joan Reede. Image: Suzanne Camarata
When John Carter, one of the lead characters in the TV series ER, was asked by his attending physician, Mark Greene, if he had ever performed a lumbar puncture, Carter said, "Uh, no, but I've seen it done."
Greene replied, "See one. Do one. Teach one."
As more than 160 guests watched the ER scene on a big screen at the Spotlight on Medical Education dinner hosted by the Harvard Medical School Board of Fellows on Oct. 27, keynote speaker Neal Baer, who wrote the scene for the Emmy Award-winning TV series while he was an HMS student, said he could not have written it if he had not attended HMS.
The episode, "Another Perfect Day," wraps up with Carter receiving a bottle of champagne at the end of his shift for successfully performing the procedure.
"It epitomizes the love I had for medical school and for medicine," said Baer.
Transformative tale
Baer, a pediatrician and adjunct professor at the Fielding School of Public Health at the University of California, Los Angeles, said that medical school was transformative for him and that it was primarily because of financial assistance that he was able to complete his MD training.
"Stories are what move us to action." —Neal Baer
Baer MD '96 recalled how his financial aid officer at HMS pointed him to the American Medical Association's Jerry L. Pettis Memorial Scholarship, which supports students who contribute to the understanding of science through the media.
During his second year, he said, he was also directed to emergency aid from the Massachusetts Medical Society, after his wife developed thyroid cancer in his second year and their young son needed care while she underwent treatment.
Baer said of his financial advisor at HMS, "I'll never forget not only her kindness but her dedication to making medical school a reality for many students who otherwise couldn't afford to come here."
Power in stories
All physicians have their own unique stories of how they chose the profession and why they chose their specialty.
Baer said he was drawn to medical school not only because he wanted to care for patients, but also to gain his father's acceptance and to understand, and possibly "cure" what he called his "secret"—that he was gay.
The New Pathway, the HMS curriculum in place when Baer was a student, provided a gateway to understanding his own story, he said. A great strength of that curriculum, Baer noted, was that it taught him how to "truly understand the patient's story—scientifically, pathophysiologically, culturally and socially."
As he heard stories of strength and resilience from gay men he treated as a student during the AIDS epidemic, Baer said he also came to terms with his own story.
"Stories are what move us to action." Baer said.
He went on to build a career as a physician and public health advocate and a television writer, creating those narratives. Baer said he was able to draw on the lives of his patients to tell deeply moving stories—about topics such as AIDS, obesity and gun violence—telling them to millions of viewers with the hope that he could touch hearts and minds.
Ripple effects
Edward Hundert, HMS dean for medical education, said at the inaugural dinner that his driving passion involves ensuring that, regardless of their socioeconomic background, the most talented students—like Baer—can attend HMS. 
"Without financial support, our student body would be less robust and less diverse, leaving our students less prepared to take care of their patients." —Fidencio Saldaña
Eighty percent of HMS students receive need-based financial aid, said Hundert, but there are still gaps.
"Financial aid has allowed me to pursue a calling in medicine. It has changed my life, and, in turn, will impact the lives of all the patients I care for," said Danika Barry, Class of 2019, in a video shown at the event.
One in five HMS students have families who earn less than $50,000 per year and 50 percent of students benefit from the Middle Income Initiative, said Fidencio Saldaña, HMS dean for students.
"Without financial support, our student body would be less robust and less diverse, leaving our students less prepared to take care of their patients," said Saldaña.
During first-year orientation, Hundert reminded students that the most important way for them to serve a diverse population is to learn from and interact with a diverse student body.
"When you're supporting financial aid, you're actually having that ripple effect," Hundert told the gathering.
MD student Carlos Estrada Alamos is one example. The day that Alamos, who had grown up as an undocumented immigrant, received his admissions letter to HMS, his first thought was that he would never be able to afford it and that  "people like me don't go to Harvard Medical School."
But then Alamos received the financial aid letter that made it possible for him to attend the School. The scholarships and aid meant he didn't have to ask his still-undocumented parents to make yet another sacrifice for him.
"I saw it as an opportunity to really be present, to be there in the moment, caring for my patients, instead of worrying about the crushing weight of financial debt," said Alamos.
"Thank you all for believing in me. Thank you for opening the doors of opportunity to all of us," he said.
Ensuring perfect days
Like most medical schools, Baer said HMS still has a way to go in increasing ethnic diversity, but the School is making progress in providing opportunities.
HMS has made a commitment to need-blind admissions and need-based aid, and financial aid is a core priority of The World Is Waiting: The Campaign for Harvard Medicine, said Hundert in a letter to alumni and friends of HMS.
"Only with your help can HMS light a path towards justice and equity in health care. That begins by training future health care leaders who represent all people," Baer told the group.
He also marveled at the many stories told over dinner and at the powerful, complex private and public reasons most physicians have for becoming  doctors.
The audience was asked to reflect on their own stories and the reasons they became doctors, or, if they weren't doctors, to recall when a doctor's care was compassionate and healing.
"It's through hearing stories that we change," said Baer.