HMS Launches Office for Community Centered Medical Education
New office supports students in doing community service, engagement work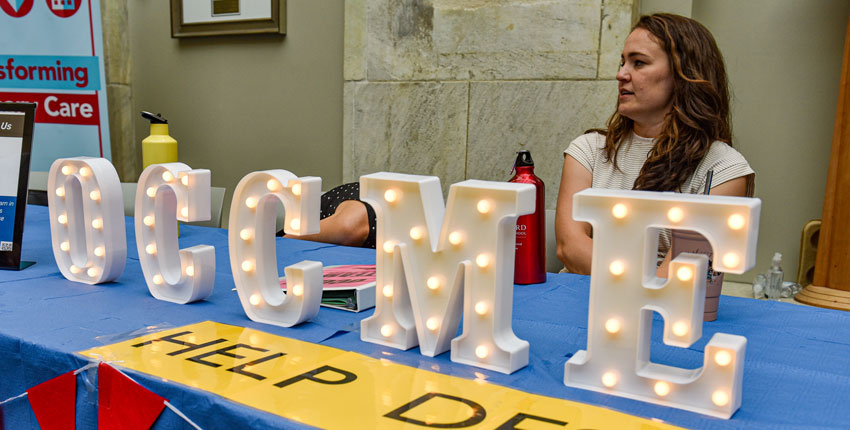 Harvard Medical School officially launched the Office for Community Centered Medical Education this fall to better support students at HMS and the Harvard School of Dental Medicine who are interested in engaging with community-based organizations and community health centers in the Roxbury, Mission Hill, and Jamaica Plain neighborhoods near Boston's Longwood area.
In addition to gaining exposure to the science, clinical care, and publishing that make up academic medicine, these students want community engagement to be an important center focus, too, said Nancy Oriol, faculty associate dean for community engagement in medical education.
"They see that it's when you engage with the community that you get to actually understand the context of the lives of the people for whom you will provide medical care," she said. "It's seeing community engagement as a relevant part of academic medicine, and expanding the ability of doctors to care for all their patients."
The office also aims to be a centralized source of information and resources for medical and dental students who are interested in community-engagement efforts and also to be an academic home for faculty who are seeking to engage medical and dental students in their community-engagement work, said David Duong, director of the Office for Community Centered Medical Education. The office also builds on the work of the HMS Center for Primary Care, which has engaged and partnered with local community health centers to strengthen primary health care delivery services for more than a decade.
Taking stock
The formation of the office was the result of a confluence of movements at the School, including one with a longstanding history.
"The roots of this movement have been here all along—in the Department of Global Health and Social Medicine, which just celebrated its 150th anniversary," said Oriol. "Community engagement makes up the core of what that department is."
Science. Medicine. Humanity.
Harvard Medicine magazine delivered to your inbox