Introduction to Service
First-year students learn the power of on-the-ground community engagement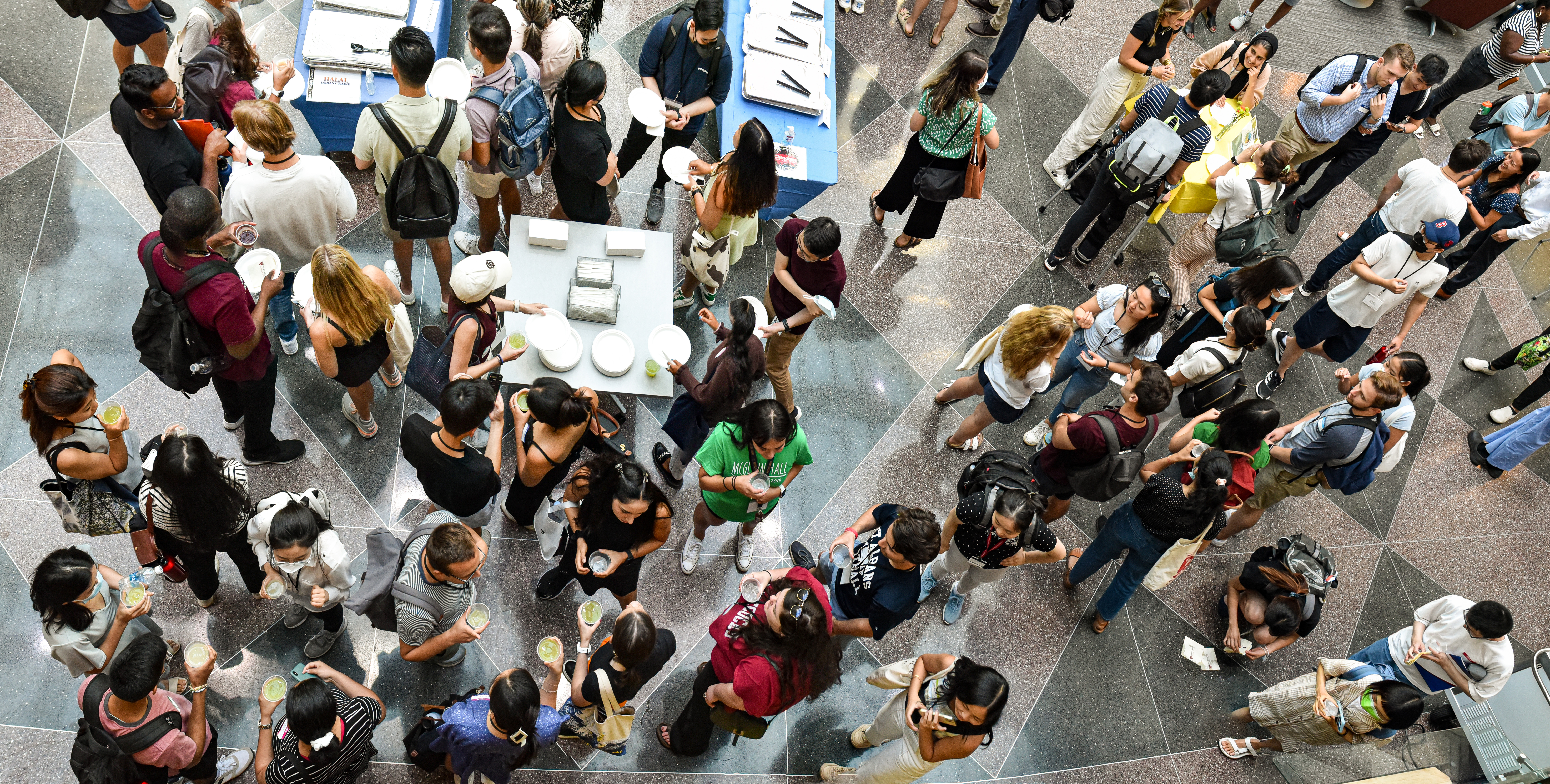 Image: HMS and HSDM students' block party/Steve Lipofsky
To help new Harvard Medical School and Harvard School of Dental Medicine students understand more about health equity and about how they will provide care for their future patients, this year's first-week Introduction to the Profession (ITP) course provided incoming students with an opportunity to become better acquainted with Boston-area neighborhoods.
In a session developed by the newly formed Office for Community Centered Medical Education (OCCME), on Aug. 3 students traveled to the communities of Roxbury, Mission Hill, and Jamaica Plain, visiting community-based organizations and community health centers to get a glimpse of the work being done locally at those centers to promote health equity.
Forming meaningful partnerships
The students' visits coincided with the official launch of OCCME, which serves as an incubator to foster meaningful partnerships between HMS/HSDM students and the broader Boston community.
"The launch of OCCME is the first step in community engagement for incoming students," said Kayla Lambright, OCCME community engagement program manager. "The OCCME nurtures and inspires our students to engage the community with cultural humility, integrity, and shared values."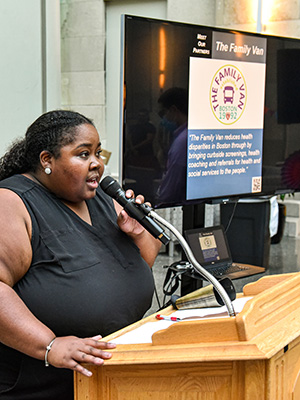 By immediately bringing a focus to the neighborhoods surrounding the Longwood campus, OCCME aims to build a community mindset into the foundation of students' training.
"This approach allows HMS to graduate physicians who will be able to partner with communities, innovate, and promote transformative change in medicine," Lambright said.
The establishment of OCCME was sparked by a call from students for more opportunities to integrate community engagement into the medical curriculum.
OCCME serves as a centralized resource for HMS and HSDM students to connect with community partners and organizations, and vice versa. The aim is to promote and innovate longitudinal, impactful, mutually beneficial models of engagement for communities and students and faculty.
History lesson
For this year's session, OCCME director David Duong, HMS instructor in medicine and in global health and social medicine, first provided a framework for students to understand the origins of the Longwood Medical Area, its surrounding neighborhoods, and to learn about redlining, gentrification, and historical racism in the area.
His lecture also covered the persistence of race-based medicine, the role of community engagement in medical education, and the mission of OCCME in the promotion of health equity.
Students then separated into teams that were assigned to different community-based organizations or health centers. The 15 participating organizations are located throughout Nubian Square (Roxbury), Mission Hill, and Jackson Square (Jamaica Plain), so students traveled by foot, train, and bus to assigned sites to listen, learn, and engage with organizational leaders and community members.
Haley House
Haley House was among the community-based organizations participating in this year's course. Founded in 1966, Haley House is a well-known local organization with services located throughout Boston's South End and in Nubian Square in Roxbury. The organization provides food in an effort to nourish, unite, and empower communities.
Malikiya Hinds, a first-year HMS student who spent the afternoon at Haley House, reflected on the impact of the visit.
"Haley House caters to an almost forgotten and overlooked part of the community. The gentrification of the South End and the pushing out of mostly people of color and low-income and marginalized individuals did not stop the representatives of Haley House from caring for and coming to the aid of the community despite the demographic changes," she said. "It impacted me a lot as an URM [underrepresented minority] myself, as I value organizations that seek to support those in need despite their circumstances."
We Got Us
First-year HSDM student Matthew Watt spent the afternoon with leaders of We Got Us, a community empowerment project founded by third-year HMS student LaShyra "Lash" Nolen.
The program is composed of Black community members, health care professionals, students, and allies who are committed to empowering their communities through education on COVID-19 and increased health care and vaccine accessibility.
Watt spent time learning about the organization's genesis and impact and preparing COVID-19 health kits for distribution to community members.
"The entire day was extremely insightful, but to hear specifically from the source about the developments and the change they've made in their respective communities has been exceptionally empowering to me as a future physician," Watt said.
Reflections on the day
Upon returning to campus, students broke out into reflection groups led by faculty, other students, and community leaders to discuss the impact of the day with classmates who spent the afternoon at other community-based organizations.
The day concluded with a block party on campus, and, in a celebration of the diversity of the places the students visited, small buffets featured dishes from the three neighborhoods.
This poem was collectively written by students from one of the reflection groups.
Today We Crossed the Street
And it was...
Impactful
Grounding
Discovering the power of joy
Digging for hope
Listening, truly listening
Becoming collaborators
Meeting people where they are at
Realizing that this requires bi-directional information
And finding mutuality
Acknowledging the challenges of getting there
The heat ... oh the heat