The Best Is Yet to Come
Family Van celebrates 30 years, debuts new mobile health clinic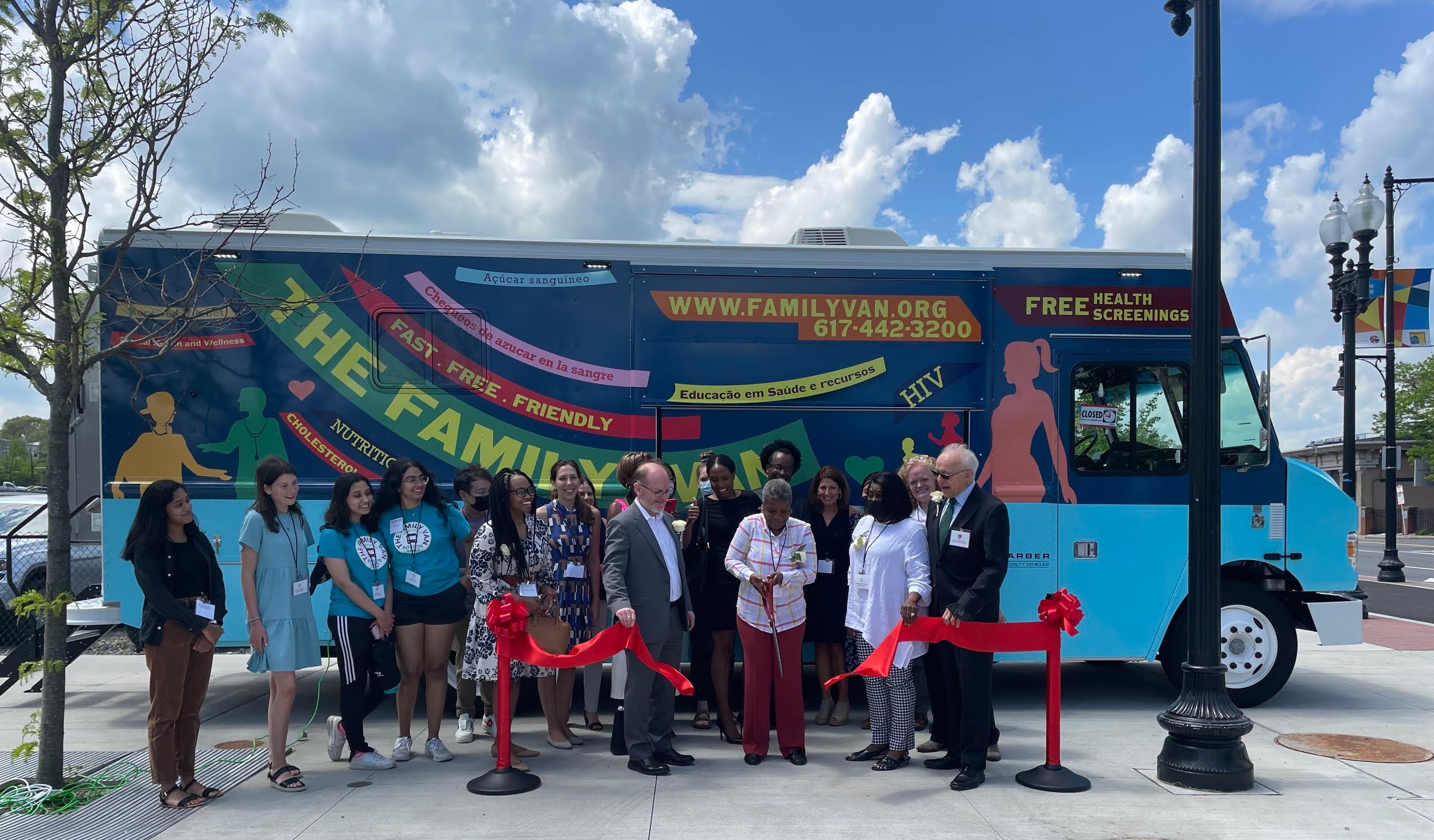 Image: The Family Van
The Family Van, a Harvard Medical School-affiliated mobile community health program, celebrated its 30th anniversary and premiered a new mobile health clinic at the Roxbury branch of the Boston Public Library on May 16.
The event featured remarks from HMS Dean George Q. Daley, Family Van staff and alumni, a musical performance, and a ribbon-cutting ceremony for the new mobile clinic.
Co-founded in 1992 by Nancy Oriol, HMS faculty associate dean for community engagement in medical education, and Cheryl Dorsey, then an HMS student, The Family Van program works to reduce health disparities in Boston by bringing medical services directly to neighborhoods where need is greatest.
Van workers routinely provide clients with blood pressure, cholesterol, blood glucose, glaucoma, and depression screenings, and also offer family planning services, pregnancy testing, and HIV counseling.
"The Family Van brings people together for the sake of community," said Devin Cromartie, a psychiatry resident at Boston Medical Center and an HMS alum as well as a former Family Van volunteer.
"I think we all know how terrible isolation has been for all of us during these difficult times. The Family Van brings people together for the betterment and for the health of our community," said Cromartie.
"For three decades, people have come to The Family Van seeking preventive health care and medical information," said Daley.
"In reality, we know they get so much more. They get comfort. They get encouragement. And they get healing. The Van has become an essential part of Boston's health care safety net, thanks in large part to its reputation for compassion and patient-centered care," he said.
Those attending the anniversary celebration were able to tour the new mobile clinic, which was purchased with a gift from Boston Scientific.
Spurred by increased awareness of systemic racial injustice after the killing of George Floyd in 2020, Boston Scientific adopted a broad-based antiracism program designed to address economic empowerment, education, government policy, and health care disparities. That initiative led the company to form a partnership with The Family Van.
"There's a lot of work left to do," said Vance Brown, general counsel for Boston Scientific. "But we're all in this together, and I look forward to future collaborations where we can make a real difference in the Boston area."
Oriol was unable to attend the ceremony in person, but Mollie Williams, executive director of The Family Van, read prepared remarks on Oriol's behalf.
"Please send my gratitude to everyone for their 30 years of trust, respect, and love," she read, quoting Oriol. "That is how we built this family."
"And now, looking forward with Boston Scientific, Dean Daley, and HMS, and you—all our neighbors and friends—the best is yet to come."