Mobilizing Health Care
Urban mobile clinics may help boost patient participation, engagement in care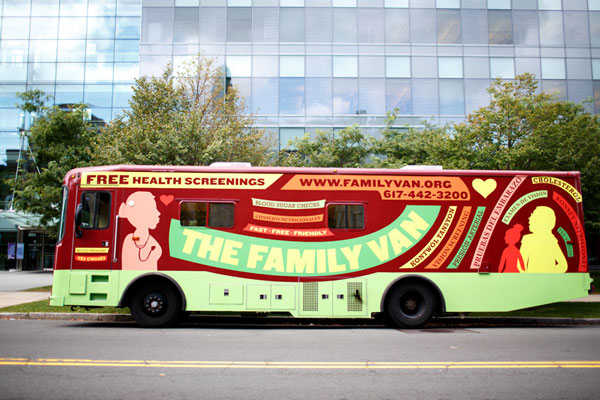 The Family Van. Image: Harvard Medical School
Patients treated at mobile health clinics report a high level of engagement in their care and the motivation to pursue healthy behaviors, according to the results of a qualitative study led by Zoe Bouchelle, Harvard Medical School Class of 2017, and communications scholar Heather Carmack of James Madison University.
The findings of the analysis suggest mobile clinics are a powerful tool to engage patients in care and to encourage more active participation in their own treatment, the researchers said. The study, which involved in-depth interviews with 25 patients, ages 19 to 72 treated at Family Van mobile clinic, was published online Feb. 14 in Communication Quarterly.
Mobile health clinics bring free health care services to underserved communities whose residents may lack the means and transportation to visit a regular clinic or a hospital.
"Mobile health clinics are emerging as vital players in the process of rebalancing our health system towards those who have a harder time accessing care," said study senior author Nancy Oriol, faculty associate dean for community engagement in medical education at HMS.
"Such clinics seek to shift the power imbalances and prioritize marginalized voices by listening to patients' needs and involving them more actively in their own care," Oriol said.
The Family Van provides a range of services, including blood pressure, blood glucose and cholesterol screenings, vision exams, HIV and STI testing, low-cost dental care and counseling, and referrals. It has served more than 100,000 people since its inception 25 years ago.
The following dominant themes emerged from participant interviews:
Promoting generosity and inclusion: Participants viewed the Family Van as a vehicle for social justice by helping those in need; providing a safe, welcoming space; and creating a sense of inclusion. Such a view, the researchers point out, underscores the power of mobile health clinics to provide an environment that fosters relationships with patients, which can be difficult to achieve in traditional clinical settings.

Activating an interest in health by sheer presence: Participants reported that the mere presence of the van and the convenience of being able to simply walk in and get tested stimulated their interest in their own health. Patients reported that they were stimulated to seek care due to the fact that services were provided for free, citing co-pays as a major deterrent to seeking care in a standard setting.

Fostering motivation for behavior change: Patients also reported feeling empowered to take an active role in their health as a result of health-related education provided by the mobile clinic staff. In addition to administering tests and screenings, the staff provides recommendations and counseling for long-term care and follow-up.
Additionally, many patients reported a desire to encourage family members and friends to be more proactive about their care.
Past research has shown that mobile health clinics can help improve blood pressure outcomes among return patients screened, potentially averting dangerous and costly complications. Chronically elevated blood pressure, or hypertension, is a leading cause of stroke, heart disease and kidney damage.
More than 2,000 mobile health clinics in the United States provide basic screening and health services, including chronic disease management, prenatal care and pediatric care. There are some 6.5 million visits a year to mobile clinics across the U.S. Researchers estimate that on average, mobile health clinics prevent 600 visits to emergency rooms each year.
For more information on the impact of mobile health clinics, visit: http://www.mobilehealthmap.org/impact-report.