New Family Van director eager to serve community
Mollie Williams dives into new role optimistic about raising funds
Mollie Williams, the new executive director of The Family Van, a mobile health clinic that serves under-resourced communities in the Boston area, says she is thrilled to bring 20 years of public health experience to the table in her new role.
Williams, who took over the job in January, is formerly a senior director at Planned Parenthood offices in New Orleans. She hopes her experience on the administrative side of larger health care organizations will help her bring a new perspective to The Family Van's mission so that it can continue to build on its record of success.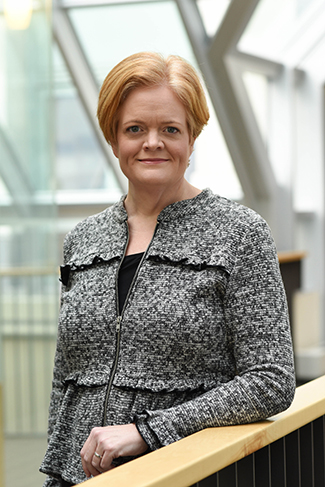 "I've sat on both sides of the fundraising table. I've raised money and I've granted out money to organizations that were seeking funding," said Williams. "I understand what it takes to fund an effort like this and how to think about creating a win-win situation for The Family Van and for the donor or the foundation."
Founded in 1992 by Nancy Oriol, HMS associate professor of anaesthesia at Beth Israel Deaconess Medical Center and current faculty associate dean for community engagement in medical education, the mobile clinic provides free health screenings for cholesterol, blood pressure, glucose, pregnancy and HIV counseling. A model of preventative care, it takes its services to where the patients live, overcoming barriers to care for minority and non-English speaking clients in the communities surrounding Dudley Square, East Boston, Codman Square and Uphams Corner.
Williams said her top priority for her first few months in her new role will be raising funds for The Family Van.
"We rely on the generosity of Harvard Medical School and the community foundations, and some individual donors, to fund our work. Yet, it's a constant effort to try to raise the money to do the work," Williams said. "We don't bill insurance, we don't bill patients; it's entirely free."
Williams said she is eager to bring her passion for public health to her new position.
"[I was attracted to The Family Van's] deep connection to the community, and the fact that the work is very much led by, and embedded in, the community," Williams said. "It's a grassroots approach to improving health outcomes."
Williams said she also looks forward to contributing to Mobile Health Map, an HMS-created website that compiles the location and utilization data from 700 different mobile clinics across the United States. Much of Williams' work in her new position will involve collaborations that will analyze data about the impact The Family Van has on the Boston community.
"The goal is to build the capacity of the mobile health field," Williams said. "The idea of helping to build that infrastructure, and grow the field of mobile health, is really exciting for me."
During her time at Planned Parenthood, Williams led an initiative to build 14 new health centers in nine southern states. Before that, she was a managing director at Susan G. Komen for the Cure, where she oversaw community health programs at the national office.
After years of experience, Williams said she places a great deal of importance on effective leadership and on people development.
"The measure of a good leader is how well they develop the people around them," Williams said. "No one is a solo superstar. It is a huge team effort."
Williams comes to HMS with a PhD from the University of North Carolina at Chapel Hill, an MPH from the University of Michigan at Ann Arbor and a BA in Studio Art from the University of Texas at Austin.
When she isn't dedicating her time to serving the urban communities of Boston, Williams spends time with her 2-year-old son and enjoys knitting, sewing and pottery.