Celebrating Differences
New HMS/HSDM students learn the importance of community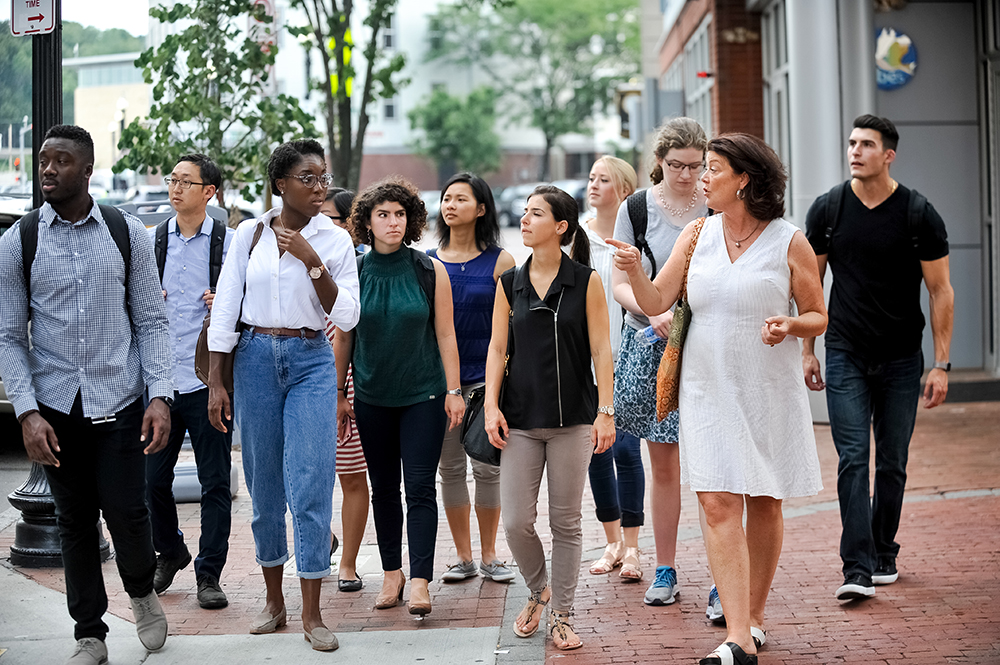 A group of new HMS and HSDM students tour Dudley Square in Roxbury with Jennifer Bennet, executive director of The Family Van. From left to right: Anthony Tucker-Bartley, Anthony Jang, Ayotomiwa Ojo, Tiantian White, Leela Breitman, Mimi Yen Li,
Anabel Starosta, Sigurast Olafsson, Katherine Kester, Jennifer Bennet (The Family Van), Jonathan Franco.
Amidst the excitement and flurry of introductions, lectures and events that marked orientation week for the 200 members of the Harvard Medical School and Harvard School of Dental Medicine Class of 2021, one lesson quickly stood out: medicine and medical education are about so much more than just biology.
This year, for the first time in the 234-year history of the School, Harvard's newest physicians- and dentists-in-training scattered across the Greater Boston area on only their third day as students. Their task: to get to know the people and communities they will be serving.
"I think it's really easy to get locked into the bubble of HMS and HSDM, to think that everyone around you has a shiny white coat and can heal the world by having a fancy education," said Leela Breitman, a first-year HSDM student from Philadelphia, after her trip to one such neighborhood.
"Meeting health care workers who connect with their community, not just a school, really emphasizes to me how important a collaborative team made of people with different backgrounds is for taking care of people who need our help," she said.
View the related photo gallery
In small groups, students took public transportation, or walked, on a warm and humid August afternoon, making their way to one of 20 different neighborhoods, some as distant as Chelsea and East Boston.
There, they met leaders from local health organizations to learn about the communities where some of the patients they will soon be caring for live, work and play.
This new focus on having entering students engage with the community from their first days at HMS is part of an effort to more closely connect them, through the curriculum, with the work at hand.
"Your patients do not live inside your hospital. None of us lives inside an academic medical center. We all come from someplace else, and we bring that reality to our doctor's office," said Nancy Oriol, faculty associate dean for community engagement in medical education at HMS, to the students.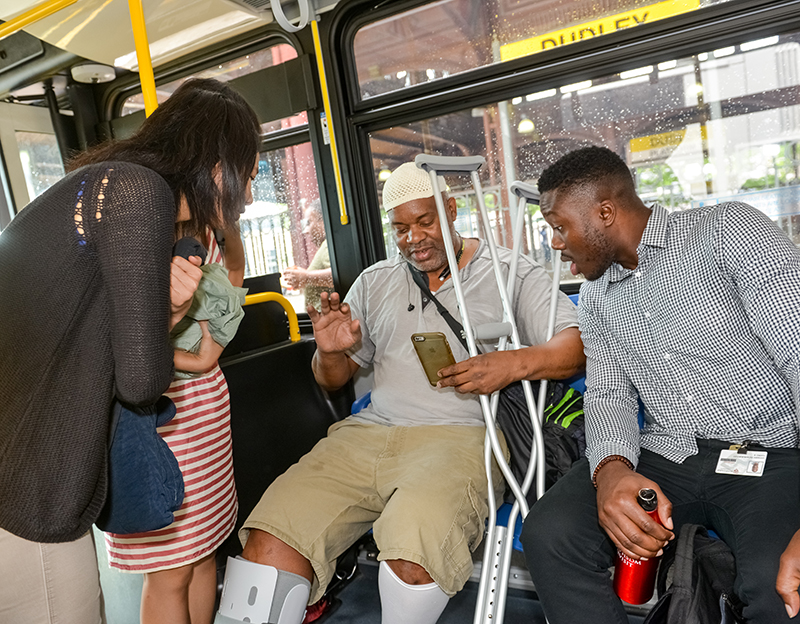 In Roxbury's Dudley Square, students were introduced to the history and needs of a community in one of Boston's African American culture centers.
"I was so surprised at how close this neighborhood was to HMS and how there is such a distinct difference in the population that lives here," said Ayotomiwa Ojo, a first-year HMS student from Lima, Ohio.
Guided by Jennifer Bennet, executive director of The Family Van—a mobile health service that provides access to health care for some of Boston's most underserved communities—Ojo's group toured important local centers and historical sites, discussed health care challenges faced by residents, and experienced firsthand the changing landscape of a neighborhood struggling with gentrification and uncertainty.
"It's exciting not only to be this close to a community that I can identify with, but also the amount of engagement and work being done here from the inside out, not the outside in," Ojo said. "I didn't even know this part of Boston existed."
After spending an afternoon in a diverse mix of neighborhoods with leaders from organizations including Urban Edge, Boston Health Care for the Homeless and the Margaret Fuller Neighborhood House, the first-year students returned to the HMS Quad and reflected on their experiences together.
"Zip code is as strongly associated with health as genetic code. Open your eyes wide and learn what your patient's world is about, learn from them how you can best help them help themselves," Oriol said.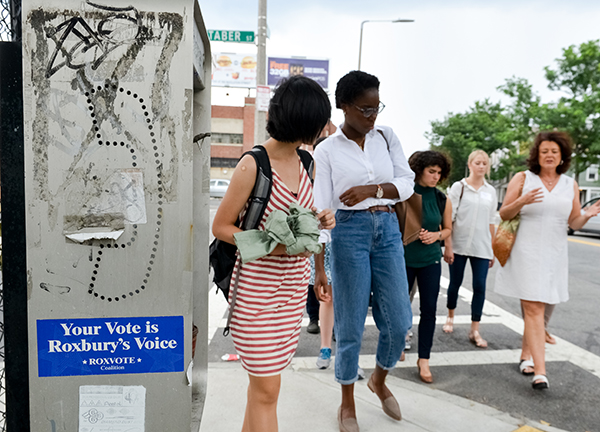 Unique paths
The 165 HMS and 35 HSDM students who, together, comprise the Class of 2021 were each selected from a pool of almost 8,000 candidates for many reasons. But they were chosen for their differences as much as for their academic and personal achievements.
On their first day as students, this point was struck home by the faculty who will be guiding them through their training.
"As medical professionals, we have each followed our own unique path to be here today. But like you, I think we are all driven by the same reason. We are all here because we have a genuine interest in helping others," said George Q. Daley, dean of HMS, in his welcoming remarks to the students.
"At HMS, we are part of the largest and I believe the most influential community of scientists, clinicians and entrepreneurs in the world. You have come to us to join this community. I want to say that you are its future," Daley said. "You keep us fresh, renew us and make us feel confident that the world will be a better place despite the many challenges we all face."
"It has been said that the clinician needs to know everything that is known and that the scientist seeks to learn all that is unknown," said R. Bruce Donoff, dean of HSDM. "Addressing pressing human needs related to life, health and the relief of suffering requires a blend. You will get that at this medical school."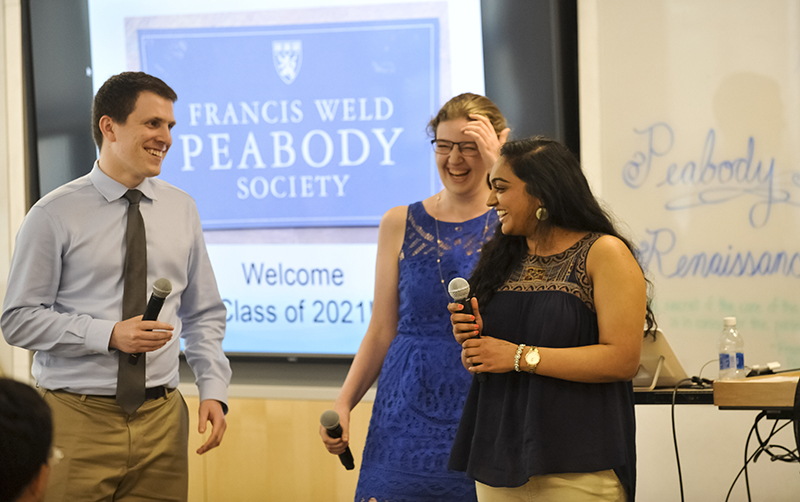 The Class of 2021 is evenly divided between men and women ranging in age from 20 to 31, with a third of its members of Asian or Asian-Indian heritage and a fifth from minorities underrepresented in medicine.
"There is nothing harder than what you're embarking on. You have so much knowledge to learn, but one of the scariest and hardest things about being a physician is that you need to be able to talk to people who are very different from yourself," said Edward Hundert, dean for medical education at HMS.
"The best way we have to teach you how to do this is by recruiting all of you to HMS. So that you can learn by getting to know, studying and becoming friends with each other," Hundert said.
"Our focus on diversity isn't because of political correctness or some liberal academic bent. It is built into the mission of HMS because this is how you will be able to take care of patients, and I can tell you there is nothing more gratifying than taking care of patients," he added.
After students were welcomed by their faculty mentors, they formally introduced themselves to each other in their societies on their second day, donning white coats and attending their first patient clinic at Brigham and Women's Hospital.
Engaging with a pair of remarkable patients—one born with a rare disease that rendered him unable to breathe on his own while sleeping and the other who has a clutch of illnesses caused in part by decades of homelessness—students again faced the reality that science and academic knowledge are only a part of their future as physicians and dentists.

They listened as the patients shared deeply personal stories, not of diagnostics or genetics but of a lifetime spent struggling inside and outside of hospitals, of the importance of their families or trusted individuals who changed their lives, and of the impact of the relationships they formed with their physicians.
For new students, these first few days represented the beginning of a lifelong journey of not just learning, but learning how to learn—from each other, from their teachers, and most importantly, from their patients—so that they can fully leverage their remarkable individual talents toward their shared goal of alleviating human suffering caused by disease.
"We see in you a lot of promise and hope, because when we, or our family members, are the ones getting sick, you will be the ones that take care of us. When we need a new health care system, when we need new therapeutics, you are going to be the ones who build that new system or develop that new drug," said Fidencio Saldaña, dean for students at HMS.
"I want to give you the same advice that I gave my own kids on their first day of school: work hard, be kind—to yourselves, to your patients, to your colleagues—and have fun," Saldaña said. "Just know that you have an incredible opportunity here, and wherever you come from, you belong. You are an incredible bunch."