'We've Rounded the Mark'
HMS Dean George Daley delivers 2020 State of the School address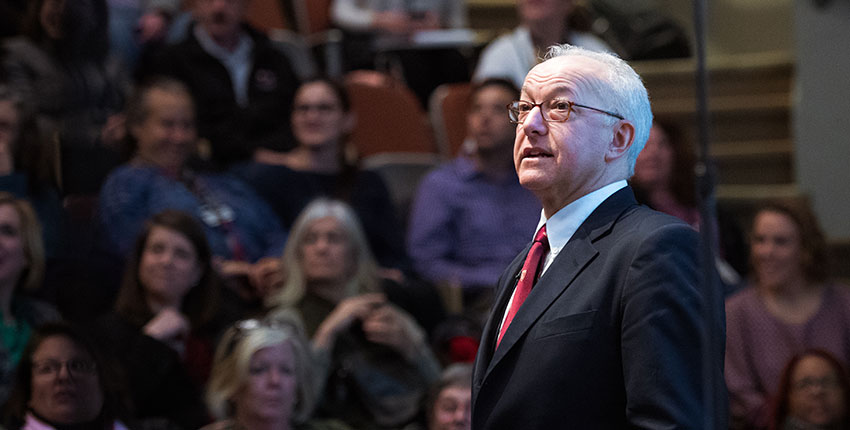 Heading into his third year at the helm of Harvard Medical School, Dean George Q. Daley said in his annual State of the School address that although HMS has been "fighting financial headwinds" in recent years as it worked to balance its budget while continuing to advance its mission, the School is now on a much firmer financial footing, giving him confidence for the future. 
"Now, after a lot of diligence by our administrative and financial teams, working in concert with departmental and University leadership, I believe we've rounded the mark," Daley said. "We have wind in our sails. I am excited—and cautiously optimistic—that the wind will be with us from here on out." 
In a 40-minute address to a packed audience in the campus' Armenise Amphitheater on Jan. 22, Daley said the School's more stable finances are the result of efficient management practices, greater success in obtaining National Institutes of Health grants, successful real estate transactions and other financial measures.
As a result, he said, HMS has reduced its deficit from $49 million in FY 2016 to $10 million in FY 2019, and while it still has a projected deficit of $4 million in FY 2020, administrators are predicting a cash flow break-even in the next year or two. Daley added that the School's achievement of balancing its books was accomplished without any financial assistance from the University or the $200 million 2018 Blavatnik Family Foundation commitment. That commitment, in fact, included assurances the School would address its debts before receiving the funds.  
He cautioned that although the HMS financial picture has brightened considerably, members of the School community should "remain prudent stewards of our resources," especially in light of uncertainty in financial markets.  
"Complacency or a lack of discipline will invariably lead us back to structural deficits," Daley said. 
Collaboration, innovation and investments 
As a result of the School's improved financial circumstances, Daley said "we are now poised to deliver more powerfully than ever on the promise of this amazing institution." He described recent strategies being taken to maximize collaboration across and between personnel on the Quad, at the School's affiliates and throughout the University, mentioning the Dean's Innovation Awards as a primary way HMS is catalyzing collaborative research.
To date, Daley said, the awards program has granted more than $29 million to 92 collaborative projects involving 169 investigators across the community; the vast majority of the funding is supporting fundamental, curiosity-driven research with 25 percent involving co-investigators at affiliated hospitals and research institutions. 
An additional awards program for innovation in education, administrative efficiencies, and diversity and inclusion drew 79 proposals, he said, with $3 million in grants awarded to 33 projects involving 98 individuals.  
Daley said another program designed to bolster research productivity involves investments in shared research platforms, such as the 30-plus research cores around the Quad. The new Foundry Program is involved in a plan to upgrade existing cores and create new ones, he said, providing more than $11 million to enhance and expand 14 existing facilities and support development of seven new technologies.  
One example he cited is the Cryo-Electron Microscopy Center for Structural Biology, a joint effort between the University, HMS, Boston Children's Hospital, Dana-Farber Cancer Institute and Massachusetts General Hospital.  
"Over the past year, HMS structural biologists have used cryo-EM to understand the molecular anatomy of proteins that play critical roles in human health and disease," Daley said. "The addition of cryo-EM to the structural biology toolbox has opened our eyes to a breathtaking new level of structural complexity."
Daley added that HMS is investing heavily in data science and computational biology in every Quad department, aided by the new Center for Computational Biomedicine, where working groups are focusing on single-cell analytics, novel imaging modalities, and data science and analytics support for the broader community. One pilot project involves developing a suicide-prevention app and another involves the creation of an app to aid in more precise prescribing of opioids.
The School's new Therapeutics Initiative, supported by the Blavatnik commitment, is promoting efforts to develop novel and effective therapeutics, Daley said, by helping to overcome barriers between academia and industry through grants targeted to therapeutics development, core platform investments and educational programs.   
To highlight an important milestone in the development of this initiative, Daley introduced Mark Namchuk, the new executive director of therapeutics translation, who comes to HMS from a 20-year career in the pharmaceutical industry and whose job will involve integrating the various components that will contribute to the initiative, such as the new Blavatnik Harvard Life Lab Longwood, to be built in Building C on the Quad. 
Education and diversity
Turning to education, Daley lauded the School for the successful completion of its review by the Liaison Committee on Medical Education, which awarded HMS full accreditation for another eight-year term. The LCME praised the School for its pioneering Pathways curriculum, Daley said, expressing his gratitude to the many people at HMS who contributed to the successful review.  
He mentioned that plans are underway to reform the structure of the core clinical clerkship year and to review the School's Health Sciences and Technology curriculum. Daley called out new Graduate Education Dean Rosalind Segal, who is overseeing HMS master's and PhD programs. Daley said the HMS Office for External Education is continuing to create pioneering educational offerings, "making the latest insights in science and medicine accessible to an ever-growing range of learners worldwide."
Despite the success and growth of the School's education programs, Daley said he continues to be concerned about student debt, adding that even with more than 70 percent of MD students receiving need-based financial aid, many continue to graduate with considerable debt. To further address student debt issues, Daley said the School is redoubling its efforts to seek philanthropic support for financial aid. To support doctoral programs, he said, fundraising for graduate student fellowships has now been made a University-wide priority.
Despite the challenges that may lie ahead, Daley said his spirits are lifted by the "earnest work" done across the HMS community on a daily basis. He said he was particularly inspired by last fall's diversity and inclusion 50th anniversary symposium, which marked an HMS campus movement in the late 1960s in which a group of HMS faculty successfully campaigned for the creation of 15 scholarships for students from minority backgrounds. As a result of that initiative, he said, the School has since graduated more than 1,350 students from backgrounds underrepresented in medicine who have gone on to distinguished careers, influencing medicine across the country and the world. He added that last year's entering class of HMS medical students was the most diverse ever.  
In closing his address, Daley said, "Please know that it is your energy, your drive and your achievements that compel me to work harder and strive to do better." 
He added, "As we set out for 2020 together, with the wind at our backs, I'm excited to see what this coming year will bring," he said.
Image: Gretchen Ertl