Targeting Tuberculosis
Higher doses of TB drug may safely speed treatment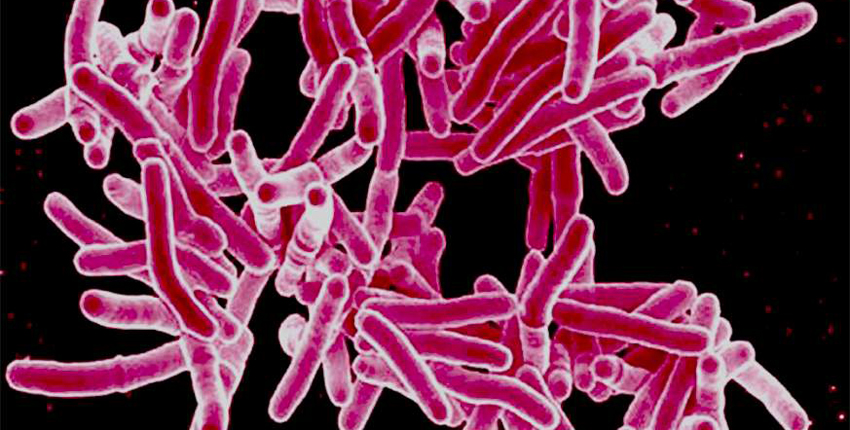 Scanning electron micrograph of Mycobacterium tuberculosis bacteria. Image: NIH
Higher daily doses of rifampin, a cornerstone of tuberculosis treatment, killed more TB bacteria in sputum cultures than the standard dose and did so without increasing the adverse effects of treatment, according to the results of a randomized controlled trial led by researchers at Harvard Medical School, Brigham and Women's Hospital and other institutions. The results were published in the American Thoracic Society's American Journal of Respiratory and Critical Care Medicine.
The increased bacterial kill rate suggests that higher doses may lead to faster elimination of TB bacteria, which could mean shorter treatment times for patients. One fourth of the world's population is infected with TB, according to the U.S. Centers for Disease Control and Prevention.
The authors of the trial said that the new findings were particularly encouraging because they suggest that with a high enough daily dose of rifampin a treatment period of less than the standard six months may be possible.
"Six months of treatment with four drugs—often delivered with support and supervision—represents a substantial burden on the health care system, as well as on the patient," said study author Gustavo Velásquez, HMS instructor in medicine and associate physician in the Division of Infectious Diseases at Brigham and Women's and research associate in global health and social medicine at HMS. "Patients who cannot complete the full regimen may not be cured, which permits ongoing transmission and the development of drug-resistant TB."
Rifampin has the most potent sterilizing effect of the four first-line agents commonly used to fight TB. When the drug was developed in the mid-20th century, it was very expensive. In order to make treatment affordable, the dosage was calibrated to be as low as possible while still being effective. But now, the drug is available throughout the world for only pennies per capsule.  To get the most out of this potent drug, new research is needed to determine the optimum dosage, according to Velásquez.
Previous studies of the efficacy and safety of higher dose rifampin, which looked at intermittent delivery of higher doses, found that intermittent higher doses were more toxic than lower doses.
The study was a phase 2 trial conducted in Lima, Peru, with 180 adults with new, drug-susceptible TB. Trial participants were randomized equally to receive a standard dose of 10 mg/kg/day of rifampin or higher doses of 15 and 20 mg/kg/day, along with standard doses of the other first-line anti-TB drugs (isoniazid, pyrazinamide and ethambutol), during the first eight weeks of intensive therapy. After that, participants in all three trial arms received standard doses of rifampin and isoniazid during four months of continuation therapy.
The trial found that each five mg/kg/day increase in rifampin increased the elimination rate of TB bacteria from sputum. The trial also looked at rifampin concentrations in plasma and found that elimination rates of TB bacteria were significantly related to higher rifampin concentrations.
All findings were true even after adjusting for age, sex and extent of disease.
The drugs used to treat tuberculosis often have severe adverse effects, which makes long-term adherence difficult. Importantly, the increased efficacy of higher doses of rifampin did not appear to result in more moderate, severe or life-threatening  rifampin-related adverse events. Two commonly reported adverse events of rifampin are liver toxicity and flu-like syndrome. Flu-like syndrome was not observed in this trial.
The trial did not find that rates of culture conversion, a milestone in TB therapy indicating that bacteria are no longer detectable in culture, differed among the three trial arms after the eight-week intensive treatment phase. The authors said the trial was not powered to make that determination.
"The difference was too modest at the tested doses for successful treatment shortening," Velásquez said. "However, these results, taken together with other recently published reports, support efforts to increase doses of rifampin to 35 mg/kg/day and possibly higher until the maximum tolerable dose is identified."
The current study is part of a decades-long, ongoing partnership between faculty from HMS and its affiliated hospitals and collaborators from clinical, community, academic and governmental organizations in Peru. This long-term relationship, which combines research, education and care delivery in an integrated effort to improve health systems provides crucial infrastructure for effective research and care delivery in resource-poor settings, the researchers said.
Carole Mitnick, associate professor of global health and social medicine at HMS and co-senior author of the study,  emphasized the importance of this work in the larger context of the inequalities that constrain access to the best possible TB treatments.
"The case of rifampin is emblematic of the struggle to optimize treatment for a disease that disproportionately affects poor people," Mitnick said.
She noted that the rifampin dose selected in the 1970s was the lowest effective dose, despite evidence that higher doses killed more TB. At that time, the drug was expensive and a premium was placed on rationing its use, rather than maximizing its benefit. Yet, today rifampin costs pennies per dose. 
The present study shows that allowing costs of treatment to frame scientific inquiry can lead to erroneous conclusions and, in this case, to suboptimal therapy for tens of millions of patients, she said. 
"This experience informs our group's other work, optimizing treatment for multidrug-resistant forms of TB, including our work with the endTB project," Mitnick said. "We aim to avoid this mistake by testing regimens expected to have the greatest activity and potential for treatment shortening, rather than pursuing an incremental approach that would result in significant lags in implementation of optimized clinical care."
Mitnick and Geraint Davies of the Institutes of Infection and Global Health and Translational Medicine, University of Liverpool were co-senior authors of the study. Additional researchers from the following institutions also contributed to the study: the Division of Infectious Diseases, Brigham and Women's; Department of Global Health and Social Medicine, HMS; Institutes of Infection and Global Health and Translational Medicine, University of Liverpool, United Kingdom; Hospital Nacional Hipólito Unanue, Lima, Peru; Hospital Nacional Sergio E. Bernales, Lima, Peru; Partners In Health / Socios En Salud Sucursal Peru, Lima, Peru; College of Pharmacy and Emerging Pathogens Institute, University of Florida; Division of Global Health Equity, Brigham and Women's; and Partners In Health.
The trial was funded by a grant from the National Institute of Allergy and Infectious Diseases to Harvard Medical School, implemented by Socios En Salud/Partners In Health and performed in collaboration with investigators at the University of Liverpool, University of Florida and St. George's, University of London. Sanofi donated the capsules of rifampin and matched placebo.
This story is adapted from a news release from the American Thoracic Society.