'The State of the School is Strong'
Daley gives second annual State of the School Address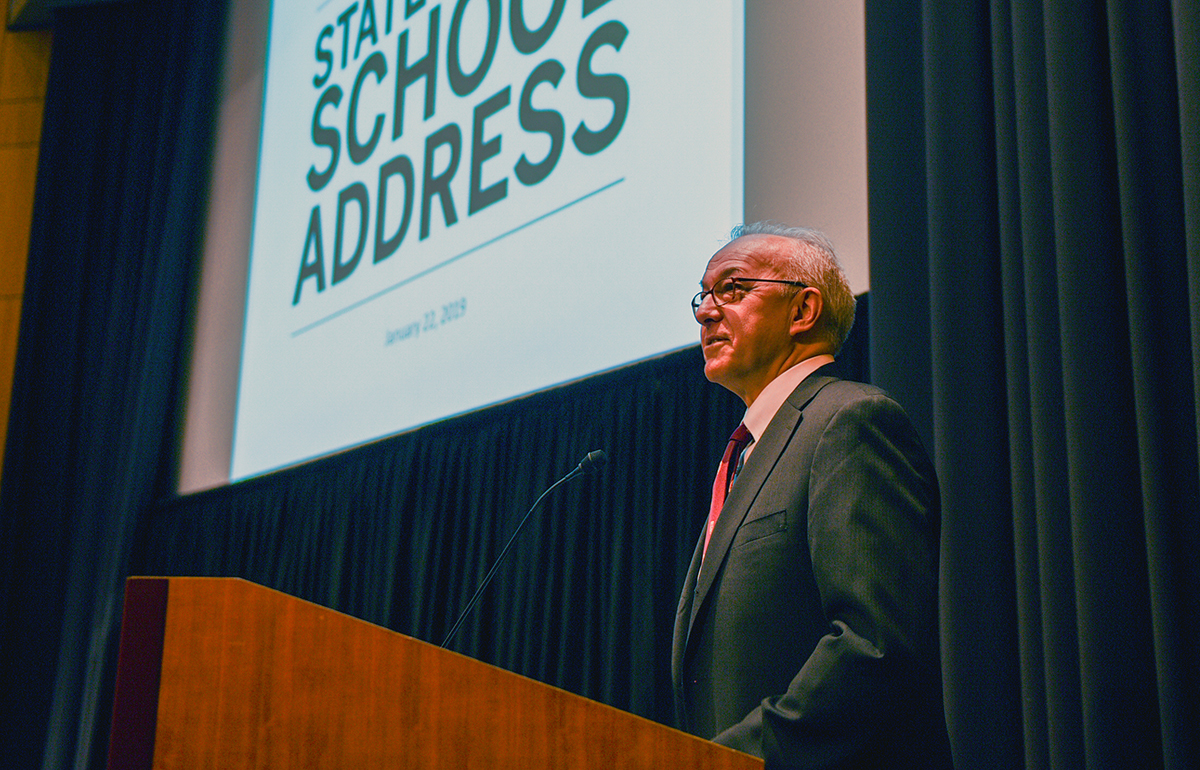 Dean George Q. Daley delivers the State of the School Address
In his second annual address, Harvard Medical School Dean George Q. Daley told faculty, students and staff this week that the School is on firm footing, and he's optimistic about the many new initiatives that will be launched in the coming year that will drive inspired research and educational advances.
"Your efforts in research, teaching, clinical care and service, your relentless pursuit of excellence, and your profound commitment to making tomorrow's world better than today's are why I can proudly say the state of Harvard Medical School is strong," Daley told the audience in the Martin Conference Center on Jan. 22. 
In his address, Daley provided an update on school finances, saying that the School is making progress toward long-term financial sustainability, progress that was boosted by the close of the capital fundraising campaign that raised $789 million, exceeding its goal of $750 million. He also cited the long-term lease in 2018 of the Harvard Institutes of Medicine building on Blackfan Circle for $272.5 million, which has enabled HMS to pay off more than half its debt, improving cash flow and moving the School toward a balanced budget.
"Over the past decade, we have had to collectively tighten our belts for reasons often outside our control, from the global financial crisis to the stagnation of NIH spending power," Daley said. "This has required your support, your cooperation and the willing engagement of every member of our community … I am deeply grateful to all of you."
Daley went on to talk about the School's upcoming March visit from the Liaison Committee for Medical Education (LCME) describing how more than 250 faculty, staff and students have "culled an overwhelming volume of data from a variety of sources, including the nearly 11,000 faculty at our affiliates." He said the reaccreditation process, which prompted extensive institutional self-evaluation, will spur positive change at the School as HMS enacts a broad range of recommendations and improvements stemming from the review.
He added that the reaccreditation preparation has also helped guide the formulation of a robust strategic plan, an effort that involved a re-envisioning of the HMS mission statement over the past year and a new framework for planning across all areas of the School. Daley said the strategic plan includes five cross-cutting goals that involve the promotion of innovation and discovery, collaboration, enhanced technology, process and fiscal discipline, a strong culture of diversity and inclusion and a drive to ensure that HMS remains a positive force for good in human health. 
"It is my intention that this formal strategic plan will provide a disciplined framework to guide our management decisions and resources," Daley said.
Spurring fundamental discovery
The dean said the historic $200 million commitment from the Blavatnik Family Foundation, and the establishment of the Blavatnik Institute at HMS last fall, will spur the School's efforts in scholarship and discovery as HMS works to provide deep support for fundamental discovery and "invest in transformative platform technologies and enhance data sciences and computational biology, catalyzing collaborative discovery across HMS and the broader Harvard life sciences ecosystem."
The Blavatnik Institute, Daley said, "recognizes the unique identity of the pioneering science conducted on the HMS Quadrangle" and unifies the School's research enterprise, bringing together under one umbrella the work of its 11 basic and social science departments. 
He added that the Blavatnik Family Foundation gift, which will support fundamental research, "also comes with an imperative to enhance the impact of our fundamental research through translation and commercialization."  
Daley said the School intends to pursue that goal through the new HMS Initiative in Therapeutics that will, among other things, promote partnerships with industry. It will involve five primary components all aimed at catalyzing communities of investigators and students with experts from biopharma to innovate and cultivate translational ideas. 
Part of that effort will involve the Blavatnik Harvard Life Lab Longwood, which is envisioned as an incubator for start-ups that emerge from the laboratories at HMS and its hospital affiliates. 
Daley added that the School will also continue to support curiosity-driven research by supporting collaborative science pipelines through the Dean's Innovation Fund grants, 23 of which were awarded in 2018 for a total of $15 million to 51 faculty recipients. He said more grants are being reviewed to supplement the Quadrangle Fund for Accelerating and Seeding Translational Research (Q-FASTR), which supports scientific projects that have commercial potential. 
Education achievements
The dean also commended the Program in Medical Education for its successful rollout of the Pathways curriculum, launched in 2015, which will be graduating its first cohort this spring.  Among the innovations launched in the past year, he cited the new Clinical Capstone course and the Advanced Integrated Science courses, and he thanked students for their independent surveys that have informed the LCME reaccreditation process.
"We now have a wealth of data that will help us attend to the needs of our students, make continuous quality improvements and evolve our programs so that HMS continues to set the standard for medical education," Daley said.
In terms of financial aid, Daley said the School has one of the strongest programs of any medical school, last year granting $23.3 million in scholarship funds, which he said is three times the amount, on average, provided by other private medical schools. As a result, Daley said, HMS students graduate with the fifth lowest debt burden of all private medical schools. 
"As part of our capital campaign, we established 73 new financial aid funds over the last seven years, and in the last two years we have raised a total of $21 million to augment financial aid," Daley said, adding that thanks to philanthropic support the School was able to establish the Dean's REACH Scholarship Program, which provides supplemental scholarship funding to help students from disadvantaged backgrounds accept admissions offers from HMS. 
Daley said the School has also been reviewing ways it can improve its graduate education programs to provide improved, evidence-based assessments of students' needs, progress and outcomes, and a better overall learning environment. He said it will also seek ways to equalize services and opportunities for graduate students, and rethink administrative and financial structures to achieve greater impact. 
The School, Daley said, will continue to invest in its stellar master's programs, whose diverse, international student bodies "extend the impact of our work and amplify our strategic priorities in teaching and learning."  
Daley said that Dean David Golan, who has held the dual role of dean for basic science and graduate education for several years, will now become dean of research operations and global programs in order to help implement many of the new initiatives enabled by the Blavatnik gift while continuing to steward the many existing research and global programs on the Quad. Daley said he will be launching a search for a new dean for graduate education. 
Along with these changes, Daley mentioned the establishment of the two new Quad departments of Microbiology and Immunology and the change in leadership within the Department of Systems Biology, whose founding chair, Marc Kirschner, stepped down last year and was replaced by new department chair Galit Lahav. 
He also recognized the School's Task Force on Diversity and Inclusion, which created a refreshed diversity statement to inform and guide the HMS strategic plan. He cited efforts to update artwork and imagery around campus to better reflect and embrace the School's diversity, including the creation of a bust of Alice Hamilton, the School's first female faculty member, which was unveiled in the TMEC last year.
To further enrich the student experience at HMS, Daley said, the School last year completed a number of infrastructure improvements, including two major renovations in the Tosteson Medical Education Center—a new student study hub and a student support center. He said a planned renovation of the first two floors of the Countway Library will also provide 24-hour access to new multipurpose spaces for students, a branch of the Harvard COOP and a café.
"There can be no doubt that we have made considerable progress," Daley said in conclusion, "and we are blessed with the resources to make hearty investments to enable all of you to do your good work. Today, I am more optimistic about the future of our school than ever."