Past and Prologue
New fourth-year clinical capstone course designed to refresh clinical skills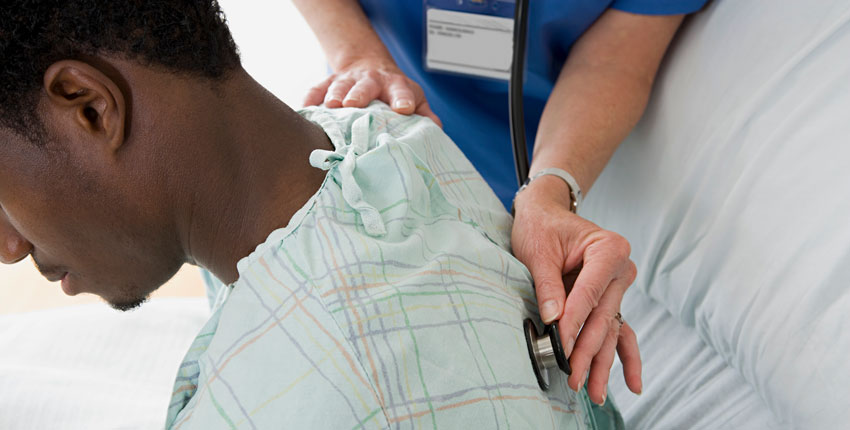 Meredith Atkins, fresh out of Dartmouth Medical School, began her OB/GYN residency at Beth Israel Deaconess Medical Center in 1998. Her first night on the wards, she said, was unforgettable.   
A patient in the Radiology Department was having a miscarriage at 18 weeks and the hospital layout was still so unfamiliar to Atkins that — in her haste to respond—she had difficulty locating the department. She remembered calling her chief resident at least 10 times that evening. 
"It was a really complex situation. I was supporting [the patient] medically and emotionally," she recalled. "You're left feeling inadequate."
Twenty years later, Atkins, now associate dean for undergraduate medical education at Beth Israel Deaconess and assistant professor of obstetrics, gynecology and reproductive biology at Harvard Medical School, is working to ensure that HMS graduates can avoid similar stressful experiences when beginning their residencies.
The idea, Atkins said, is to bring rigor to students' post-Principal Clinical Experience (PCE) clerkship training so that "they have a solid and high-level base of all the clinical skills they need to be successful in any residency program."
To that end, Atkins and Katharine Treadway, the HMS Gerald S. Foster Academy Associate Professor of Medicine at Massachusetts General Hospital, are co-leading the HMS curriculum's latest innovation: a mandatory, fourth-year clinical capstone course designed to ensure that all students are well prepared for their residency experiences. Students must take the course, offered January through April each year, in one of their final four months of school to be able to graduate.  
By the end of their fourth year, Treadway said, "Many students have been away from any kind of clinical medicine, and they're feeling the need to have a clinical skills refresher."
"These were the things [students] thought they needed," said Atkins.
Much of the focus of the new one-month course will be on strengthening the communications skills that students began practicing during their first year of medical school. Three days of didactic refreshers will cover a range of topics, from transitions in care to how to pronounce patients to identifying substance use disorders. Other topics include serious-illness conversations or agreement on code-status, ensuring that the type of emergency treatment a person would receive if their heart or breathing were to stop has been fully communicated and understood.
Students will choose the specialty in which they want to spend the three clinical weeks of the course, after which they will be evaluated by faculty members on their competency in 13 core entrustable professional activities, such as prioritizing differential diagnoses or interpreting lab tests. Atkins said the course will provide an opportunity for self-reflection, allowing students to assess where they are clinically and where they need to improve.
"In some ways it's a pretty big mind shift," said Treadway, who is also associate director of the Cannon Society and advisors at HMS. "We want them to say where they think they're weak," so that they can identify areas where improvement is needed.
The new course will be required for all students who entered HMS starting in 2015 and will be offered for the first time this January for the graduating class of 2019.  
The last two days of the course will focus on wellness and on how the students can best care for themselves on the wards, identifying support systems ahead of time.
"When things go wrong," said Treadway. "Who are you going to turn to? What is your support family? If you can anticipate, then you won't spiral into feeling so alone."
Treadway said she hopes the course will also foster a habit of continuous learning.
"Being able to anticipate situations, so that when they're in them they will have a reference point to rely on," she said.
Because it will be offered four times over four months, classes will be small. As fourth-year students, most enrolled in the course will have already applied for residencies; the pass-fail grade will not be recorded on their transcripts.
Both Treadway and Atkins say the idea for the course, which has been in development for more than a year, stemmed from ongoing curriculum reform efforts.
Atkins says the most challenging part of the process has not been creating the curriculum but coordinating faculty across all of the HMS teaching sites and specialties and collaborating on how student assessments will be performed.
"We want to make sure all the students are evaluated in the same way and they all have the same level of experience," Atkins said.
A benefit will be the ability to obtain real-time feedback on the course from students and faculty.
"Faculty have been amazing to work with," Atkins said. "It's a real pleasure to think about how we can do this in the best way for the students."
Image: XiXinXing/iStock