Stand Against Racism
HMS community gathers on Quad to respond to racial injustice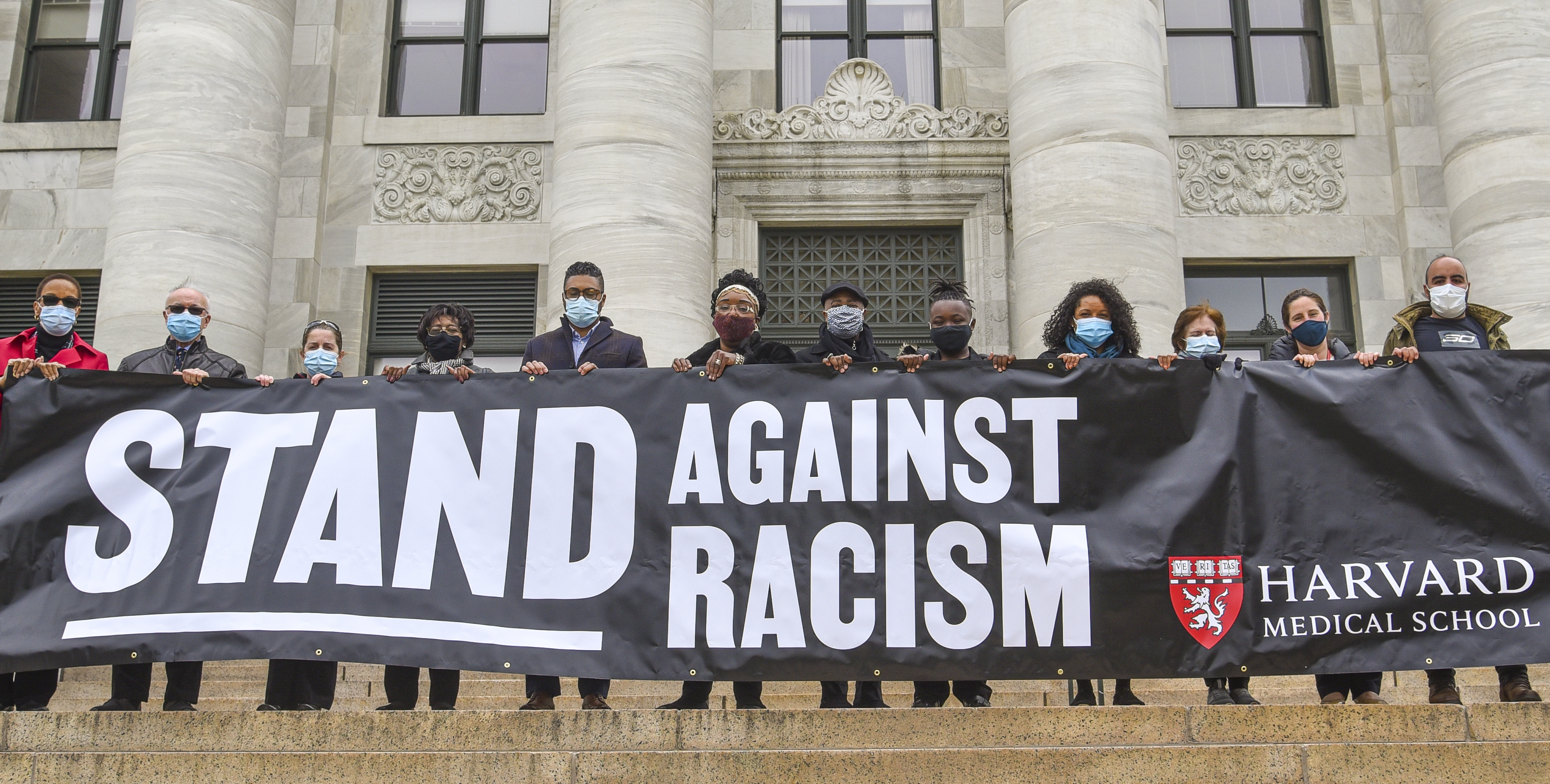 On a blustery, cold but sunny spring afternoon at Harvard Medical School, about 40 masked members of the HMS community stood like human stanchions, socially distanced, across the green grass of the Quad, while several hundred others joined them online.
Unfurling a giant black and white banner embellished with the crimson HMS logo that read "Stand Against Racism," HMS students, faculty, postdocs and staff joined with colleagues from across New England on Apr. 22 to hear songs, poetry, and speeches, gaining inspiration from one another and from campus leaders in the face of ongoing episodes of racism and bigotry in the U.S.
"Racism is a cancer that has afflicted our country for centuries," said HMS Dean George Q. Daley during the rally, "and one that must be excised."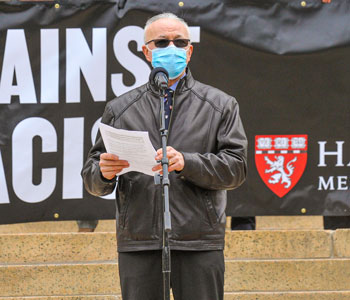 The event took place only days after the guilty verdicts in the murder trial of former Minneapolis police officer Derek Chauvin, but in the midst of continuing violence against people of color in the U.S. During the rally, the HMS community united in a moment intended to assuage the hurt and fear of ongoing racial injustice, and to engender hope and inspiration for the future.
"We can never stop seeking justice, and we must always stand with those who are fighting for change," Daley told the gathering from the steps of Gordon Hall.
Daley said the Chauvin verdict did not erase what happened to George Floyd, a Black Minnesota man murdered while in police custody on May 25, 2020, or undo the harm committed to countless people of color who have lost their lives and been victimized not only in recent years but over the centuries.
"For so many," Daley said, "the [Chauvin] trial was reopening a wound. A wound that never has a chance to heal."
Daley's words followed opening songs performed by Tony Johnson, associate dean of student social equity and inclusion at Rhode Island School of Design, who was a guest at the rally.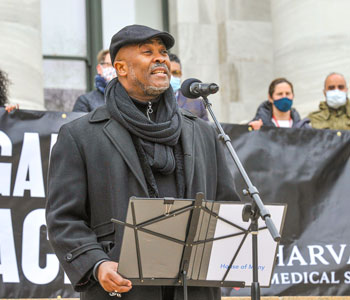 Johnson, accompanied by his son Dmitri, age 12, on drums, sang a medley of music that featured an American gospel song written in 1908 titled "I Shall Not Be Moved," which traditionally has served as an invocation and a call to gather, as well as an American hymn titled "If I Can Help Somebody," which was a central anthem for Martin Luther King, Jr. during the Civil Rights movement of the 1960s and which symbolizes a personal affirmation of the power of self to make meaningful change.
Johnson's third song in the performance, of Michael Jackson's song "Man in the Mirror," called "for deep inner work in order to realize lasting external change."
Health care impact
Daley said the nation's long history of racial and social injustice has been brought into especially sharp relief during the coronavirus pandemic.
"Members of our Black and brown communities, and those on the margins who often are without voice, are disproportionately suffering and dying from illness and disease," he said.
"COVID-19 has taught the U.S. a hard lesson about the role of social determinants of health in patient outcomes, but this is not new information. We must go beyond recognizing the impact of these economic and social conditions and commit to further understanding the root causes and addressing them."
Following Daley's remarks, Joanne Suarez, founder and executive director at LatinX Bioethics who received her master's in bioethics from HMS last year, recited an original poem entitled "Open Your Eyes."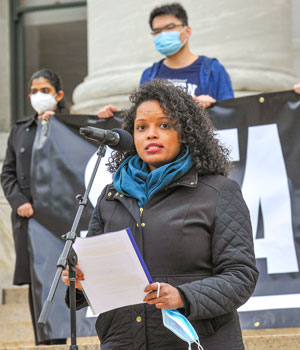 "Open your eyes," the poem began. "When you look at me you see violence. When I look at you, I see silence..."
Suarez said she wrote the poem last year "in a silent rage, at the peak of the pandemic," during the national unrest sparked by the deaths of Floyd and others.
"Words cannot describe the injustice we have witnessed," said Suarez, who is also part-time community health assistant for The Family Van.
Joan Reede, HMS professor of medicine at Massachusetts General Hospital and dean for diversity and community partnership, who spearheaded the rally, asked for 90 seconds of silence "for all those who have been killed or hurt" and for their families and loved ones.
She also asked the crowd to reflect on "what and where we have been, what and where we are now, and where we can and should be, moving forward."
Reede then introduced Imari Paris Jeffries, executive director of King Boston, an organization committed to racial justice and equity. HMS supports a number of Boston community initiatives, sponsoring a YMCA anti-racism program, as well as KingBoston and the Urban League of Eastern Massachusetts.
Jeffries told the crowd that a "post-pandemic world demands that we act and not just react" and that people must make a concerted effort to dismantle systemic racism in public safety, education, higher education, and health care.
"The [Chauvin] verdict didn't change the facts or the underlying racism behind them," he said.
Supporting each other
For those who came together on the Quad, and the many more who viewed the rally online, the gathering offered an opportunity for those in marginalized groups to feel supported by the HMS community, and for those in positions of power to rededicate themselves to creating positive change.
"This is a very specific moment," said Xiaofan Wang, a researcher in the neurology department at Boston Children's Hospital. "I feel there's a big need for people to feel supported right now. We feel we need to fight back against racism. This is my support."
Monique Rolle Johnson, an artist from Rhode Island who accompanied her husband, Tony Johnson, said it was important for HMS to set an example for other educational institutions.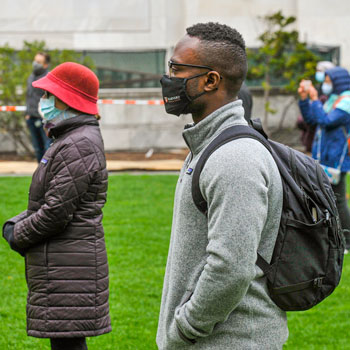 "I think it's fantastic when you get to see a school of such pedigree saying, 'I stand, I see, I witness,'" she said, commending HMS efforts "to reach out and make a difference in our community."
"These are the institutions that need to speak up more in terms of this," agreed her mother-in-law Leni Johnson.
Akashleena Mallick, who has been working as an HMS research fellow in neurology at Beth Israel Deaconess Medical Center, stood with a dozen others holding the "Stand Against Racism" banner on the steps of Gordon Hall.
"It doesn't stop. It just doesn't stop," she said, expressing her frustration at the violence and discrimination that has been directed at immigrants in the U.S.
"It baffles me that we come with dreams in our eyes and are left to be dead," she said, but added, "There's no limit to dreaming. No matter what, courage wins."
Dian-Jang Lee, HMS research fellow in pediatrics at Boston Children's, also helped hold the banner.
"I believe that the USA is a place where people care about each other," he said. "Where hard work means big dreams. If we all work together, we can all contribute to this society."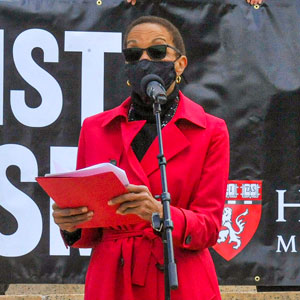 "I'm happy that HMS has taken action to stand by people of color and express what we feel and try to make this society better," Lee added.
Toward the close of the program, Reede asked participants to sign "Stand Against Racism" pledge boards erected around campus and to commit to advancing racial equality.
The rally closed with Johnson's rendition of another song adopted by Civil Rights activists in the 1960s, "Ain't Gonna Let Nobody Turn Me 'Round."
Reede said the song has long "served as a call to action for individuals, the broader community of activists, and justice-minded citizens. May it do the same for us."
Images: Steve Lipofsky