Science Without Borders
New England Science Symposium encourages innovation, collaboration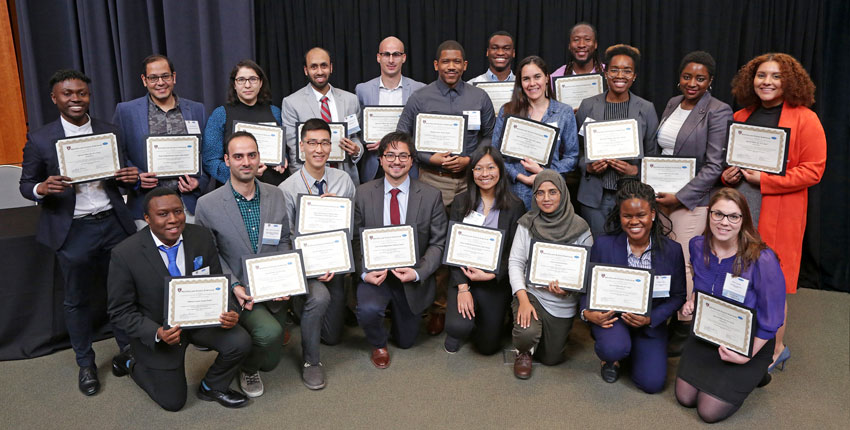 2019 NESS Award Winners. Image: DICP
Students and fellows from around the U.S. and the world converged on Harvard Medical School last month to share their research and explore career development in the sciences during the 18th annual New England Science Symposium (NESS). They hailed from 34 states plus Puerto Rico, Brazil, Mexico, Guatemala and Turkey.
HMS hosted the more than 350 students from 180 institutions at the annual event, which was established in 2002 and is co-sponsored by the Harvard Medical School Office for Diversity Inclusion and Community Partnership and the Biomedical Science Careers Program (BSCP). The 2019 Symposium was supported by Vertex Pharmaceuticals.
The aim of NESS is to provide a forum for the students and fellows to impart their research in biomedical and health-related fields through oral and poster presentations, as well as to engage them in discussions related to career development in the sciences, exchanging ideas and expanding their professional networks.
Presenters, a majority of whom were from populations underrepresented in the sciences, ranged from postdoctoral fellows; medical, dental and graduate students; and post-baccalaureate, undergraduate and community college students.
Out of 345 submissions for this year's April event, four men and eight women were selected to present their research findings orally, and 217 were chosen to give poster presentations.
The 2019 NESS commenced with opening remarks by Joan Reede, dean for diversity and community partnership at HMS, HMS professor of medicine at Massachusetts General Hospital, and BSCP president and chair. 
Eydith Comenencia Ortiz, associate director of alliance and advocacy relations and governmental affairs at Genentech, welcomed the attendees. A former BSCP student, Ortiz is a BSCP student advisor, Hope Scholarship recipient and a NESS planning committee member.
Four oral presentations of scientific research were moderated by Fadie Coleman, assistant professor of medical sciences and education and director of the Biomedical Laboratory and Clinical Sciences Program at Boston University School of Medicine. Coleman is also a former BSCP student and NESS planning committee member.
A second session of four oral presentations on scientific research was moderated by Dennise De Jesús-Díaz, vice president of scientific operations at Remedy Plan Therapeutics. De Jesús-Díaz is a current BSCP student advisor, former BSCP student, Hope Scholarship recipient and NESS planning committee member.
The keynote address was delivered by Donald Ingber, founding director of the Wyss Institute for Biologically Inspired Engineering at Harvard University, the Judah Folkman Professor of Vascular Biology in the Department of Surgery at HMS and Boston Children's Hospital, and professor of bioengineering at the Harvard John A. Paulson School of Engineering and Applied Sciences.
A networking luncheon was followed by the poster session. The poster session showcased 206 posters. The poster presentations were reviewed by a group of 68 poster judges (16 were Harvard faculty) and six oral judges (two who were Harvard faculty).
The following awards were presented: The Ruth and William Silen, M.D. Awards for outstanding oral presentations and exceptional scientific posters; Dana-Farber/Harvard Cancer Center Awards for outstanding cancer-related oral and poster presentations; American Cancer Society Awards for outstanding cancer-related oral and poster presentations; Vertex Postdoctoral Awards for outstanding scientific posters presented by postdoctoral participants; Beth Israel Deaconess Medical Center Department of Neonatology Award for outstanding neonatal-perinatal research poster presentation; Stem Cell and Regenerative Medicine Award for outstanding stem cell and regenerative medicine poster presentation; and The CloudHealth Genomics Award for outstanding translational research poster presentation. For a complete list of award winners visit the NESS Awards page.
For more information on the New England Science Symposium, other opportunities at HMS and programs of the Office for Diversity Inclusion and Community Partnership, please visit http://www.hms.harvard.edu/dcp.