Reaching for Health Equity, Social Justice
Forum explores political determinants of health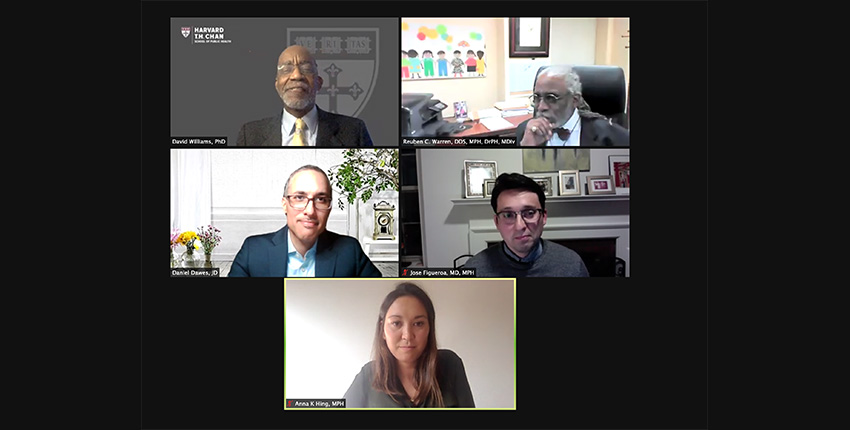 Shalondra Rollins was 38 years old when she died of COVID-19 in April. She was working hard to beat the odds against her. She had earned an associate degree and was working as a teacher's assistant, but the mother of two still had several factors that put her at high risk of dying of the disease: She was Black. She had diabetes. She had a low-paying job.
Rollins is one of the 38,000 Black Americans who have died of the disease since it hit the U.S. in January, said Daniel Dawes, executive director of the Satcher Health Leadership Institute at the Morehouse School of Medicine, recounting Rollins' story. The majority of these Americans had underlying health conditions, he said.
According to the U.S. Centers for Disease Control and Prevention's Aug. 18 update, Black people are 2.6 times more likely than white, non-Hispanic people to have COVID-19, 4.7 times more likely to be hospitalized for it, and 2.1 times more likely to die of it.
"How did we get here?" asked Dawes. "How did those structural conditions … come to be in the first place?"
With U.S. elections just weeks away, Dawes was keynote speaker at a special virtual forum on Oct. 20 exploring the political determinants of health, "Voting, Health Policy and Social Justice," hosted by the offices of diversity and inclusion at Harvard Medical School, Harvard School of Dental Medicine and the Harvard T.H. Chan School of Public Health.
Dawes told forum participants that although much has been learned about the social determinants of health—the lack of resources caused by centuries of structural racism—current U.S. economic and social policies still discriminate against people of color, putting them at greater risk from COVID-19.
The health effects of structural racism include poor access to health care and healthy foods, environmental exposure to pollutants, and intergenerational effects. Discriminatory policies, Dawes said, determine who gets tested, who gets health care, what the quality of care is, who gets paid sick and family leave and more.
"This pandemic demonstrates the inconvenient and harsh truth about the social determinants of health," Dawes said.
Upstream decisions, downstream impacts
Racial and ethnic minorities and other marginalized groups in the U.S. have experienced inequities over the past 400 years that have "weakened their bodies and hastened their deaths," Dawes said.
"The inequities in health status and in health care are widely documented," he said, adding that more than 7,000 studies have been published on the topic.
Dawes said that the state of the nation's health is driven, perpetuated and exacerbated by social and economic factors, individual health behaviors, clinical care, physical environment and genes and biology.
"We are missing the link between the social determinants of health and their political roots." —Daniel Dawes
These forces, he said, play an outsized role in public health, but each has an underlying political determinant that ultimately affects the quality and extent of people's lives.
When policymakers and political leaders fail to see the depths of the problem and its root causes, Dawes said, "We are missing the link between the social determinants of health and their political roots."
Political determinants have compounding effects on personal responsibilities and behaviors, he added, saying that no matter how much African Americans, Native Americans, LatinX and other vulnerable people try to act responsibly, they are hindered by structural, institutional and interpersonal obstacles that "prevent them from achieving their optimal health and full potential."
Dawes then gave a historical overview, from the nation's beginnings to the present, outlining several political efforts to address health disparities and other inequities, and how, ultimately, those policies were reversed by legislation and U.S. Supreme Court rulings.
He encouraged health equity advocates to connect the social determinants of health to their legal and political roots—especially now as the third wave of the pandemic is hitting the U.S. He ended his remarks with a quote by David Satcher, former U.S. Surgeon General and founding director of the Satcher Health Leadership Institute: "We need leaders who care enough, know enough, have the courage to do enough, and who will persevere until the job is done."
Reflections
David Williams, the Florence Sprague Norman and Laura Smart Norman Professor of Public Health at the Harvard Chan School and professor of African and African American Studies at Harvard University, moderated the forum's panel, asking panelists to reflect on what Dawes had covered, then taking questions from online attendees.
"Intimidation and discrimination have consequences for health," said panelist Anna Hing, a doctoral candidate in community health sciences at the Fielding School of Public Health, University of California, Los Angeles, as she reflected on the effects of voter suppression on health.
Higher inequality in voting, she said, is a form of structural racism that, through laws and policies, has had a "disparate impact on voters of color," leading to increased wait times at the polls, twice the amount of ballot rejection, fewer polling places and other obstacles to voting.
These inequalities, she said, have resulted in long-term negative health impacts from discriminatory policies and a lack of resources and protections that result from reduced political representation.
Direct health consequences of voter suppression, such as those currently being experienced during the pandemic, she said, include the physical and psychological stress of waiting in long lines and potential exposure to coronavirus.
Asking new questions
Over the past 10 years, health policies in the U.S. have shifted health systems to value-based, or pay-for-performance, strategies, said Jose Figueroa, assistant professor of health policy and management at the Harvard Chan School and HMS assistant professor of medicine at Brigham and Women's Hospital.
Although many programs aim to improve care and reduce costs, he said, often they don't take into account the social determinants of health, such as levels of income and education, food security and other social risk factors. Thus, he said, they have some form of structural discrimination at their core.
By taking only clinical risk factors into account, Figueroa said, "value-based care programs disproportionately penalize health care providers that take care of more disadvantaged people … more people of color, more low-income individuals and more people from disadvantaged neighborhoods."
While these safety net providers are constrained, he said, those who care for white, wealthy populations are rewarded.
Figueroa suggested that health policies need to be reviewed through the lens of health equity, and with an eye toward removing the unfair burden on health care providers who care for underserved populations.
"We must ask how is this policy going to affect the most vulnerable among us, … and do these programs actually meaningfully improve the care of people," he said.
"The political determinants of health frame the social determinants as an outcome," said Reuben Warren, director of the National Center for Bioethics in Research and Health Care and professor of bioethics at Tuskegee University.
"Go vote, please. Go vote." —Reuben Warren
In response to a question about how the U.S. can effectively address systemic inequities without further marginalizing and categorizing the communities affected, Warren recommended viewing the question in the context of public health ethics.
"Start specifically with the place and then evolve to a population in that place. Once we get to the population, look for the … ethical principle. That's generalized across the country and then across the world," he said.
"This forum is a perfect example of how we use ethics to impact health," Warren said.
Taking action
Warren's final takeaway? "Go vote, please. Go vote."
Joan Reede, dean for diversity and community partnership at HMS, echoed Warren's sentiment as she concluded the forum.
"Everyone listening should vote and encourage those around them to vote," Reede said. "Also, it doesn't end with just voting—carry forward with what we've learned and act to move toward equity and justice."
One of several events sponsored by Harvard University that have focused on this year's election and voting, the forum attracted 165 participants from 27 states and six countries and included health professionals, faculty, students, trainees, attorneys and administrators, as well as community members from the Longwood Medical Area.
For those interested in additional information, the forum's planning group has made voting resources available here.