Science and Citizenship
HMS students spend summer helping Mass. State legislators craft science-based policy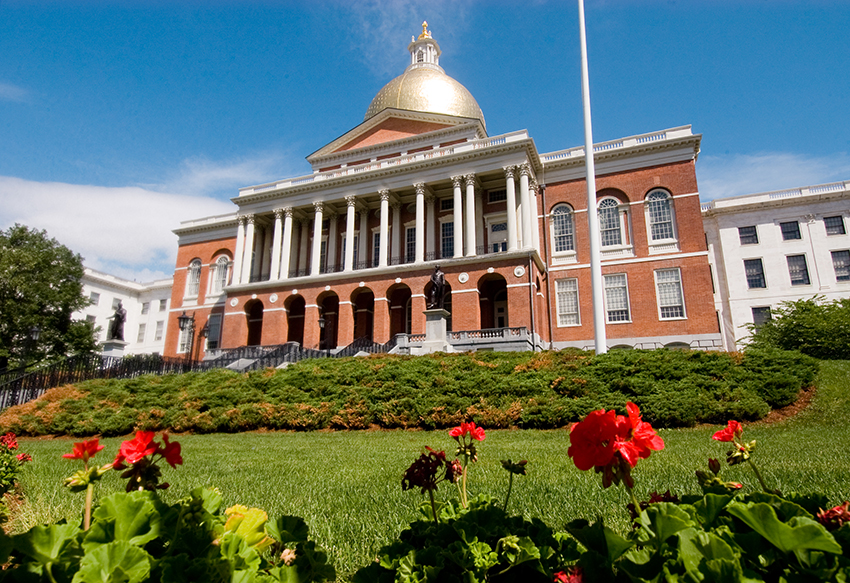 As a science-minded and politically active youth growing up in central Oklahoma, Kayla Davis was fascinated with both science and policy. When Oklahoma made record budget cuts to education in 2016, however, her fascination bloomed into a desire to work at the intersection of these two worlds.
"The state's decision to sacrifice education spending, especially spending that would help enrich the learning experience of students interested in STEM fields, was heartbreaking to me," said Davis, now a seventh-year graduate student in Harvard's Biological and Biomedical Sciences program.
So, while studying mitochondrial regulation in the lab of Harvard Medical School neuroscientist Tom Schwarz, Davis also actively explored science policy. She cofounded the Oklahoma Science Project—an online resource to support science, technology, engineering and math (STEM) education in her home state—and played a leadership role in the Harvard GSAS Science Policy Group.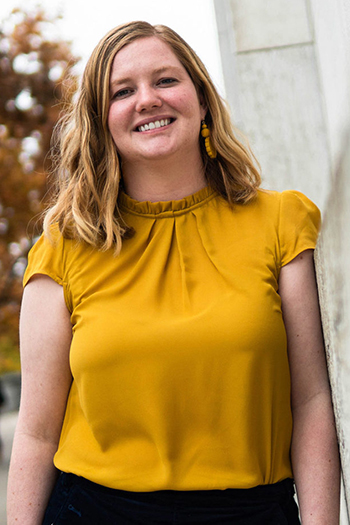 And when the opportunity arose to spend a summer working alongside legislators in the Massachusetts State House, tackling equitable COVID-19 testing and other health care concerns, it was a no-brainer, Davis said.
Over the course of 10 weeks this summer, Davis and three other HMS graduate students spent their time outside of the lab working at the Mass. State House as fellows in the Scientific Citizenship Initiative (SCI) at HMS.
Representing diverse backgrounds, career goals and areas of expertise, the 2020 SCI fellows carried out research, drafted communications and participated in discussions on a broad range of policy issues, including pandemic response, police reform, housing equity, climate change and more.
"Scientists and policymakers have a lot to learn from each other," said Angela DePace, associate professor of systems biology at HMS and founder of SCI. "We hope that building and sustaining these relationships will inspire scientists to take on new types of socially impactful work, including new research questions."
This is precisely the mission propelling SCI, which was established in 2018 to narrow the gap between scientists and society by offering training and opportunities for civic engagement not typically found in STEM education. SCI programs include coursework, mentoring, networking and the Mass. State House fellowship—a part-time program that gives students practical experience working in policy alongside their studies and lab work.
As part of the fellowship, SCI provides stipends and helps place students into the offices of state legislators. To help the fellows make the most of their time, SCI offers training on science policy and State House functions, as well as mentorship from Daniel Pomeroy, executive director of SCI, and Carl Sciortino, executive vice president of external relations at Fenway Health.
"We believe that giving students and working scientists the skills and opportunities they need to create meaningful connections in the world will not only improve society, but also give scientists a fuller picture of themselves as citizens who are essential to a functioning democracy," DePace said.
Wake-up call
In recent months, communities of every size and composition around the world have confronted generational challenges, highlighted by the COVID-19 pandemic, as well as inequities and social justice. There are no simple solutions to these complex crises, which require civic engagement and cooperation at every level of society to be successfully and sustainably overcome.
The participation of scientists in this discourse is no exception, especially since the need for data and evidence-based input on policy has arguably never been more acute.
"COVID-19 has highlighted the fact that scientific evidence is critical to solve major societal challenges, but also that it alone isn't enough," DePace said. "Implementing solutions in the real world shows that thoughtful communication and civic engagement are required to build public trust in science, especially when research is moving quickly."