Inspiring the Next Generation
Visiting med students gain research knowledge, skills at HMS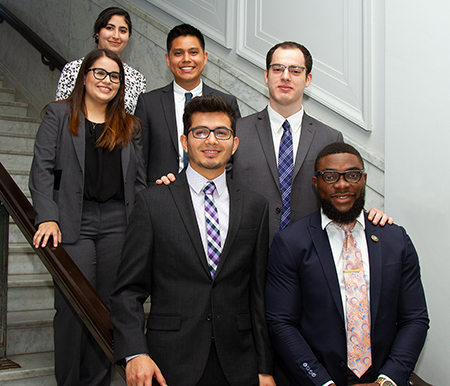 Daniela del Campo, who is beginning her second year at Boston University School of Medicine, spent eight weeks this summer on the Harvard Medical School campus, immersed in a research apprenticeship with a mentor.
The opportunity was provided by the Harvard Catalyst Visiting Research Internship Program (VRIP).
"From the beginning, I realized that I not only had a mentor for my project, but for life," said del Campo, who has been working in the laboratory of Michael Super, lead senior staff scientist on the Advanced Technology Team at the Wyss Institute for Biologically Inspired Engineering.
Del Campo is one of six students from medicals schools across the country who were accepted into the competitive program, which aims to foster diversity and interest in clinical and translational research.
Mentorship and networking are hallmarks of VRIP, which is part of the pipeline efforts in Harvard Catalyst's Diversity Inclusionprogram, led by Joan Reede, HMS dean for diversity and community partnership.
Del Campo said she has been drawn to science since high school, when she realized how many unanswered questions there were in the world. She has since had several research experiences.
Experiencing breakthrough science
"But here I could literally see science breaking through, see translational research move from the bench to the patient," she said.
Her mentor, Super, and other colleagues devised a dialysis-like device for treating sepsis, a bloodstream infection that can be fatal, which has been licensed for commercial development.
They are now working on next-generation aspects of that original project, funded by the U.S.'s Defense Advanced Research Projects Agency. They are adapting for cancer diagnosis the engineered blood protein they created to capture pathogens in the sepsis device. They are also seeking to develop a vaccine, an injectable that could either prevent infection or treat infection—a potential way around antibiotic resistance, said Super.
Del Campo worked alongside Shanda Lightbown, research assistant at the Wyss, on a project that is part of the team's effort to investigate whether multidrug resistant fungal infections could be incapacitated by coupling their engineered protein with lysosomes, vesicles that resemble cell membranes, to deliver a toxic drug. Could they precisely target fungus and only fungus and deliver its toxic payload?
Testing this in an animal model, del Campo brought lab skills to the task that she already had acquired, such as flow cytometry, a way of analyzing immune response. She then learned new skills, like advanced microscopy and how to make lysosomes.
"For me, being in the lab is exciting," she said. "I know that research has to be part of my career." She also hopes to honor her roots in El Paso, Texas, where underserved populations could benefit from "physicians who speak Spanish and do research that includes them," she said.
"It's great to have students like Daniela who can hit the ground running," said Super, who has been a VRIP mentor for the past eight years.
He has hired del Campo to continue in his lab one day a week to finish her project and publish it, while she continues her medical school studies.
"Mentoring opportunities like this program's can make such a difference to their futures and they are good for us mentors, too," he added.
In addition to a mentored clinical/translational research experience, VRIP students participate in weekly seminars with Harvard faculty that focus on topics such as research methodology, health disparities, bioinformatics and career paths.
Getting to know each other
Getting to know the other visiting students was also a great part of the program, pointed out Darlington Pobee, now a second year at Morehouse School of Medicine. "We all have different backgrounds, and I learned a lot from them, too," he said.
Ryan Toledo, for example, is now starting his second year at the University of North Dakota School of Medicine and Health Science and is a registered tribal member of the Pueblo of Jemez Native American tribe in New Mexico. Toledo plans to practice medicine in Native American communities, in hopes of addressing health disparities, he said. Pobee also is interested in working in underserved areas.
Pobee was assigned to the laboratory of cardiovascular surgeon Meena Nathan, HMS assistant professor of surgery at Boston Children's Hospital, whose research focuses on clinical outcomes and quality improvement. Pobee gathered and analyzed outcomes data for Nathan's study. They were working to assess a surgical versus nonsurgical approach to treating babies with complex heart defects and ductal dependent circulation, the cause of so-called blue baby syndrome.
Pobee assessed the outcomes data on using a surgical approach, an aorta-pulmonary shunt. Already interested in cardiology, Pobee said VRIP bolstered his interest.
"I've always been in love with the heart, and it was so amazing to learn to read my first 3-D echocardiogram," he said. He also observed a cardiac catherization procedure and surgery to repair a ventricle defect.
"I'm excited about the possibilities that lie ahead for me and for helping future patients," Pobee said.
Benefiting from mentors
Pobee appreciates that Nathan, his mentor, made sure Pobee had clinical as well as research experiences.
"It's important that these research interns get the maximum they can out of their time here," Nathan said.
She also arranged for Pobee to shadow thoracic surgeon Francis Fynn-Thompson, HMS assistant professor of surgery and the surgical director of Boston Children's Heart Transplant Program, who, like Pobee, was originally from Ghana.
"Mentoring means helping them make contacts they can use the rest of their careers," Nathan said. "I love mentoring, and I believe we have to pay forward the mentoring we received in the past that got us to where we are now."
Pobee himself has not only benefitted from mentors but also enjoys mentoring others.
"I didn't have any mentors growing up until I moved to the United States," he explained. "It is especially important for me, as an African American student, to mentor. Other people like myself need to see what it is possible to do in life, even if you don't have affluent parents."
He said he's learned that "If you put the work in and seek out the right resources, anything is possible."
This year's six VRIP summer students publicly presented their research findings on July 25 in Gordon Hall's Waterhouse Room. Other topics included new approaches to cancer care, such as using exosome-derived biomarkers to detect pancreatic cancer and targeting IRF4 dependence in multiple myeloma. One student applied natural language processing and deep learning to identify follow-up recommendations for diagnostic imaging reports.
Their eight weeks were jam-packed with new knowledge and skills. But one of the most important things they left with, Pobee said, is a new network of friends and faculty mentors who, perhaps someday, may become research collaborators or faculty colleagues.