Dreams More Attainable
Salma El-Behaedi found her footing through HMS programs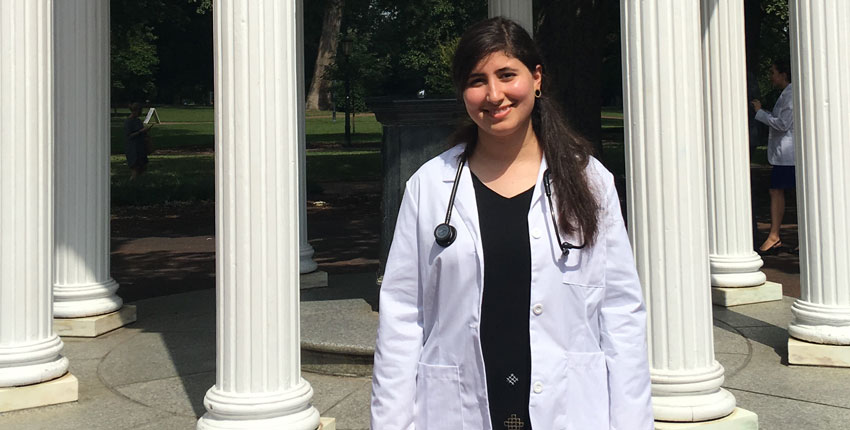 Salma El-Behaedi
From Egypt to the United States, middle school to med school, Salma El-Behaedi has ventured far. Now a visiting student at Harvard Medical School, she credits HMS's pipeline programs for helping her find her true path.
Born and reared in Egypt, El-Behaedi emigrated to the United States at age nine. Her early experiences with family illness and the health care system of her home country left an indelible impression—and planted a seed.
"I was influenced by what I saw there," El-Behaedi said. "Something needed to change about the type of health care people were receiving. There's a need for an educated physician workforce."
In eighth grade, El-Behaedi participated in the HMS Program for Research and Investigation in Science and Mathematics (PRISM), sponsored by the HMS Office for Diversity Inclusion and Community Partnership. PRISM, now discontinued, introduced young people, particularly students from underserved communities and disadvantaged backgrounds, to careers in the health sciences and helped support their adjustment to the more rigorous academic demands of high school.
El-Behaedi recalls entering PRISM with an open mind but also of feeling, "50-50 about it." Health science, like HMS, was unfamiliar territory.
"I remember my first time on the HMS campus and being completely awestruck, touring laboratories and being a little intimidated–everybody looked so intense– but I was excited," she said. "It was my first time seeing scientists, like on TV. I thought, 'Wow, this stuff actually happens.'"
She recognizes, in retrospect, that the experience was a window opening to all sorts of new possibilities. "That was the first time I started thinking, 'I can see myself doing this.'"
"I knew I needed to continue taking advantage of the opportunities that I had here," El-Behaedi said, "the type of exposure that I had with PRISM, I felt I had to continue delving deeper."
Throughout 11th grade at the John D. O'Bryant School of Mathematics and Science in Roxbury, El-Behaedi returned to HMS for the Advanced Placement Biology Hinton Scholars Program, followed by Project Success, a paid, summer research internship.
Project Success exposed El-Behaedi to research design, science communications and health literacy; it also provided her with access to HMS-led workshops, career counseling and, she said, an influential first mentorship with Nina Anderson, part-time lecturer on developmental biology at Harvard School of Dental Medicine.
The experiences she had at HMS, El-Behaedi said, gave her insight into the rigors and realities of the profession and better defined the different career paths she might pursue.
If a spark was lit by PRISM and the Hinton Scholars programs, El-Behaedi credits Project Success for fanning the flames on her planning for the future. That planning ran from the aspirational:
"This is exciting. I can see myself running my own lab. Maybe."
To the practical:
"I really have to plan my college years a little better."
El-Behaedi went on to the University of North Carolina-Wilmington, where she took a premedical track, majoring in biology and chemistry.
After graduation, she worked for two years as a research fellow at the National Cancer Institute, working in the Laboratory of Molecular Biology, led by Christine Campo Alewine, who El-Behaedi credits as being her second influential mentor.
"It was empowering in Dr. Alewine's lab," she said, "Conducting research, writing manuscripts, designing my own experiments, but also seeing what her [Alewine's] life looked like as a physician-scientist, running a lab. Having somebody to look up to made my goals and dreams more attainable."
A family member's death to metastatic melanoma led to an interest in oncology. Toward the end of her NIH fellowship, she became interested in emerging developments in immunotherapy. "I've always found the immune system fascinating, so I do see myself opening up a lab at the intersection of those two things, melanoma and immunotherapy," she said.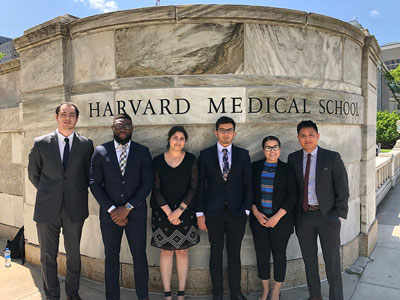 Having just completed her first year as a medical student at the University of North Carolina at Chapel Hill School of Medicine, El-Behaedi is back on the HMS quad this summer for Harvard Catalyst's eight-week Visiting Research Internship Program, which pairs first- and second-year medical students with HMS faculty for an immersive clinical/translational research experience and ample networking opportunities.
"Each of the stages–middle school, high school, medical/graduate, postdoctoral–carries a different challenge. It can be easy to get lost on the way," El-Behaedi said, "But when you have programs at each stage, you have that mentorship, you have that guidance at a specific time on your path. That is huge."
Irene Ghobrial, HMS professor of medicine and director of the Michele and Stephen Kirsch Laboratory at Dana-Farber Cancer Institute, is El-Behaedi's mentor this summer.
"You see the pattern of female physician-scientists with me?" she asked, smiling broadly.
"I've noticed the imbalanced ratio of male to female physicians in the room, any room, especially among physician-scientists," El-Behaedi added. "Imposter syndrome is real. It's easy to become self-conscious, wondering, 'Am I really supposed to be here?'"
El-Behaedi, though, draws upon the lessons learned from her mentorships with Anderson, Alewine and Ghobrial, reminding herself, "You really do deserve to be here. In the end, you see the research you've produced, the presentations you've given, the conferences you've attended, the relationships you've fostered, so I say, 'Don't let that initial sense of hesitation be a hindrance. I have made a little bit of a difference.'"
Keenly aware of the impact that a trained female physician-scientist who shares the same culture and language would make in her home country, El-Behaedi stated "I'm 100 percent committed to reaching out to the communities back home. I don't know exactly how that'll happen, but it's one of my plans."
In the meantime, El-Behaedi looks forward to getting back to training at UNC Chapel Hill, traveling as time permits—Dubai is her most recent favorite spot—and planning her next steps. Helping others by mentoring them is certainly part of her plans.
"Students I've spoken with in the programs I've attended over the years feel a responsibility to help train the next generation of students who might come from backgrounds similar to our own. Maybe they don't have physicians or scientists within the family who they can look up to, who they could emulate. When you have somebody to look up to that has done it, it is so much easier," she said.
"I've had those mentors and see myself being a mentor to others as well. That's my responsibility, to keep that door open."
Related coverage
A Summer of Clinical and Translational Research
Medical school students from across the U.S. arrive at Harvard Medical School to participate in an immersive research experience.