Innate Talent
Jonathan Kagan named Neutra Professor of Pediatrics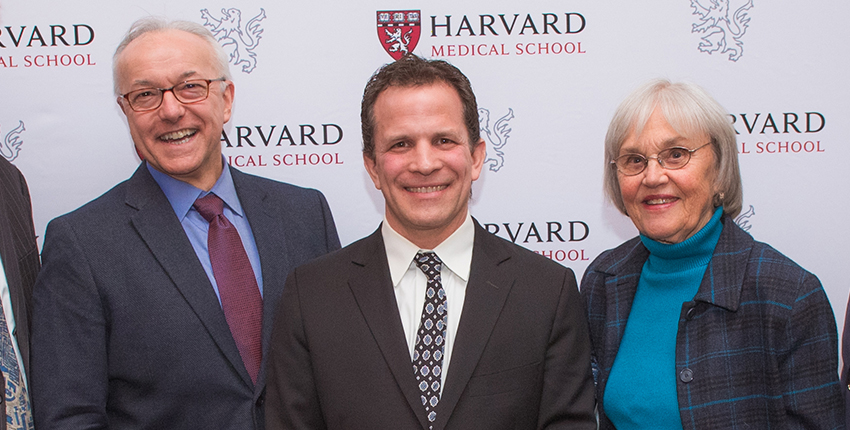 Jonathan Kagan (center) with HMS Dean George Q. Daley (left) and Marian Neutra. Image: Gretchen Ertl
Harvard Medical School and Boston Children's Hospital researcher Jonathan Kagan was a standout wrestler in high school before he became a scientist. Now he grapples with the mysteries of how microbes interact with hosts via the innate immune system.
Kagan's investigations into how the body recognizes and responds to pathogenic microbes focus on signal transduction in the mammalian immune system, particularly a family of proteins called Toll-like receptors. His work helps illuminate the fundamental mechanisms of human infections, autoimmune conditions and cancer.
Over the years, Kagan's work has earned numerous awards. He can now add another feather to his cap: He recently was named the inaugural incumbent of the Marian R. Neutra, PhD Professorship of Pediatrics. 
A celebration took place in February in the Waterhouse Room in Gordon Hall at HMS.
"We appreciate this opportunity to join together to recognize Dr. Kagan's many achievements and to thank Boston Children's Hospital for their generosity in establishing this professorship," HMS Dean George Q. Daley said at the event.
The professorship is currently named in honor of Marian Neutra, the HMS Ellen and Melvin Gordon Professor of Pediatrics, Emerita.
A cell biologist and mucosal immunologist, Neutra directed the Harvard Digestive Diseases Center and its imaging core facility. She also co-directed the Gastrointestinal Cell and Mucosal Immunology Biology Laboratories at Boston Children's with Wayne Lencer, HMS Longwood Professor of Pediatrics and chief of the Division of Gastroenterology, Hepatology and Nutrition at Boston Children's.
From 1992 to 1998, she served as master of the William Bosworth Castle Society at HMS.
The professorship will ultimately be named after Christopher A. Walsh, the Bullard Professor of Pediatrics and Neurology at HMS and chief of the Division of Genetics and Genomics at Boston Children's, upon Walsh's retirement.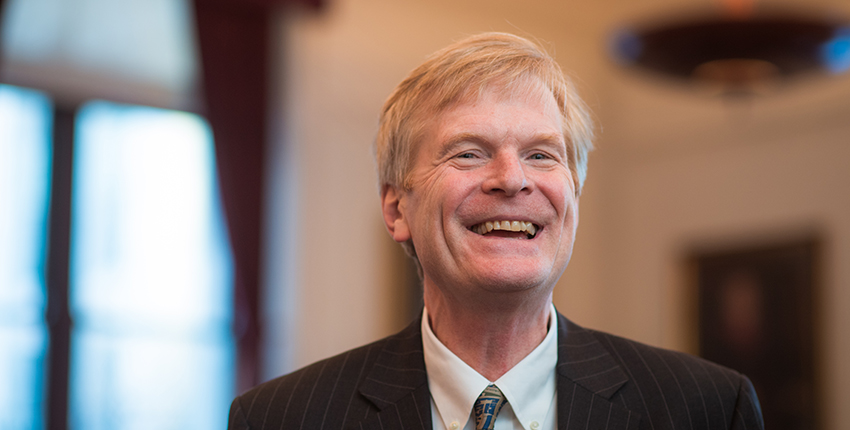 A member of the HMS community since pursuing his neurology residency at Massachusetts General Hospital, Walsh established his lab in 1993 and joined Boston Children's in 2006, one year before Kagan. 
Walsh has focused his studies on the development and function of the human cerebral cortex. His laboratory has pioneered the identification of genetic causes for dozens of brain diseases affecting children and has further discovered that some of those genes were important targets of the evolutionary processes that shaped the human brain.
In 2017, Walsh joined professors Michael Greenberg and David Reich in inaugurating the Allen Discovery Center for Human Brain Evolution at Boston Children's and HMS. The center brings together brain science and evolutionary genetics in search of key genomic changes that endow humans with unique abilities for language, art, culture and science.
Naming the professorship after Walsh "is a fitting tribute, one that honors his many contributions to neuroscience," said Daley.