Belonging in the Halls of Medicine
Portraits of alumnae illuminate unseen leaders, inspire students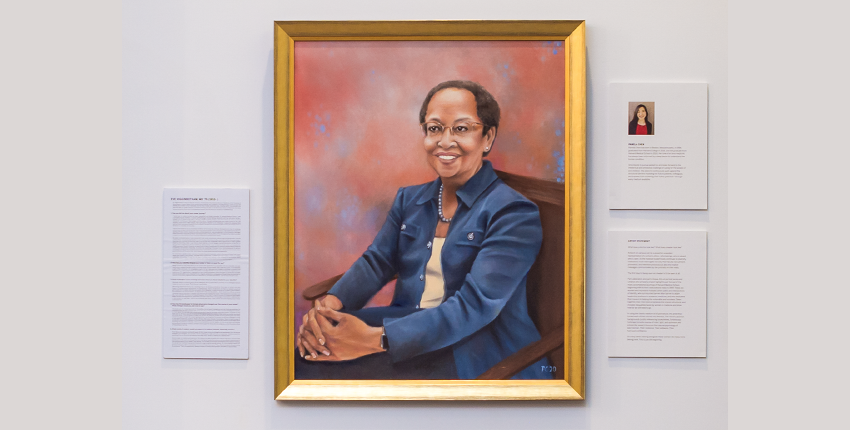 Portrait of HMS alumna Eve Higginbotham. Oil on canvas: Pamela Chen. Image: Gretchen Ertl
"Here's a role model who overcame bias and discrimination in the House of Medicine to beat the odds of reaching the highest level of academic leadership."
That's what Harvard Medical School alumna Eve Higginbotham, MD '79, imagines an HMS medical school student, particularly a woman of color, might think while viewing Higginbotham's portrait, a large gold-framed painting recently installed in the School's Tosteson Medical Education Center as part of the "Women Before Me" exhibit.
Higginbotham wants all HMS students to know: "They can do it, too. If you have the passion and persistence, you can achieve your goals too."
As one of the few students of color in her class in the late 1970s, Higginbotham said that while there was a high level of student activism at that time around changing the makeup of the physician workforce to include more women and people of color, there were few role models to look up to at HMS, and virtually none were represented on the walls of buildings in the medical school.
The only portrait she recalled seeing as a student of someone other than a white male was tucked away in a faculty room. The portrait depicted Mary Ellen Avery, the Thomas Morgan Rotch Professor of Pediatrics, Emeritus, the first female to serve as physician-in-chief at Children's Hospital in Boston, and the first to chair a major clinical department at HMS.
Now, Higginbotham herself is a luminary in medicine. Currently vice dean at the University of Pennsylvania's Perelman School of Medicine, she was the first woman to chair a university-based ophthalmology department in the U.S., was dean of Morehouse School of Medicine, and has served on the board of overseers at Harvard and as a corporation member at MIT.