Personal Reflections
MD student chronicles her training through paintings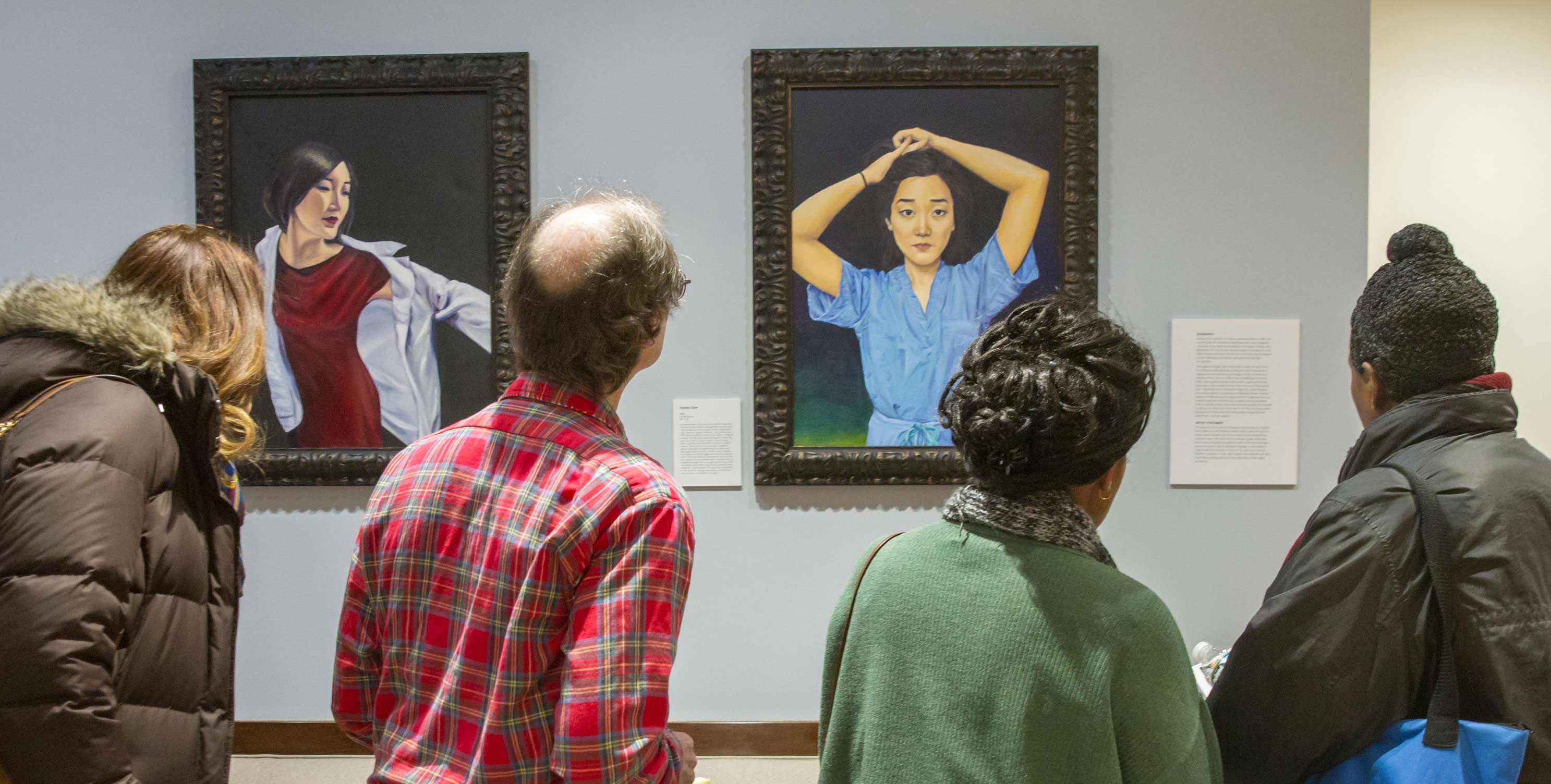 Visitors viewing the Chen paintings in dean's office. Images: Bethany Versoy
"I've been creating art since childhood. Really, I just always found it to be exciting," said Pamela Chen.
A third-year Harvard Medical School student, Chen currently has two paintings on display in the Gordon Hall offices of HMS Dean George Q. Daley, an honor that took her completely by surprise.
"Our students are always inspiring us with their many talents and it's beautiful to be able to showcase Pamela's artistic side right in the office of the HMS dean," said Ed Hundert, HMS dean for medical education and the Daniel D. Federman, M.D. Professor in Residence of Global Health and Social Medicine and Medical Education in the Blavatnik Institute at HMS.
Chen's self-portraits present in paintings her reflections on her medical school experiences to date. One painting, produced during her first year, depicts Chen in a burgundy dress, donning the bright, crisp white jacket, the symbol of every med student's entry into the profession and of the assumption of a caregiver's responsibilities.
Speaking at a Feb. 26 portrait exhibit reception for Chen in Gordon Hall, Daley called the portraits "truly startling works," saying he loved the energy of the white coat portrait and the evolution conveyed in the second painting, which illustrates Chen's interpretation of her clinical experience.
"It reflects the pressure you feel and yet there's a steeliness and a resolve," Daley said.
When Chen began the first painting during the summer break between her first and second years at HMS, she was painting only for herself.
"I happened to have this black canvas and I figured, with this time that I have, it would be really cool to maybe try to reflect on my first year, make a self-portrait for it."
A native of Newton, Mass., Chen has taken art and painting classes in her public schools and in Chinese school since she was a child. At Harvard College, where she earned her bachelor's degree in human evolutionary biology, she was co-president of the Harvard College Art Society. On entering med school, however, she didn't think she'd have much time for artistic pursuits, and she certainly didn't anticipate that her paintings would ever garner much attention.
"I was so surprised by the reception that it got," she said, of the first-year painting. "But I think that moment of putting on your white coat for the first time is so evocative for so many people, especially my classmates, my faculty. They could instantly see in the painting almost a reflection of their own experiences and kind of use it as a mirror for themselves."
Becoming a physician
As a result, Chen decided to try to capture her second-year experience on canvas as well, with the idea of creating a series of paintings that would show the changes she expected to go through in medical school, allowing her a way to "unpack all of my experiences."
The next painting, produced during her second year, depicts Chen in wrinkled blue hospital scrubs, tying up her long black hair, ready to get down to business. Posting a picture of the painting on Instagram, Chen wrote, "My second year of medical school … consisted of 12 indescribable, unforgettable months rotating through the various departments of Massachusetts General Hospital."
Chen dedicated the painting to "all the MGH residents and faculty who fostered my learning, and, of course, to our shared patients."
"I was going through my clinical year and there were so many things I was experiencing for the first time," said Chen. "I was thinking, 'the first time I've done CPR on a real person, the first time I've delivered a baby …' That's such a huge responsibility, that's so different from when you're just practicing it the first year."
As a result, her paintings reflect the internal contradictions that are a hallmark of all true art, said John G. Flanagan, professor of cell biology in the Blavatnik Institute at HMS, who also spoke at the reception. He said Chen, one of his students, has captured in her paintings many of the profound feelings that accompany the journey to becoming a physician.
"Just so many conflicting ideas, yet they come together in a unified whole that has the look of truth and honesty," he said.
As to what she'll paint next, Chen's not quite sure.
"I don't want to prematurely decide how the whole year is going to go," she said.
In the meantime, art and music will continue to be a refuge and an outlet for her. A soprano, Chen co-founded the Longwood Chorus, a vocal ensemble for health care students and professionals, when she arrived at HMS. Initially, the group recruited 12 singers. Last season, she said, the group had grown to about 40 singers, drawing from nine different institutions around the city, such as Boston University and Boston Medical Center.
"I'm really proud of how well that's gone," she said.
Chen's parents are proud of her as well. Both attended the Gordon Hall reception along with dozens of faculty and staff. Her father said his daughter has loved art since she was a child, but he never imagined her work would one day be showcased at HMS.
Quite an honor
"It was kind of unbelievable. This is quite an honor. This is very special to be appreciated by the medical school," said Hudong Chen.
"We are so excited. We are surprised to see her get this honor, and we are very proud of her," said Chen's mother, Luying Pan.
Chen's art is being recognized at a time when HMS has made a commitment to refresh the imagery and artwork on display at the School through its Arts and Cultural Representation Committee. The reception was spearheaded by Daley's chief of staff M. William Lensch, who first noticed Chen's paintings on the HMS Instagram account.
"I think it's fair to say that people often look at institutional artwork as a mirror," Lensch said during remarks at the reception. "Does the image reflect what they aspire to accomplish? Does it even resemble them at all? If it doesn't, then what message are we sending about what success looks like?"
"When I view Pamela's paintings," he added, "I note that we are not looking into Harvard's past, but rather at an image of current, lived experience that points the way to our future."
As for Chen, she said she finds that both art and medicine enrich her life, although she expects that it is medicine that will provide her with a more rewarding lifetime of learning. It is, she said, a profession that challenges both her mind and her emotions.
"With art it's just you. You're only limited by yourself. With medicine, you're always playing off patients … it's a bit more improvisational, I think," she said.
Art can also be therapeutic for the doctor-to-be as she navigates the stressful med school years, but Chen said that's not why she paints.
"I just want to make something. I want to make something beautiful," she said.