Unstoppable Science
80th Soma Weiss Student Research Day held virtually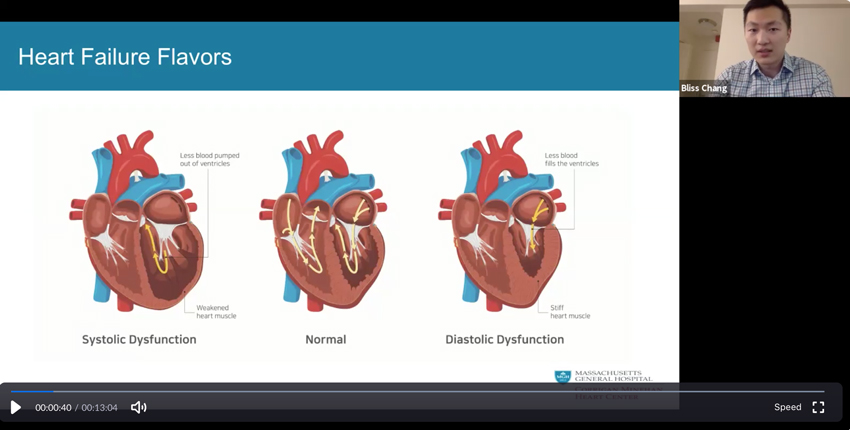 This article is part of Harvard Medical School's continuing coverage of medicine, biomedical research, medical education and policy related to the SARS-CoV-2 pandemic and the disease COVID-19.
For the first time in its 80-year history, this year's Soma Weiss Student Research Day was hosted virtually at Harvard Medical School after students were sent home to finish the semester remotely because of the COVID-19 pandemic.
A yearly showcase of medical and dental student research, the event honors the memory of Soma Weiss, an inspiring and dedicated HMS teacher and physician. Weiss, an immigrant from Hungary, served the School for 17 years before he died from the rupture of a congenital intracranial aneurysm.
The annual forum, sponsored by the HMS Scholars in Medicine Office, provides students with an opportunity to present their scholarly work and share their findings with faculty and fellow students through poster sessions. Posters and abstracts in the research categories of basic science, clinical/translational, global and community, and health and medicine in society were all made available online this year.
Oral presentations by selected students were recorded remotely and posted on March 22. Faculty and students can access them by logging in with HMS credentials.
The annual Martin Prince Scholarship for Student Innovation was awarded to London Society student Jonathan Hochstein for his study, "A Circulatory Support Device for Univentricular Hearts with Fontan Physiology."
Oral presentations
Correlating insurance expansion and EMS asthma calls
Graduating MD students Alexander Ordoobadi and Greg Peters jointly narrated their presentation, "Implementation of the Affordable Care Act Is Associated with Decreased Ambulance Utilization for Asthma Emergencies in New York City."
Peters said they became interested in the topic before becoming HMS students because Ordoobadi had been a paramedic in the Washington, D.C., area and Peters, who had worked as a firefighter, said he had asthma when he was growing up in the Bronx.
Their study used publicly available data, including New York City emergency medical services dispatch data and insurance information from the American Community Survey. The statistical correlation they used showed there was a decrease in emergency dispatches for asthma emergencies after the ACA was implemented, especially in areas of the city where the rate of the uninsured had the greatest decrease.
"Keeping better control of asthma through primary care, which was made possible by insurance expansion, likely led to fewer asthma exacerbations and fewer people calling 911 because they were having bad asthma attacks," Ordoobadi said.
Ordoobadi matched in a general surgery residency at Brigham and Women's Hospital and Peters matched in emergency medicine at Massachusetts General Hospital. Their advisor was Paul Avillach, HMS assistant professor of biomedical informatics in the Blavatnik Institute at HMS.
Reversing heart failure
Bliss Chang, a graduating MD student planning to pursue internal medicine at New York Presbyterian Hospital-Columbia University Medical Center, presented his research, "Personal Exercise Training Reverses Cardiac Aging Phenotypes Associated with Heart Failure with Preserved Ejection."
Chang studied the most predominant form of heart failure, diastolic heart failure, in which the walls of the heart are thick, resulting in a lower volume of blood pumped than normal. The risk for this condition increases with age.
"Exercise, specifically aerobic exercise" is the best intervention that doctors have, but they do not know why, he said.
Chang's advisor was Anthony Rosenzweig, the Evelyn and James Jenks and Paul Dudley White Professor of Medicine in the Field of Cardiology at HMS and Mass General.
Using a mouse model and studying cell cycle processes, Chang showed that aerobic exercise can reverse aging in the heart at the cellular level.
"We were able to reverse, essentially, how old their heart was, with their exercise capacity and ability to react to stress," he said.
Chang hopes these results will open new areas of research to illuminate what is driving these beneficial effects.
Printing skin
Castle society student Ryoko Hamaguchi presented her work "3D Bioprinting Demonstrates Role of Niche Topography on Chromatin State of Skin Stem Cells." Her advisor was Christine Lian, HMS associate professor of pathology at Brigham and Women's.
Hamaguchi's project sought to regenerate skin by printing skin substitutes. This involved an interdisciplinary collaboration with dermatologists, radiologists and plastic surgeons at Brigham and Women's and Mass General and bioinformaticians at the Harvard T.H Chan School of Public Health.
She said their work to understand and mimic the human skin stem-cell niche may help physicians better understand skin diseases, such as psoriasis or atopic dermatitis, and may inform treatments and procedures such as limb reconstruction and wound healing.
"This is work that shifts the paradigm around skin regeneration," Hamaguchi said.
Finding new genes
"I'm excited to tell you, digitally, about a project that I worked on this year," said William Mannherz, a student in the Harvard-MIT Program in Health Sciences and Technology, who presented his research for new genetic therapies in telomere biology disorders, titled "Genetic Approaches to New Therapies in Telomere Biology Disorders."
His advisor was Suneet Agarwal, HMS assistant professor of pediatrics at Boston Children's Hospital/Dana-Farber Cancer Institute.
Mannherz's project involved the "use of CRISPR technology to do a genome-wide assessment to try to find new genes that might be involved in telomere length regulation, with the idea that this could give us a deeper understanding of telomere biology and also potentially identify some new therapeutic targets that we could use to identify better therapies to help patients with telomere biology disorders."
Artistic approach
Pamela Chen, a graduating MD student who will be doing her residency in pediatrics at Boston Children's, made a special video for the virtual unveiling of her creative arts scholarly project, titled "The Women Before Me: Dedicated to the women after."
She said she was especially honored to share the five oil portraits she painted, along with interviews with the five prominent HMS alumna featured in the paintings during Women's History Month in March.
Chen's project enriches a broader School initiative to increase awareness of the history and contributions of HMS women in medicine through arts initiatives. The HMS Arts and Cultural Representation Committee is working to make the School's artwork more inclusive. Georgetown University and Yale School of Medicine have also both recently hosted exhibits highlighting women in medicine, and the NIH has sponsored an online photo exhibit of women called Changing the Face of Medicine.
Upon arriving at HMS, Chen said she noticed that the vast majority of portraiture and sculpture at the School and its affiliate hospitals was of white men. She said that as an incoming medical student, she realized she could make change "armed with her paints and canvases" to bring to light women pioneers who were missing from the School's walls.
Working with the Office for Diversity Inclusion and Community Partnership, the Francis A. Countway Library of Medicine's Center for the History of Medicine and the HMS Alumni Association, Chen discovered several women missing from HMS artwork.
She said she found it validating that there were dozens of women she could have featured, but in the end she narrowed her choice to five who she painted and interviewed about their careers and paths to leadership in medicine: Raquel Cohen, MD '49, MPH '45; Eve Higginbotham, MD '79; Lisa Iezzoni, MD '84, MSc '78; Yeu-Tsu Margaret Lee, MD '61 and Gina Moreno-John, MD '94, MPH '94.
"Once HMS resumes normal operations, this gallery will be physically on view in the TMEC Study and Collaboration Center," Chen said, adding that she hopes her portraits will serve as a lasting reminder to others that women, and women of color, belong at HMS.