Donating Life
HMS student's childhood heart transplant highlights importance of organ donation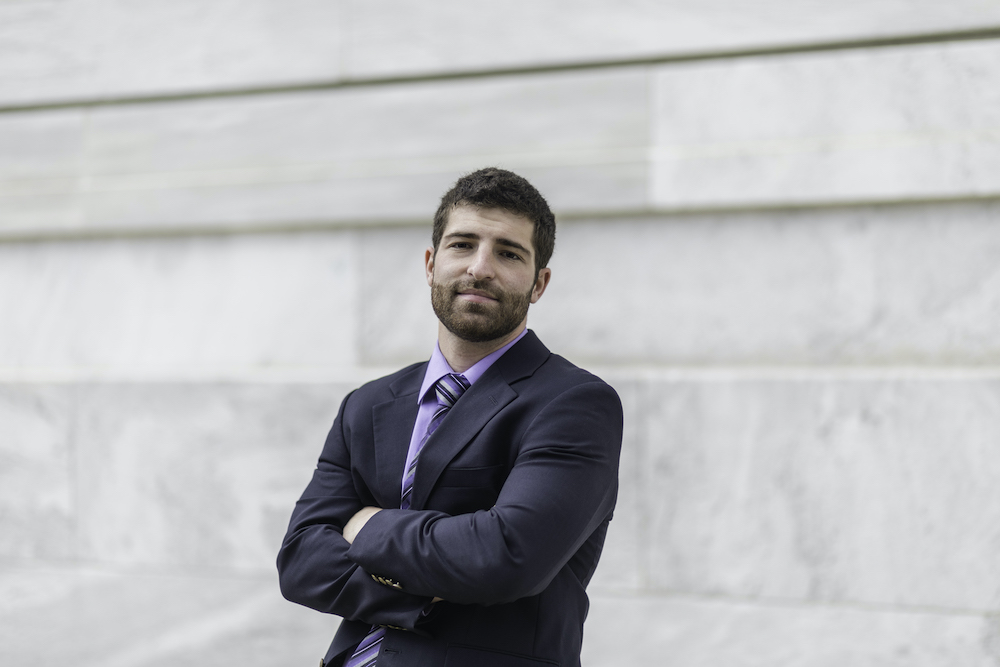 Jon Hochstein. Image: Julia Zhogina/HMS
It can be difficult to decide on a career path in high school or even college, let alone when you are a child, but Harvard Medical School student Jon Hochstein said it was an experience he had at a young age that influenced what he wanted to do for the rest of his life.
A second-year student in the Harvard-MIT Health Sciences and Technology (HST) program at HMS, Hochstein was given a second chance at life following heart transplant surgery he had when he was 4 years old. Twenty years later, he wants to share his story to help others understand the importance of organ donation and its ability to save lives.  
Hochstein's path to medical school began when he was just a toddler in Virginia. When he was little more than 3 years old, he was diagnosed with idiopathic dilated cardiomyopathy. As a result, he and his family flew to Utah to receive treatment at Primary Children's Hospital, spending the next four months there, including Thanksgiving, Christmas and his birthday.
"Being in a hospital, particularly a children's hospital, made it fun," said Hochstein. "To me, they were heroes."
Following the gift of a heart transplant, and efforts made by family and hospital staff to help him recover, Hochstein said he began to understand what his calling would be early on.
"I want to be able to do what doctors and hospital staff did for me, for other kids. I want to do transplants and pediatrics ... The question I have not answered yet is if I want to do surgery or not," said Hochstein.
Hochstein's mother, Barbara, remembers his early life revolving around hospital visits. During the first year after his diagnosis he had six biopsies, she said. Hochstein would play with his younger brother, Mike, and pretend to perform biopsies on him. He seemed to enjoy the hospital, she said.  
Despite the original success of his transplant, when he was around 9 years old, Hochstein was diagnosed with Hodgkin's lymphoma and a year later fell ill with an episode of organ rejection. The experience only strengthened his resolve to go into medicine.
"Due to being a transplant recipient and getting a cancer related to the immunosuppressive medicines for the transplant, I was acutely aware of how far medicine has come and how far it has to go," he said.
Before making the decision to attend HMS, however, Hochstein said he was torn between two schools; ultimately he felt called to Boston.
"HST was the big one-two-punch to come here," Hochstein said. "The program is focused on helping students think like a clinician and a researcher."
Hochstein said there was another reason behind his desire to attend HMS.
"My parents had saved a magazine from 2001 or 2002, a couple of years after my transplant, about doctors beginning to grow organs. It was written by an HST faculty member. Lo and behold I found this when I was starting to apply to medical schools," said Hochstein, explaining that it further piqued his interest in the HST program.
So far, Hochstein said he's been fortunate in his academic endeavors. He was able to attend Johns Hopkins University as an undergraduate, achieving academic success; he found a group of supportive mentors who have been a positive influence, and he's enjoyed his medical school classes.
"Jon is fearless when asking questions. He is a great addition to the classroom and a really great friend. He goes out of his way to be a friend to everyone," said Richard Mitchell, HST faculty member and HMS professor of pathology at Brigham and Women's Hospital.
The most recent project Hochstein worked on involves providing an extra mechanical boost to the heart for children with congenital heart defects involving one functional ventricle that is trying to pump blood into their lungs without support.
His projects, he hopes, will illustrate what he may be able to accomplish in medicine in the future.
"There are many people today who received heart transplants 20 to 25 years ago—we are always awe-struck about the achievements they are able to make," said Joel Newman, senior communications strategist at the United Network of Organ Sharing (UNOS). "As the success of transplantation continues to grow, there will be many more people who will reach these milestones and do great things." 
Organ donation
According to UNOS, just in the U.S. alone, 113,324 people are on the waiting list to receive a lifesaving organ transplant, and the list continues to grow. Today, there are only 15,959 donors available.
"There is an intense need for organ transplants," said Hochstein. "People should know what they can do for others." 
For many years the Hochsteins have been trying to connect with the donor family that made everything possible for Jon but had little success. However, Hochstein said, a recent development could mean he'll be meeting the donor family in January.
"I have always wanted to give a Transplant Games medal to my donor family, should I ever meet them," he said.
"Look at me and what I have been able to do, which would be impossible without my donor family. It has been a journey and many people were involved who have helped me, but it is their choices that allowed any of it to happen," said Hochstein.
Hochstein noted that the facts about organ donation page on the UNOS dispels some of the myths surrounding organ donation and provides information and statistics on both organ and tissue transplants.
When it comes to learning more about organ donation, said Hochstein, it's important to listen to transplant recipients' stories and learn what they have been able to accomplish because of it.
"Organ donation is important. It is not ghoulish, it is a gift. It is hard to make a decision about organ donation. When a loved one suddenly dies, you are not in a position to think clearly or unemotionally. Jon is the poster child of someone being a generous donor," said Mitchell.