1816-1817 John Collins Warren
The first administrative organization of Harvard Medical School after its founding in 1782 took place in 1816 with the appointment of Dr. John Collins Warren as Dean, a new office created to oversee the institution and its faculty. He was a founder of the New England Journal of Medicine and Surgery and the first surgeon to demonstrate the use of ether anesthesia. When Dr. Warren retired, he presented his anatomical collection—over 1,000 specimens—to the Medical School. The gift provided the foundation for the Warren Anatomical Museum, now housed on the fifth floor of the Countway Library of Medicine.

1817-1818 James Jackson
Dr. James Jackson, Harvard's first professor of clinical medicine, found that the time spent with his students on the wards at Massachusetts General Hospital detracted from his formal lecturing, and so he published brief notes of his lectures on physiology, hygiene, pathology, and therapeutics the year before he became Dean. In 1825 he expanded the notes into the Text Book of a Course of Lectures on the Theory and Practice of Physic.

1818-1819 John Gorham
Dr. John Gorham was the Medical School's first professor of chemistry and material medica (pharmacology). Prior to his formal medical education in England, he studied medicine with his future father-in-law, Dr. John Warren, one of the founders of Harvard Medical School.

1819-1820 Walter Channing
Dr. Walter Channing, a leading obstetrician, was the Medical School's first professor of obstetrics and medical jurisprudence. He was a founder of the Boston Lying-in Hospital for women, now incorporated into Brigham and Women's Hospital, and one of the founders of the New England Journal of Medicine and Surgery. Dr. Channing often wrote about social issues.

1820-1821 Jacob Bigelow
While teaching at Boston Latin School, Jacob Bigelow attended medical lectures given by Dr. John Gorham. Dr. Bigelow was not only a professor and a practicing physician in Boston for 60 years, but also an expert botanist and poet. He founded the Mt. Auburn Cemetery in Cambridge, MA as a public health project.
1821-1826 John Collins Warren
1826-1847 Walter Channing
1847-1853 Oliver Wendell Holmes
A writer and poet, Dr. Oliver Wendell Holmes was one of the first Americans to introduce microscopy into a medical curriculum. He became Dean of the Medical School at age 38. During his tenure, he and the faculty debated the possibility of admitting women and African-Americans to the school.

1853-1855 John Barnard Swett Jackson
Harvard's first professor of pathological anatomy, Dr. J. B. S. Jackson also was the first curator of the Warren Anatomical Museum. He proposed that candidates for an MD degree first pass an examination in all of their studies at the Medical School.

1855-1864 David Humphreys Storer
Dr. Storer studied medicine with John Collins Warren and became chair of obstetrics and medical jurisprudence at the Medical School. He also was a naturalist interested in fish and reptiles, and lectured against the practice of induced abortion.

1864-1869 George Cheyne Shattuck
Along with John Collins Warren and others, Dr. Shattuck founded the Boston Medical Library for physicians in Boston. He also founded St. Paul's School in Concord, NH.

1869-1883 Calvin Ellis
While Dean, Dr. Calvin Ellis received a letter from Harvard President Charles W. Eliot outlining several educational reforms at the Medical School: a three-year course sequence; examinations, partly written, in each department; familiarity with dissection; and attendance for at least two terms. Dr. Ellis implemented the changes in time for the start of the 1871 fall term.

1883-1893 Henry Pickering Bowditch
Dr. Henry Pickering Bowditch was principally concerned with the research aspects of medicine rather than the medical or surgical treatment of patients, and the school's new Boylston Street facility with five separate laboratories mirrored his interests. Harvard became the first American medical school to offer instruction in pathology and bacteriology, and embryology began to be taught in conjunction with histology. During and after Bowditch's tenure as Dean, the size of the student body increased from 270 students in 1889, to more than 500 in the mid-1890s, and nearly 600 by the turn of the century. The size of the Faculty of Medicine also increased.

1893-1907 William Lambert Richardson
An obstetrician who studied in Europe and the United States, Dr. William Lambert Richardson practiced medicine at the Boston Dispensary, Massachusetts General Hospital, Boston Lying-in Hospital, and Children's Hospital. During the period he was Dean of the Medical School, advanced entrance examinations were introduced.

1908-1912 Henry Asbury Christian
Dr. Christian was the first physician-in-chief at the Peter Bent Brigham Hospital, now incorporated into Brigham and Women's Hospital.

1912-1918 Edward Hickling Bradford
A professor of orthopedic surgery, Dr. Bradford was affiliated with Massachusetts General Hospital, Boston City Hospital, and Children's Hospital. He co-authored a textbook on orthopedic surgery.

1918-1935 David Linn Edsall
Dr. David Linn Edsall served as Dean of both the Medical School and the School of Public Health. A professor of preventive medicine before coming to Harvard, Dr. Edsall was considered a pioneer in modern medicine.

1935-1949 Charles Sidney Burwell
Dr. Burwell was a cardiologist who specialized in circulation changes associated with heart disease. He is credited with bringing attention to obstructive sleep apnea syndrome. In 1944, while Dr. Burwell was Dean, women entered Harvard Medical School for the first time on an equal basis with men. In an address to students at the Medical School, he said, "Half of what we are going to teach you is wrong, and half of it is right. Our problem is that we don't know which half is which."

1949-1965 George Packer Berry
A former professor of bacteriology, Dr. Berry was instrumental in the establishment of the Channing Laboratory, a research facility that continues to focus on infection. He was concerned with how students learn and was a national leader in medical education. Dr. Berry maintained that it is preferable to graduate medical students who know less, but who better understand how to learn more.

1965-1977 Robert Higgins Ebert
Dr. Ebert's research focused on tuberculosis. He wrote about problems in medical education, including the roles of full-time and part-time faculty and the responsibilities of teaching hospitals to the communities around them. He developed a new faculty appointment category, Clinical Full-Time, thus expanding the School's function in the clinical arena. In 1969 Dr. Ebert was instrumental in forming a distinguished group that founded the Harvard Community Health Plan, the first university-sponsored plan to provide comprehensive health care to a subscriber population.

1977-1997 Daniel Charles Tosteson
During his tenure, Dr. Tosteson gained a national reputation for dramatically changing the way medicine is taught and for developing innovative ways to foster research. He championed "The New Pathway" for medical education, emphasizing the need for life-long learning. He guided the growth of research by the school's faculty on the Quadrangle and in research units at the school's affiliated teaching hospitals. Dr. Tosteson was a founder of the Giovanni Armenise–Harvard Foundation, which supports multidisciplinary, basic science research by leading scientists at Harvard Medical School and at foremost institutions in Italy.

1997-2007 Joseph B. Martin
Joseph Boyd Martin, MD, PhD, Caroline Shields Walker Professor of Neurobiology and Clinical Neuroscience, was appointed Dean of the Harvard Faculty of Medicine effective July 1, 1997.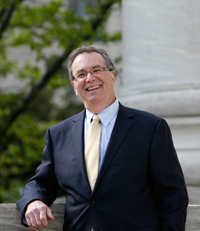 Jeffrey S. Flier became the 21st Dean of the Faculty of Medicine at Harvard University on September 1, 2007. Flier, an endocrinologist and an authority on the molecular causes of obesity and diabetes, is the Caroline Shields Walker Professor of Medicine at Harvard Medical School. Previously he had served as Harvard Medical School Faculty Dean for Academic Programs and Chief Academic Officer for Beth Israel Deaconess Medical Center, a Harvard teaching affiliate.