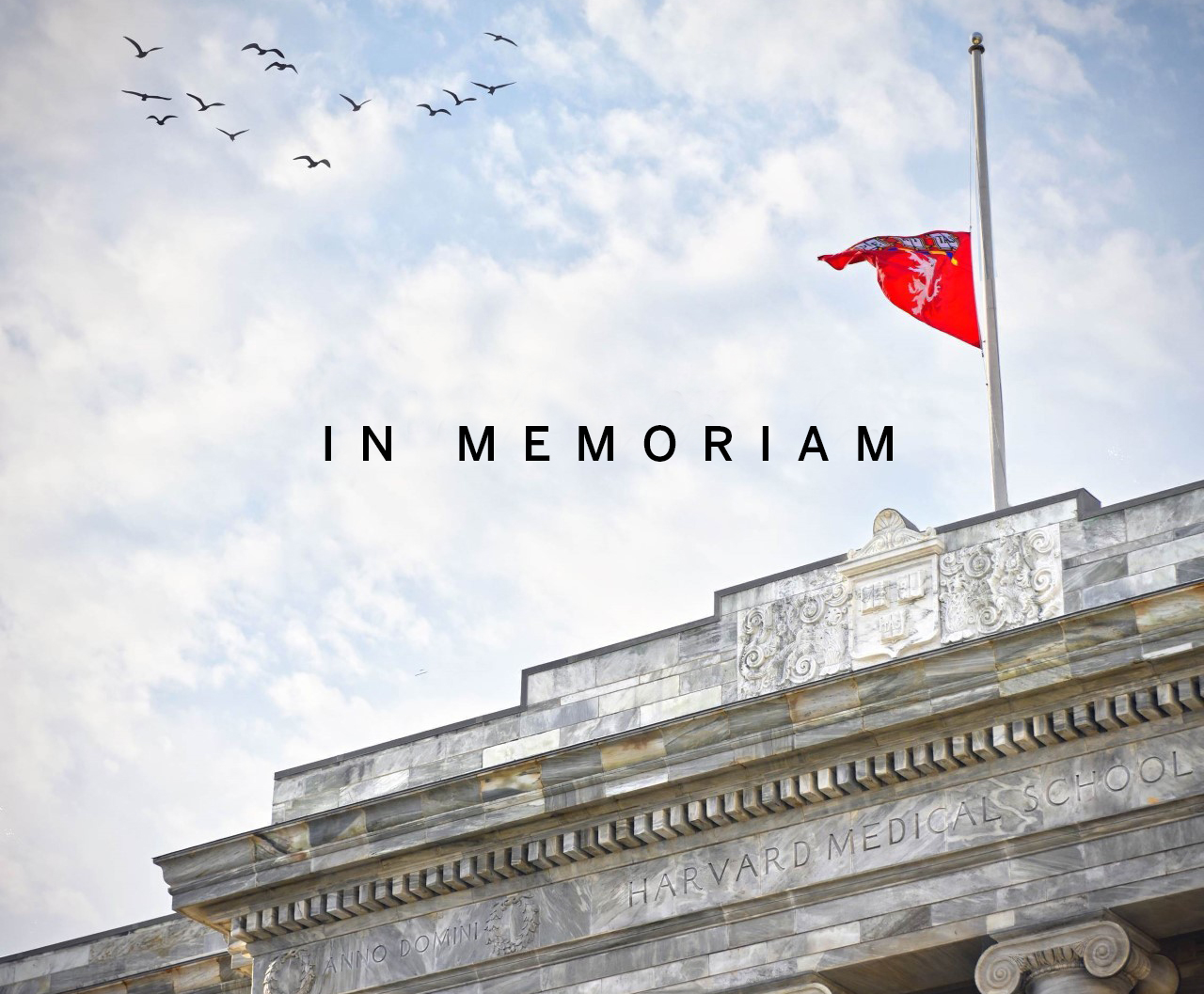 Harvard Medical School has a special tradition of lowering the HMS flag atop the Gordon Hall of Medicine to half-staff in memory of current members of the HMS community. An email is sent from the dean of HMS to all members of the HMS community as a sign of respect and an expression of sympathy, acknowledging the colleague's name, professional title, date of death, and age.
HMS also lowers the American flag to half-staff by proclamation from the president of the United States. This takes precedence over the lowering of the HMS flag.
The archive of half-staff memorials is included below by year, starting on July 1, 2021. Half-staff notices are facilitated by the Office for Faculty Affairs based on notifications received about deaths of current faculty, staff, or students.
Please note that half-staff memorials are reserved for current members of the HMS community, including students, Quad staff members, and faculty members holding the rank of lecturer, instructor, or assistant, associate, full, or emeritus professor. There is no formal protocol for HMS retirees or those who have left the HMS community for other reasons. Given the size of our current active HMS community—more than 11,000 faculty members (including emeritus professors), nearly 1,500 staff, and over 10,000 students and trainees—we are unable to accommodate additional requests for half-staff tributes beyond the protocols detailed above.
2023
September 8
Jay S. Loeffler
Herman and Joan Suit Professor of Radiation Oncology, Emeritus, at HMS and Massachusetts General Hospital
Died June 22, 2023, age 67
September 6
Martin A. Samuels
Miriam Sydney Joseph Distinguished Professor of Neurology at HMS and Brigham and Women's Hospital
Died June 6, 2023, age 77
June 22
Howard L. Bleich
Professor of medicine, emeritus, at HMS and Beth Israel Deaconess Medical Center
Died Sept. 2, 2021, age 87
May 19
William M. Abbott
Harold and Ellen Danser Professor of Surgery, Emeritus, at HMS and Massachusetts General Hospital
Died Jan. 9, 2023, age 86
May 2
W. Gerald Austen
HMS Edward D. Churchill Distinguished Professor of Surgery at Massachusetts General Hospital
Died Sept. 11, 2022, age 92
April 28
Alfred "Fred" L. Goldberg
HMS professor of cell biology, emeritus
Died April 18, 2023, age 80
April 5
Nelson Yuan-Sheng Kiang
Professor of physiology, emeritus, at HMS and Massachusetts Eye and Ear
Died March 19, 2023, age 93
March 20
Heidelise Als
Professor of psychology in the department of psychiatry, emerita, at HMS and Boston Children's Hospital
Died Aug. 18, 2022, age 81
February 16
Christopher T. Walsh
Hamilton Kuhn Professor of Biological Chemistry and Molecular Pharmacology, Emeritus, at HMS
Died Jan. 10, 2023, age 78
2022
November 22
Irving H. Goldberg
Otto Krayer Professor of Biological Chemistry and Molecular Pharmacology, Emeritus, at HMS
Died Nov. 14, 2022, age 96
October 7
Hassan H. Ali
Professor of anaesthesia, emertius, at HMS and Massachusetts General Hospital
Died August 17, 2022, age 90
September 28
Devin Rene Burrill
Lab director for the Silver lab in the HMS Department of Systems Biology
Died May 11, 2022, age 38
September 23
W. Hardy Hendren
Robert E. Gross Distinguished Professor of Pediatric Surgery at HMS and Boston Children's Hospital
Died March 1, 2022, age 96
August 24
Robin Reed
Professor of cell biology at Harvard Medical School
Died July 23, 2022, age 65
August 9
Tracy Challies
Assistant professor of pathology at HMS and Beth Israel Deaconess Medical Center
Died May 1, 2022, age 48
July 28
Alan B. Retik
Professor of surgery at HMS and Boston Children's Hospital
Died Feb. 24, 2022, age 89
July 18
Robert G. Dluhy
Professor of medicine at HMS and Brigham and Women's Hospital
Died May 25, 2022, age 85
June 15
Francis L. de Marneffe
Corresponding member of the faculty of psychiatry at HMS and McLean Hospital
Died April 15, 2022, age 97
June 10
Ronald G. Tompkins
Sumner M. Redstone Professor of Surgery at HMS and Massachusetts General Hospital
Died January 17, 2022, age 70
May 13
William D. Cochran
Associate clinical professor of pediatrics at HMS and Beth Israel Deaconess Medical Center
Died October 8, 2021, age 98
May 9
Paul Farmer
Kolokotrones University Professor and chair of the Department of Global Health and Social Medicine in the Blavatnik Institute at HMS, chief of the Division of Global Health Equity at Brigham and Women's Hospital, and co-founder and chief strategist of Partners In Health
Died February 21, 2022, age 62
March 30
Herbert Benson
Mind/Body Medical Institute Distinguished Professor of Medicine at HMS and Massachusetts General Hospital
Died February 3, 2022, age 86
February 17
Owen S. Surman
Corresponding member of the faculty of psychiatry at HMS and Massachusetts General Hospital
Died November 10, 2021, age 78
February 11
Warren M. Zapol
Reginald Jenney Distinguished Professor of Anaesthesia at HMS and Massachusetts General Hospital
Died December 14, 2021, age 79
2021
Following are the half-staff memorials from July 1, 2021, through December 31, 2021
December 10
David M. Livingston
HMS Emil Frei Distinguished Professor of Medicine and the Charles A. Dana Chair in Human Cancer Genetics at Dana-Farber Cancer Institute
Died October 17, 2021, age 80
November 5
David A. Link
Corresponding member of the faculty of pediatrics at HMS and Cambridge Health Alliance
Died July 7, 2021, age 77
October 25
Anton Kris
Professor of psychiatry, part-time, at HMS and Beth Israel Deaconess Medical Center
Died March 11, 2021, age 86
October 14
J. Allan Hobson
Professor of psychiatry, emeritus, at HMS and Beth Israel Deaconess Medical Center
Died July 7, 2021, age 88
October 5
Eric Fujimura
Student in the Harvard Chemical Biology PhD Program in the HMS Department of Genetics
Died October 1, 2021, age 28
September 8
William C. DeWolf
Beth Israel Deaconess Medical Center Distinguished Professor of Surgery at HMS and Beth Israel Deaconess
Died May 24, 2021, age 78
August 31
Verne S. Caviness
Giovanni Armenise-Harvard Professor of Neurology, Emeritus, at HMS and Massachusetts General Hospital
Died July 6, 2021, age 86
August 17
Airong Li
Assistant professor of neurology at HMS and Massachusetts General Hospital
Died June 24, 2021, age 63
August 13
Larissa J. Lee
Associate professor of radiation oncology at HMS and Brigham and Women's Hospital
Died June 23, 2021, age 44
August 10
Francisco M. Marty
Associate professor of medicine at HMS and Brigham and Women's Hospital
Died April 8, 2021, age 53
August 6
G. Richard Dickersin
Associate professor of pathology, emeritus, at HMS and Massachusetts General Hospital
Died March 11, 2021, age 93
July 29
Brooke Grundfest Schoepf
Corresponding member of the faculty of Global Health and Social Medicine
Died January 25, 2021, age 88