At Harvard Medical School, our mission to nurture a diverse, inclusive community dedicated to alleviating suffering and improving health and well-being for all has guided us through the trials and triumphs of the past year. By pursuing groundbreak­ing research aimed at understanding and curing human disease, by providing compassionate care, and by training the next generation of leaders in medicine and science, HMS rededicated itself to the essential work of ensuring that leading-edge health care is available to all. These steadfast efforts have advanced the School's legacy of healing and have kept its beacon of service burning bright. Read more about this year's contributions to science, medicine, and education in the FY 2022 Dean's Report.
Past issues of the Dean's Report are available through the Dean's Report archive.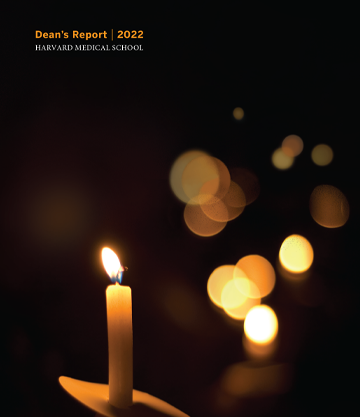 For printed copies, please contact the HMS Office of Communications and External Relations.
Learn more about our donors here and how their investments in Harvard Medical School are advancing knowledge, improving health care, and saving lives.