An Untapped Resource
HMS master's grad Vincent Bain to serve Army as chaplain bioethicist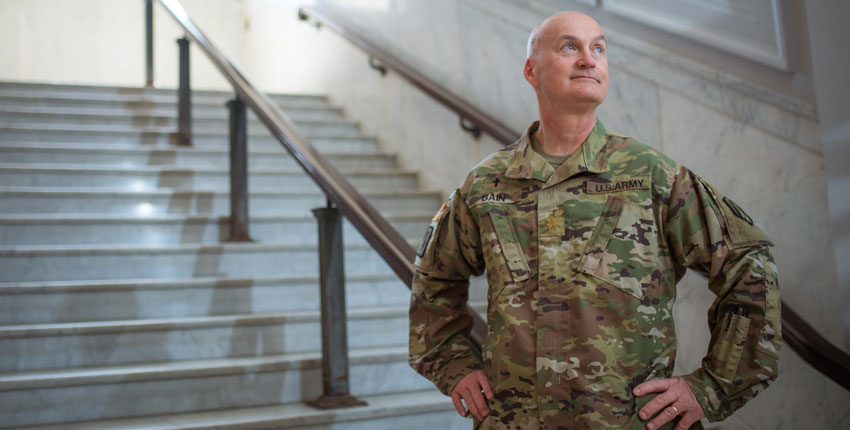 Vincent Bain. Image: Gretchen Ertl
When Vincent Bain receives his Master of Bioethics from Harvard Medical School this May, he will be headed to a new assignment at Walter Reed National Military Medical Center—one of the few officers in the U.S. Army to serve as a chaplain bioethicist.
"The Harvard bioethics program gave me the opportunity to qualify for this unique slot," said Bain, an Army major with 13 years' experience in the military chaplaincy.
His HMS capstone project, however, went beyond the military framework. Instead, it focused on chaplain participation on health care ethics committees in hospital settings.
Benefits of bioethics training
He found that chaplains are largely underutilized by hospitals in making bioethical decisions. In fact, the survey he created and circulated among HMS-affiliated hospitals showed that chaplains were serving on only 22 percent of bioethics committees. Other professionals represented on these committees include clinicians, social workers, and attorneys working as a team.
The study also showed that among the factors that could promote full chaplain participation in the process was if a chaplain had received training in bioethics, such as the master's program offered by HMS, which immerses students in the dynamics of health care procedures and therapeutic choices.
"Medical cases can be very complicated, with no case like another," said Bain. "The goal is to help patients and their families make their own decisions, sometimes in a very limited amount of time. For example, with decisions about end-of-life care a chaplain's spiritual guidance is often pivotal."
Circuitous path
Today, a distinguished chaplain in the military, Bain nearly missed embarking on his Army career path. As a young adult, he first worked in the fiberoptics industry, then later decided to pursue ministerial studies, receiving a bachelor's in Christian ministry from Crown College in Minnesota and a Master of Divinity from Concordia Seminary in St. Louis, Missouri.
Near the end of his seminary studies, a military recruiter came to the campus, and Bain jumped at the opportunity to join the Army chaplaincy.
Then reality hit. Specific educational and experience requirements had to be completed before age 40. By the time Bain received his ministry degree, he would miss the Army's deadline by four months because he would be over the age limit.
So, he served as a parish pastor at Redeemer Lutheran Church in Winona, Minnesota, believing the door to the military chaplaincy was closed to him forever.
Five years later, however, Bain got a call from the Army.
"They needed to respond to the surge years in the Middle Eastern war on terror and wanted to know if I were still interested in the chaplaincy," Bain said.
After officer's training, he was commissioned in 2009.
At that point, the world opened up to him. Born in Illinois, Bain already was accustomed to moving around the country because of his father's career in the railroad industry. His military assignments would now take him to Army bases on the other side of the globe—Kuwait, Qatar, Iraq, and Afghanistan.
Bain also served stateside at Fort Hood in Texas and Fort Leonard Wood in Missouri. During an assignment at Fort Campbell in Kentucky with the 101st Airborne Division, the division honored him with its chaplain of the year award in 2018.
Celebrating the 2022 Graduates
Read more profiles of some of Harvard Medical School's remarkable graduates and watch livestreams of ceremonies for master's, MD/DMD, and PhD graduations.