The Eyes Have It
HMS grad Sameen Meshkin sees residency in ophthalmology as way to continue serving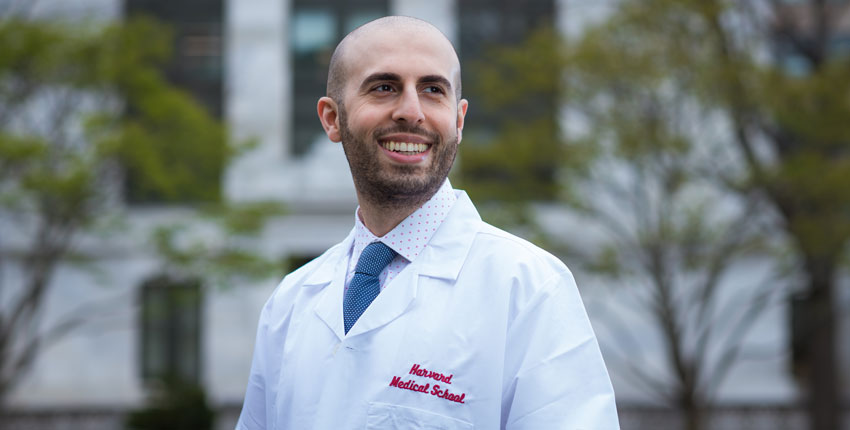 Sameen Meshkin. Image: Gretchen Ertl
Sheer excitement is an understatement when it comes to describing the joy that Ryan Sameen Meshkin felt upon matching to a residency near Boston where he will be able to continue serving after graduation from Harvard Medical School with his MD this May.
Meshkin's next career move—a four-year residency in ophthalmology at Massachusetts Eye and Ear—will keep him close to Chelsea, Massachusetts, the community where he lives and serves as part of a grassroots community-building program, inspiring young people to reach their full potential through service to their neighborhood.
Meshkin's life of community involvement began in his hometown of Portland, Oregon. Raised in the Bahá'í faith, which teaches the importance of service to society, he strives to apply these teachings in his life through action.
"I believe in the elimination of prejudice and the promotion of the oneness of humanity," Meshkin said. "These Bahá'í beliefs inform my vision for how I aspire to serve my community as an ophthalmologist."
At age 14, Meshkin seized the opportunity to participate in the Junior Youth Spiritual Empowerment Program, a worldwide Bahá'í program that aims to give children and youth a voice by enhancing their power of expression, allowing them to analyze the constructive and destructive forces of society, and taking responsibility to contribute to the betterment of their community.
"It had a profound impact on my life and purpose," he said.
Now 27, that experience continues to inspire Meshkin's service with young people today.
"Together, we are striving to embrace a twofold moral purpose: the betterment of one's own character and the transformation of society," he said.
Meshkin's ancestral roots trace back to Iran where his parents were born. Persecuted for their Bahá'í religion, their respective families fled to America and now live in Portland.
Since his youth, Meshkin has been actively seeking ways to serve, particularly through educational efforts that advance health.
Together with peers in Portland's junior youth empowerment program, he helped create a service project to address the city's growing rate of diabetes by teaching the community about the importance of healthy eating.
By the time Meshkin entered college at Virginia Commonwealth University's Honors College, he knew he wanted a career that blended medicine and education.
Celebrating the 2022 Graduates
Read more profiles of some of Harvard Medical School's remarkable graduates and watch livestreams of ceremonies for master's, MD/DMD, and PhD graduations.