The Promise of Regeneration
HMS 2022 grad Jennifer Cloutier has a habit of pushing limits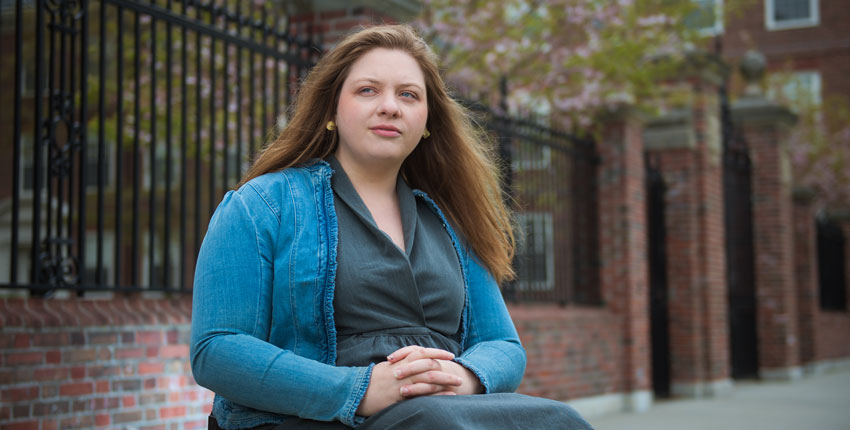 Jennifer Cloutier. Image: Gretchen Ertl
When Jennifer Cloutier receives her MD from Harvard Medical School this year, it will be 12 years since she won a Canadian national waterskiing championship.
Although that feat alone is impressive, it's even more extraordinary because the competition was designed for individuals with disabilities, and because of her lower-body paralysis, Cloutier, now 30, performed tricky slalom turns and acrobatics from a special seat bolted to her skis.
But then, pushing limits has been Cloutier's signature style.
"In the 20-second period allowed for trick skiing, if you fall off the seat, your performance is over," she said. "So, my goal was to always perform the hardest trick I could do without falling."
Skiing triumphs were just the beginning of many of Cloutier's achievements, demonstrating her refusal to be deterred by the spinal-cord injury she experienced at age 6 in a car accident, which also left her younger brother paralyzed.
Pushing limits
Cloutier was encouraged by her parents not to let her injury impede her future ambitions, and during the six months she was initially hospitalized after the accident, she gained firsthand appreciation of the marvels of rehabilitative medicine, which she says helped inspire her to become a doctor.
But childhood came first. At age 10, the Ottawa, Ontario, native also embraced alpine skiing, becoming a ski instructor during high school.
Then, turning to watersports, she competed internationally and became a volunteer administrator for SkiAbility Ottawa, a waterskiing organization for people with chronic illnesses and disabilities.
Winning medal after medal, Cloutier's athletic successes and volunteer work with disabled people culminated in her being selected in 2011 to Canada's Top 20 Under 20, a prestigious list published by Youth in Motion.
At the time, Cloutier was already at Harvard College, graduating with a bachelor's in human developmental and regenerative biology in 2013, and serving as president of Women in Science at Harvard-Radcliffe from 2011 to 2013.
She says her early traumatic injury was pivotal in defining her research goal—to understand how tissues regenerate after they are damaged. HMS and the Massachusetts Institute of Technology (MIT) have given her a unique opportunity to pursue this goal.
Enrolled in the joint Harvard-MIT Program in Health Sciences and Technology (HST), which immerses students in rigorous interdisciplinary studies on both campuses, Cloutier will receive an MD in 2022 from HMS, complementing the PhD in biology she received from MIT in 2020.
Compressed into overlapping years, HST students on the MD track receive training to become physician-scientists. In addition to classroom studies on the HMS campus and clinical rotations at HMS-affiliated hospitals, they spend long hours in HMS or MIT laboratories, working with leading scientists on critical questions.
"As a physician-scientist, I am very interested in how organs and tissues re-form in adult organisms that are attempting to regenerate from injury," Cloutier said.
She has studied the regenerative ability of a tiny planarian, or flatworm, named Schmidtea mediterranea.
For two centuries, this freshwater planarian has been a model organism for studying development and regeneration, because of its distinct anatomical features—eyes, gut, brain, central nervous system, and more—and its capacity to regenerate any missing body region, even the whole body, from minuscule body parts.
Working in the lab of Peter Reddien, professor and associate head of the MIT Department of Biology, Cloutier's research has focused on planarian signaling pathways that recruit stem cells for regenerating tissues.
"Our research team is seeking to identify the genes and signals involved in initiating regeneration," Cloutier said. "We are converging on a promising regulator that is expressed within hours of injury in the planarian wound epidermis. Such a discovery would offer key insights to the cellular signals that drive regeneration and could potentially lead someday to therapeutic strategies for better repair after injury," she said.
Celebrating the 2022 Graduates
Read more profiles of some of Harvard Medical School's remarkable graduates and watch livestreams of ceremonies for master's, MD/DMD, and PhD graduations.