HMS Master's Grads Embrace Endless Opportunities
Largest graduating master's class will use skills to lead way in post-pandemic world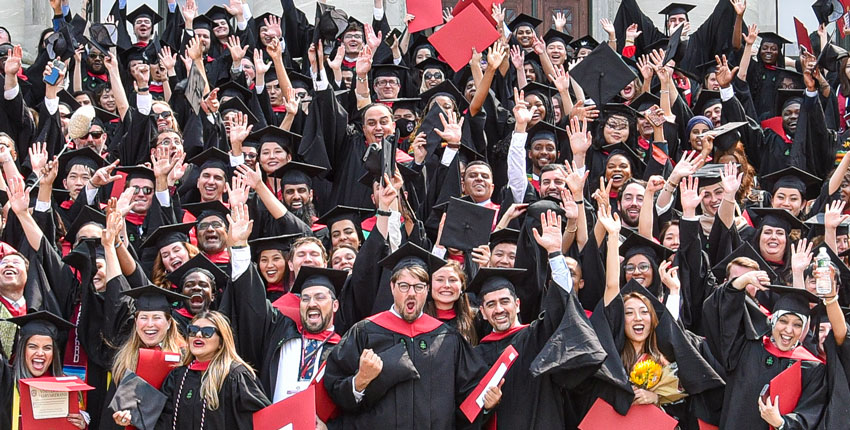 After receiving their diplomas, HMS master's degree graduates celebrated on the steps of Gordon Hall.
This is one in a series of stories about Harvard Medical School and Harvard School of Dental Medicine graduation celebrations for MD, DMD, master's, and PhD graduates.
On a late May day that perfectly captured the transition from spring to summer, with clouds and comfortable breezes giving way to bright sun and balmy heat, Harvard Medical School master's degree graduates gathered under a grand white tent on the HMS Quad to complete a significant transition of their own.
A record number of graduates from nine different programs joined friends, family, and faculty to celebrate completing master's degrees at HMS — an important professional step as they pursue diverse careers in science and medicine that will be devoted to researching and communicating, helping and improving.
"You are the sense-makers, the dreamers, and the storytellers who will redefine health care for the second half of the 21st century — and you are the healers who will tend to our society every step of the way," said HMS Dean George Q. Daley in his opening remarks at the master's degree programs graduation ceremony on May 24.
In her keynote address, Rebecca Brendel, director of the master of bioethics program and associate director of the HMS Center for Bioethics, described a biomedical community that is finally emerging from the pandemic and must now turn its attention to what comes next.
"As you graduate today, you stand with the world at a crossroads," she said. "We must be sure to ask ourselves not only where we can go, but where we ought to go. We have a once-in-a-lifetime opportunity to advance our work and the human condition as we rebuild."
The celebration begins
Before the ceremony, graduates slowly made their way across the Quad, stopping to snap proud photos with friends and family in front of the Harvard Medical School name carved into the white marble facades that flank the Quad entryways.
Mitra Khany, who received her master of science in healthcare quality and safety, was especially excited and grateful to be with classmates on campus after having to attend many classes over Zoom during the COVID-19 pandemic.
Khany entered the program as an anesthesiologist intent on improving the quality and safety of patient care. Through her work, she had realized that when one anesthesiologist takes over for another during surgery, patient details are typically shared verbally, often resulting in missing information. To address this issue, Khany developed a tool while at HMS that conveys key patient information between care teams in a standardized way.
Cheryl Wong, who graduated with a master's in biomedical informatics, came into her program with an advanced degree of her own: a degree in veterinary science.
She used her time at HMS to gain expertise in a new field, which she combined with her past training to develop better ways of organizing information on animal models used for research.
For her final master's project, Wong built a database of mouse tumor models that labs commonly use to study cancer immunology. After HMS, Wong plans to continue pursuing a research career.
Jordan Hartmann, who earned his master of medical sciences in immunology, saw his program as an opportunity to explore his interest in medicine while gaining more research experience. His research at HMS focused on the fine-scale details of how SARS-CoV-2 interacts with the immune system.
"There was something special about digging into the virus that caused this huge global health crisis, and looking at it from a different perspective and a fresh angle," he said.
Hartmann will continue his studies this summer as a medical student at the University of Texas Medical Branch.
The Quad was abuzz with energy as the graduates lined up outside Gordon Hall, pulling robes on over dresses and suits and enthusiastically greeting classmates.
Snippets of languages from around the world could be heard among the chatter as the graduates fixed each other's stoles and hoods and posed for selfies. A curly-haired blonde dog decked out in a miniature cap and gown sat in line, patiently waiting for the signal to process inside the tent.
Science & Medicine, Delivered
Harvard Medicine magazine in your inbox