Timothy Springer Receives Lasker Award
Biochemist shares recognition for launching field of integrin research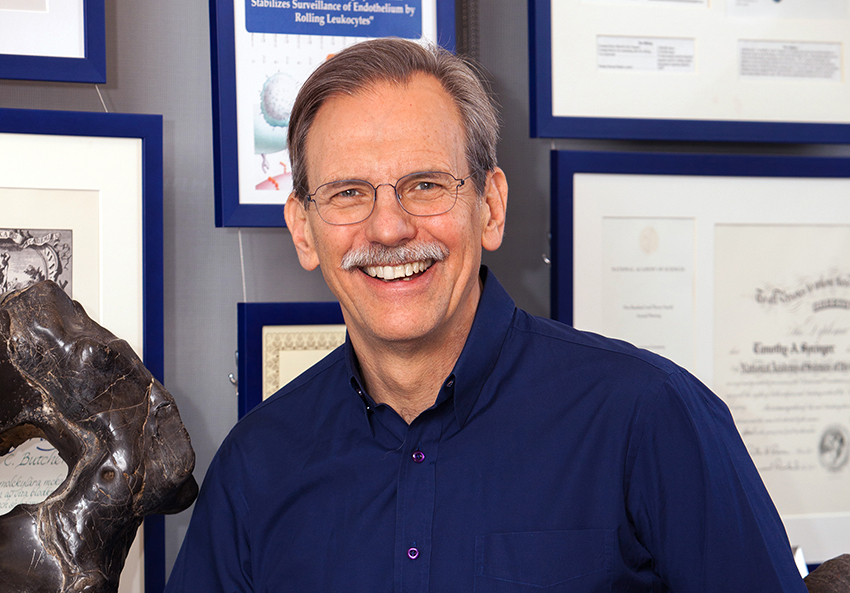 Image: Drew Hyman
Timothy Springer, the Latham Family Professor of Biological Chemistry and Molecular Pharmacology at Harvard Medical School and Boston Children's Hospital, has been named a recipient of the 2022 Albert Lasker Basic Medical Research Award, one of the world's most prestigious prizes for biomedical research.
Springer shares the honor with Richard Hynes of MIT and Erkki Ruoslahti of Sanford Burnham Prebys in California.
This year's award recognizes discoveries the scientists made regarding integrins — proteins that physically and biochemically connect cells with one another and with their surrounding environment and play key roles in physiology and disease.
"Tim is an exceptional scientist and brilliant entrepreneur who has provided invaluable contributions to our understanding of integrins and other important biological signaling molecules. He goes beyond discovery to convert his insights into therapies that improve lives," said Stephen Blacklow, the Gustavus Adolphus Pfeiffer Professor of Biological Chemistry and Molecular Pharmacology and chair of the Department of Biological Chemistry and Molecular Pharmacology in the Blavatnik Institute at HMS.
"This award is well-deserved recognition for the significance of his discoveries and those of Richard Hynes and Erkki Ruoslahti," said Blacklow.
Hynes and Ruoslahti identified a cell surface-associated protein that helps affix cells to surrounding material, called the extracellular matrix, and later discovered a receptor to which this protein binds.
Meanwhile, Springer detected transmembrane proteins that underlie the ability of immune cells to interact with their targets.
Enlightening, understandable, provocative
Solid reasons to read Harvard Medicine magazine