Gairdner Awards for HMS Researchers
Honors recognize scientists' transformational work in global mental health and protein science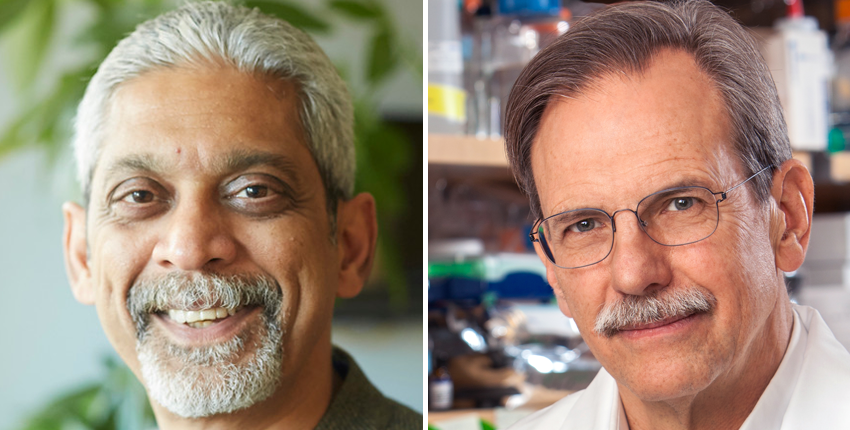 From left: Vikram Patel and Tim Springer. Springer image: Drew Hyman
Two Harvard Medical School researchers have been named recipients of the prestigious Canada Gairdner Awards for transformational work in the fields of biomedicine and global health.
Vikram Patel, The Pershing Square Professor of Global Health in the Blavatnik Institute at HMS and professor at the Harvard T. H. Chan School of Public Health, will receive the 2019 John Dirks Canada Gairdner Global Health Award. Patel is being recognized for research that has transformed understanding and attitudes toward the importance of mental health in a global context, for his contributions to international mental health policy and for efforts to improve access to mental health services in areas of the world where mental health resources are acutely lacking.
Timothy Springer, the Latham Family Professor of Biological Chemistry and Molecular Pharmacology at Harvard Medical School and Boston Children's Hospital, will receive the 2019 Canada Gairdner International Award, which recognizes pivotal contributions in the field of biomedicine. Springer is being honored for his discovery of the first immune system adhesion molecules, for elucidating their roles in the body's ability to recognize foreign antigens and mount an attack against them, and for the subsequent translation of these findings into therapies for autoimmune diseases.
Patel and Springer are among seven laureates who will each receive a $100,000 cash honorarium. The recipients will be formally honored Oct. 24 at the annual Canada Gairdner Awards gala in Toronto.

"These honors could not have gone to more deserving recipients," said George Q. Daley, dean of Harvard Medical School. "Vikram Patel's and Tim Springer's creativity and passion are inspirational."
"Vikram's research has not only reshaped our understanding of mental health globally but also has tangibly improved access to critical services for people living in areas that lack mental health resources," Daley added. "He has challenged some of the most pernicious myths about mental health and his efforts have been foundational in making mental health a global health priority."

"Tim's insights into cell biology, immunology and biological chemistry have transformed our understanding of the structure, function and interactions of many families of proteins and yielded critical insights about immunity, cancer, blood vessel homeostasis and more," Daley said. "His work has energized the field of protein science and illuminated new ways of thinking about next-generation protein therapies."

Patel has been instrumental in establishing the field of global mental health. He has dedicated his research to raising the global profile of mental health through epidemiological research that has demonstrated the burden of mental disorders in low- and middle-income countries as well as their impact on poverty, child growth and development, and the risk for HIV infection, among other conditions.
Patel's work has demonstrated that mental health problems are universal forms of human suffering that fuel a vicious cycle of deprivation and poor mental health.
The central theme of Patel's work has been democratizing access to mental health care and making mental health care a right for everyone everywhere. Patel championed the concept of mental health care delivery by non-specialists and lay health workers as a way to expand access to mental health services in underserved areas.
His book Where There Is No Psychiatrist: A mental health care manual has become the definitive text for community health workers in developing countries.
Patel's intervention research became the foundation for the design, delivery and evaluation of psychosocial interventions provided by lay and community health workers. Such interventions include the primary care treatment of depression, anxiety and alcohol use disorders, the community-based care of people with schizophrenia and autism, and the prevention and treatment of adolescent mental health problems through school-based interventions.
Much of Patel's work has been done in partnership with Sangath, an Indian nongovernmental organization that he co-founded in 1996. Sangath, one of India's leading community-based research organizations, received a 2008 MacArthur Foundation International Prize for Creative and Effective Institutions and a 2016 World Health Organization Public Health Champion of India prize.
Patel co-founded the Centre for Global Mental Health and the Mental Health Innovation Network at the London School of Hygiene and Tropical Medicine and the Movement for Global Mental Health, the largest global network of individuals and organizations advocating for promoting services and human rights for people living with mental health problems.
In 2018, Patel co-founded the GlobalMentalHealth@Harvard Initiative, which is developing a suite of innovative, interdisciplinary initiatives aimed at implementing and generating knowledge to transform mental health globally.
"Vikram's work is important not only for the models he and his coworkers have developed, implemented, and critically evaluated," said Paul Farmer, the Kolokotrones University Professor of Global Health and Social Medicine.
"It's important because of its implications for real-world mental health issues, of course, but also because he himself serves as a model for how research universities can make practical and enduring contributions to ease great suffering, regardless of where it occurs. He's really created a whole new way of seeing global health as global health equity."