Taking Care of Our Own
HMS researchers, custodians share information, build bonds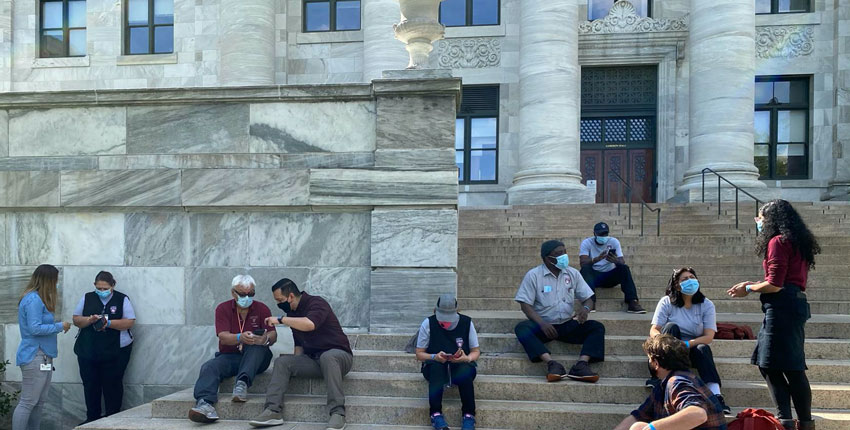 Lea este artículo en español aquí.
What began as an informal summer gathering of members of an anti-racism group within the Harvard Medical School genetics department has evolved into so much more—a way for the scientists and School custodians to strengthen bonds and find ways, together, to protect everyone from COVID-19.
"The HMS Genetics Anti-Racism Group held daily sit-ins outside the New Research Building following the [August] shooting of Jacob Blake, calling for antiracism measures and awareness at HMS in the face of police brutality," said research fellow in genetics Marta Florio. "Institutions may be limited in how quickly they can enact change but, as individuals, we can do more to shape culture, starting here in our own community."
While most of HMS continued to work and learn remotely this past summer, many labs stirred back to life after the initial coronavirus lockdowns.
Following an uncharacteristically quiet few months on Avenue Louis Pasteur in the spring, the now regular assembly of genetics department members gathering in front of the NRB caught the attention of Jean Phane, Service Employees International Union Local 615 shop steward for first-shift custodians at HMS.
He approached the researchers and learned that they had been discussing the University's coronavirus testing and lab safety guidelines.
Phane, Florio recalled, expressed concern that members of the custodial staff, many of whom do not speak English as a first language, might lack access to School communications about COVID-19 and, potentially, could be less at ease embracing the University's web-based coronavirus testing and health attestation platforms required for access to campus buildings.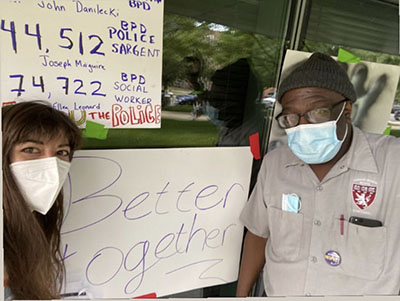 With an open invitation from Florio and genetics colleagues such as Yasmin Escobedo Lozoya and Israel Pichardo-Casas, native Spanish speakers who could help bridge potential communication barriers with non-English speaking staff, Phane encouraged his team to take their questions to the School's "resident experts"—the genetics researchers.
In the following weeks, in duos and trios spread across the steps of Gordon Hall just off the HMS Quad, the custodians and scientists began chatting—in Spanish and English—about an ever-widening array of health topics, from job-related coronavirus testing and safety protocols to the flu, cardiovascular disease and cancer.
"We got to know each other, created a friendship," said Phane. "Marta and her group answered our questions about the coronavirus, broke down the science, and helped us set up the apps we needed for testing and contact tracing. That support is priceless."
"We also talked about COVID's impact on their families. This is what it means to be community, taking care of our own; and sometimes that begins with listening to each other's concerns and needs," Florio added.
"Custodians are essential workers, so we're here on campus despite the risks," said Phane. "The researchers helped us feel more comfortable and gave us the motivation to show up every day to support those who supported us."
By being more attuned to those within our own community who are vulnerable, less privileged and need to be heard, we can bring them in and work together across levels of the organization toward immediate solutions. Conversation can turn into action very quickly.
Marta Florio, HMS research fellow in genetics