Studying the Past to Understand the Present
MD-PhD grad Alyssa Botelho embarks on career as physician, social scientist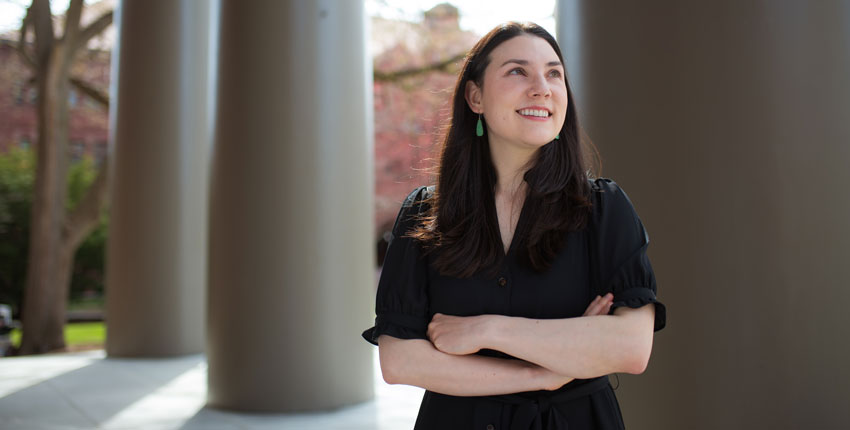 Alyssa Botelho. Image: Gretchen Ertl
This is one in a series of profiles featuring Harvard Medical School's remarkable graduates.
It was late 2020, deep in the throes of the COVID-19 pandemic, when the urgency of Alyssa Botelho's research on the history of rural health care in the United States became clear to her.
Botelho had temporarily moved to Great Falls, Montana, with her husband, who was clerking for a federal judge. There, she was writing her PhD dissertation just as COVID-19 began to infiltrate rural communities that had not yet been hit hard by the virus.
As she sat at her computer, poring over historical documents on rural health care systems, "I could hear helicopters overhead day and night as people were airlifted from all over the state to the hospital in Great Falls," she recalled. "It was an intense and immersive experience of witnessing a rural health care system under duress."
The experience only solidified Botelho's commitment to studying the history of medicine. Now, as a newly minted physician and social scientist, she plans to use what she's learned to educate policymakers, physicians, and the general public, while also providing the best care possible to her patients.
"I think my skill set is finding and sharing stories that make tangible the big structural and hidden forces that affect people's experiences in our health care system," Botelho said. "I hope that those narratives can be used to help make medicine a more equitable practice."
Pursuing passions
A child of classical musicians, Botelho was always encouraged to pursue her passions — and it was her dual passions of dance and medicine that initially sent her to Harvard University for her undergraduate degree.
At Harvard, Botelho began to uncover more interests. She wrote for the school newspaper, first ballet reviews, and later, science stories. She interned as a science journalist for several newspapers and at a magazine. She took classes on medical anthropology and the history of medicine.
One of those classes led Botelho into research on the history of science — quite literally.
During a scavenger hunt assignment in the Harvard archives, she stumbled across something intriguing: A folder labeled "Science for the People," with documents about an activist organization of scientists and health care workers started in the 1970s. The group was then active in anti-war and environmentalist efforts, and was also vocal about racism and sexism in science. Later, the Boston chapter worked to create guidelines around early genetic engineering efforts.
Seeking better health?
Heart health. Nutrition. Brain health. And more.