New and Improved
Countway Library reopens for spring semester following renovations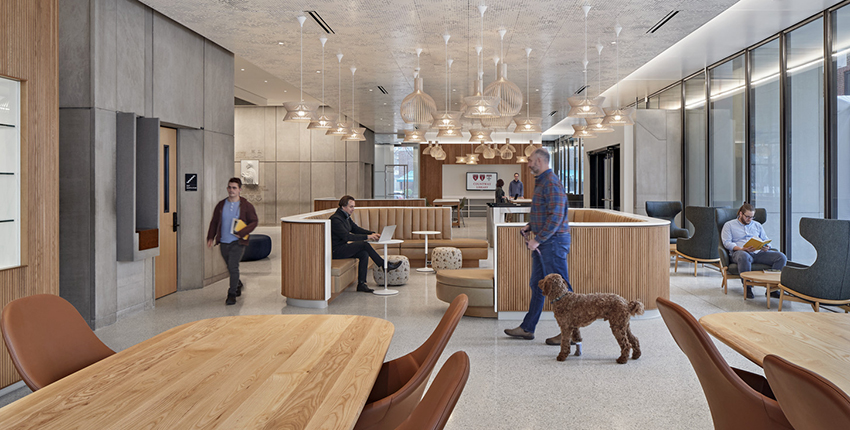 Images are digital simulations of library scenes with photos taken in accordance with public health protocols. Images: Robert Benson Photography
Following extensive renovations that began in October 2019, the Francis A. Countway Library of Medicine at Harvard Medical School reopened on Jan. 6 with a new look and a host of on-site services, some of which will continue to be limited over the coming months because of the COVID-19 pandemic.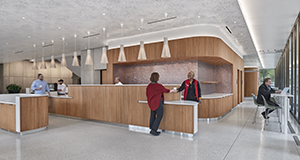 "To deliver on Countway's commitment to innovation, collaboration, academic excellence, ongoing improvements in technology, and diversity and inclusion, we aimed to create a fresh, adaptable, dynamic hub for members of the Longwood community to study, research, gather, and recharge," said Elaine Martin, director and head librarian of the Countway Library.
The wide-ranging renovations allow the library to offer a variety of adaptable spaces for individual and group study, event and multiuse instruction rooms, and a makerspace work area featuring a 3-D anatomy and physiology visualization table.
"The health sciences, technology, and information environment is rapidly changing, and new types of spaces are needed to meet the demands of 21st-century scholarship," said Martin.
Other changes visitors will notice when the library is fully reopened include a new entrance on Huntington Avenue; increased natural light and campus views throughout; improved accessibility inside and outside the facility; exhibit and display locations; the addition of a mother's room and a prayer/meditation room; more women's, men's, and all-gender restrooms; ergonomic furniture; self-serve lockers; a café; and a pop-up Harvard Coop.
The library is currently open Monday through Friday, from 9 a.m. to 1 p.m. and from 2 to 6:30 p.m., with a cleaning protocol in place from 1 to 2 p.m. each day.
A study space must be reserved online before an individual can enter the library. Safety ambassadors are available to guide patrons to reserved study spaces and explain the latest library policies and procedures. All other research and education library services, as well as the Center for the History of Medicine, are available remotely via Ask Countway.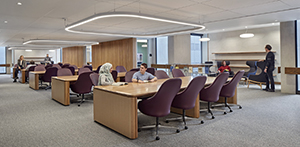 Patrons can stay up to date on the renovation and reopening through Countway Library's webpage and through Martin's weekly Director's Corner blog posts. Regular updates are posted to Countway Library's Facebook, Twitter, and Instagram accounts. Countway Library also offers a robust schedule of online programming, including classes, workshops, and special events.
Martin said patrons' initial reactions to the renovations have been overwhelmingly positive.
"We've experienced the power of the Countway space to welcome us, comfort us, and inspire us these opening days," Martin said. "The library reopening gives the Longwood community a new, refreshing, and positive environment in which to work, study, and research. And for that I am grateful."