Medical Education Reimagined
Innovating for success in a post-pandemic world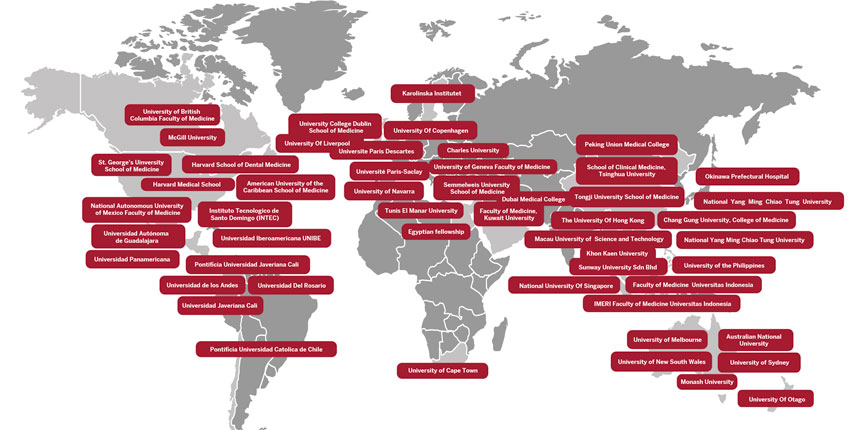 With the world demanding innovative and forward-thinking approaches to medical education, Harvard Medical School is using its convening power to bring advancements in medical education to the worldwide education community.
In fall 2019, a group of senior leaders from international medical schools gathered on the HMS campus to explore educational trends, developments, and best practices at the inaugural IMPACT symposium.
The following year, COVID-19 caused massive and unexpected disruption to medical education, health care delivery, and the lives of people and communities around the world. The HMS community continues to help with the response.
This year, with new perspectives acquired over a year of adaptations and transformations, 125 international medical education leaders from 51 medical schools in 33 countries gathered again to share experiences, innovations, and new strategies in medical education at IMPACT 2021, another HMS-hosted live virtual event that took place from April 26 through April 30. 
Organized by the HMS Office for External Education, this year's symposium focused on transitions to online learning and hybrid delivery of medical education as institutions around the world have had to develop new paradigms for teaching, learning, and clinical practice in the post-pandemic world.
In opening remarks, HMS Dean George Q. Daley said that few might have envisioned a 2020 that would entail a prolonged confrontation with the SARS CoV2 virus. At the same time, he emphasized silver linings that have emerged, including the spirit of collaboration across a global medical community to confront COVID-19 and prepare for future pandemics.
"I believe collaboration is the antidote to even the most virulent future threats," Daley said. "I cannot overstate the pride I have for the contributions of biomedicine during this pandemic."
IMPACT 2021 included presentations by HMS faculty and institutional leaders from around the world. It featured interactive sessions and breakout groups, as well as a schedule designed to accommodate international colleagues.
The symposium was organized with the support of a global advisory committee made up of international academic leaders, including María Guadalupe Zavala-Cerna, academic coordinator, Universidad Autonoma de Guadalajara, Gabriel Leung, dean of the faculty of medicine, University of Hong Kong, Adrienne Torda, associate dean of education and innovation, University of New South Wales, and Gérard Friedlander, dean of the faculty of medicine, Université Paris Descartes.
COVID-19 challenge
"COVID-19 has been an incredible challenge for all of us," said David Roberts, HMS dean for external education. "At the same time, this has been a time of extraordinary innovation in medical education."
HMS presenters showcased the work of many faculty across the School's Program in Medical Education, including Sara Fazio, HMS associate director of innovation in medical education, on the HMS experience with transforming clinical training during the pandemic; Edward Hundert, HMS dean for medical education, on how a crisis can enable institutional creativity and collaboration; and Michael Parker, associate dean for online learning and faculty director of HMX, on experience with asynchronous learning and data from the online environment.
Adrienne Torda presented on how organizations, and their leaders, can be nimble about change, and how medical schools can prepare to manage the next crisis.
"Digital teaching and learning are here to stay," she said.
Attendees of IMPACT 2021 included two graduates of the HMS Master's in Medical Education program who are now in university leadership positions in Thailand , several past participants of the Harvard Macy programs, and leaders from institutions using HMX courses to train their students in key areas of medical science.
"A major takeaway is that from disruption comes opportunity. We have a chance to learn from everything we did reactively and plan how to proactively move forward into the post-COVID era," said Beth-Ann Cummings, assistant dean of health professions education, McGill University.
There was a palpable sense of camaraderie among IMPACT attendees. Wide-ranging discussions included conversations about the emotional toll of the pandemic on faculty and students. Attendees said they intend to stay connected and continue to learn from each other.
"As a global community of medical educators, we're in this together," said Ardi Findyartini, head of the Department of Medical Education and of the medical education research cluster in the Indonesia Medical Education and Research Institute, Universitas Indonesia.
"IMPACT was a special opportunity to develop a better understanding for how resources, challenges, and innovations can be utilized to implement meaningful change within our institutions and for the future of medical education."
See the full agenda for the 2021 IMPACT Symposium