Gusto for the Science of Medical Education
Harvard Macy Institute's new faculty director discusses ingredients for developing leaders, nourishing educators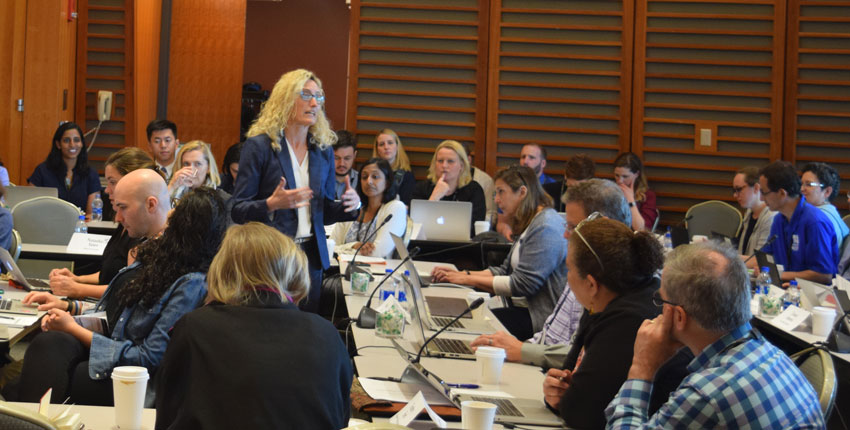 A Harvard Macy Institute Program of Educators in Health Professions course in 2019. Image: Courtesy HMI
Sarah Wood possesses an adventurousness and community-mindedness that she says comes from living overseas while growing up. Her father worked for the World Bank in Nairobi, Kenya, and Oxford, England, and her family often traveled to India and Asia.
Pairing these traits with a passion for medical education and patient care should serve Wood well in her new position as faculty director of the Harvard Macy Institute (HMI), which is based at Harvard Medical School and offers advanced faculty development programs for educators in the health professions from around the world.
Wood took over the role in May from founding director Elizabeth Armstrong.
Wood, MD '95, helped establish Florida Atlantic University's medical school, where she served as vice dean for medical education and interim chair of the Department of Women's and Children's Health. She was also an HMI faculty member for several years.
Wood, a self-described foodie, spoke with Harvard Medicine News about what she hopes will be a recipe for success — generating excitement about the science of education and preparing HMI's scholars to respond to the challenges facing clinical medicine and medical education, while building on HMI's culture of mentorship and international collaboration.
HMNews: What do you most enjoy about teaching medical educators?
Wood: I was inspired to go to medical school by my grandfather, who was a primary care doctor. I fell in love with pediatrics, but as a chief resident I discovered I also loved the community of educators who were supporting residents and medical students and got hooked on medical education. I love thinking about how to weave together clinical skills, communication skills, interpersonal skills, and medical knowledge in a way that sticks for learners. I am a lifelong learner and enjoy trying to inspire others to be as well.
I remember seeing a diagram once showing that I could care for a certain number of patients as an individual, but if I taught medical students, the number of patients I could impact would be exponentially bigger through my trainees. And then if you train the faculty who train the students who take care of the patients, the impact continues to grow. My purpose is, ultimately, to provide the best care for patients by energizing and empowering leaders of medical schools, faculty, residents, and students.
I feel grateful for the opportunity to be in this inspiring academic environment at HMS that wants to serve, take care of patients, and train future clinicians and scientists, all in the best way possible.
HMNews: What makes the Harvard Macy Institute unique?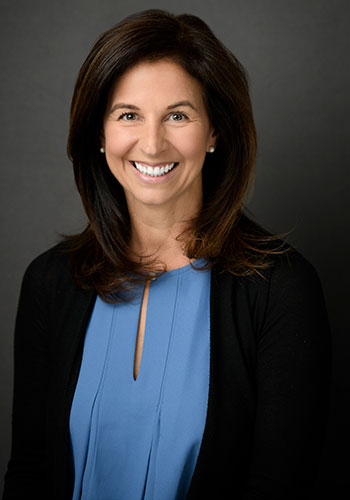 Wood: Our HMI scholars are not only learning important material, but are building strong relationships with colleagues doing similar work. You might be from a U.S. medical school discussing topics with someone at a nursing school in South Africa, Singapore, or London, and this richness from the diversity of geographies, disciplines, and professions coming together creates a collaborative and supportive network.
Alumni and faculty typically stay very connected with HMI, and many past attendees return to serve as faculty, facilitators, and mentors within the courses. It's tremendously enriching to have scholars return to teach year after year, enhancing the close-knit community that supports health professions educators around the globe.
HMNews: People attending HMI courses range from nurse educators and teaching pharmacists to museum curators and academic deans. How does that work?
Wood: I think that's the magic of HMI. Everyone comes in with a project and is put into small groups to share ideas. Everyone is on equal ground.
Because there are unique traditions, structures, and systems within different health professions, scholars get together and say, oh, we hadn't even thought to do it that way. As a result, everyone learns from one another without any sense of hierarchy. There is a cross-pollination of ideas across disciplines as participants share their diverse perspectives.
HMNews: What are some examples of programs or projects you have seen spring from the institute?
Wood: For me, the quintessential example is when I was at a brand-new medical school. We were trying to build an innovative, excellent program, and my mentor, who had been to one of the original Harvard Macy programs, said, if you're going to be a leader in medical education, you need to go to this program.
I was increasingly responsible for teaching medical students, residents, and fellows, and I realized that while I'd been trained as a physician and knew a lot about caring for patients, I had not been exposed to best practices in education and the cognitive science of learning.
When I came to HMI, this world opened up to me when the faculty showed me that there is a science to this, there's an evidence-based literature on this.
So, I was one of those people who benefited from HMI, and then I was fortunate to be able to pay it forward by coming back to teach. I returned as a faculty member for a few years, and then as I became a more senior leader and a dean in my institution, I sent faculty members each year to participate in the Harvard Macy programs. And now I am excited to continue to pay it forward even further as a leader.
HMNews: How do you see HMI programming growing and changing?
Wood: We already have a pretty broad umbrella, so the question is, are we missing anything and how can we keep the programming cutting edge and aligned with all the exciting innovations going on at HMS?
One example is that we've gamified things. Our technology course teaches how to put students and residents into an escape room and then let them figure out how to use teamwork and medical knowledge to get out of it.
Each year, HMI's courses include important current topics. In 2015, the big question was how social media would interact with health professions education. Eight years later, social media is a part of everyone's marketing and educational strategies.
Now is a challenging time for educators as we grapple with how AI will affect how health care is delivered and how it will impact medical education and learners' competencies. So, we've decided to integrate the use of AI into all our upcoming HMI courses.
HMNews: What's something you want people to know about you?
Wood: I love to travel, try new foods, and explore places I've never been, particularly with my family. This past spring, my younger daughter spent the semester in Spain. My husband and I visited her, and we went to San Sebastian, the Spanish Basque, and the French Basque and tried all sorts of interesting local foods and met fascinating people. Whenever we're home, we enjoy trying to recreate some of the favorite foods that we tasted someplace far away. Learning about different cultures, traditions, and cuisines is definitely a passion of mine.
I just got back from Glasgow, Scotland, where I attended the AMEE International Association for Health Professions Education meeting. I enjoyed connecting with many of our HMI alumni and educators from around the globe. Afterwards, we went on a fantastic food tour, so I was able to combine travel, food, and being inspired by all the innovative medical education advances going on internationally.
The interview was edited for length and clarity.