Just Beginning
HMS celebrates 5 decades of diversity and inclusion
Fifty years after Harvard Medical School launched an historic initiative to promote diversity and inclusion in its student body, the community gathered to celebrate progress, take stock of remaining challenges, and plan the way forward toward an even more diverse and inclusive community.
The event marked the anniversary of the year that HMS moved to establish a program to recruit 15 African American students.
"I am the first to point out that while we are here to celebrate the progress that we have made, we all collectively appreciate how much more work there is to be done," said HMS Dean George Q. Daley at a symposium on Oct. 28. "It's a responsibility that I, as dean, take extremely seriously."
A highlight of the celebration was the acknowledgement of the contributions of one man whose HMS career began with this initiative and spanned five decades of efforts to make the HMS student body at HMS and the Harvard School of Dental Medicine more representative of the U.S. population.
Alvin Poussaint, an HMS professor of psychiatry, emeritus, and former faculty associate dean for student affairs, joined the School in 1969 as a young psychiatrist known for his work as the southern field director of the Medical Committee for Human Rights in Jackson, Mississippi, during the U.S. civil rights movement and for his work in community medicine in the Boston area.
Poussaint was recruited following an effort to build a more diverse student body, led by a group of HMS faculty members who were inspired by the civil rights movement and spurred by the assassination of Martin Luther King Jr. The faculty members and one student appealed to Dean Robert Ebert with a proposal for increasing the number of "disadvantaged" students to the School.
Poussaint, who retired in May as director of the HMS Office of Recruitment and Multicultural Affairs, was hired to support the School's nascent minority recruitment and retention plan and to foster diversity and inclusion across the Harvard medical community. For the next 50 years he made it his mission to recruit students of color and to make HMS a welcoming place for all members of the community.
The students recruited through these efforts have made tremendous contributions not only to the culture and educational excellence of HMS, but also to making medicine more equitable in communities everywhere, Poussaint said.
"Many of our graduates, a host of them, have gone around the country and even abroad and opened the doors to solving disparity issues and finding new ways to serve marginalized populations," he said.
The celebration—which drew alumni from around the country as well as students, faculty and staff from across HMS—included a panel discussion on the evolution of diversity and inclusion at HMS and a symposium honoring the leaders and accomplishments of the 1969 diversity movement. Poussaint was recognized for his half-century of service and updates were shared on the accomplishments of students who were admitted through the program since 1969.
Before 1969, there was no formal plan at HMS to recruit or support students who were underrepresented in medicine. Only 64 African Americans had graduated from HMS and HSDM since the founding of the medical school 187 years earlier, speakers said.  
HMS and HSDM have graduated more than 1,350 students of color since the initiative began. The School's efforts to build diversity and inclusion have grown from a focus on black, Puerto Rican, Mexican American and Native American students to support all underrepresented students, including LGBTQ applicants and those with disabilities. Fostering a diverse and inclusive community is now at the core of the School's mission and community values statements.  
The power of hope
Rafael Campo, an associate professor of medicine at HMS and Beth Israel Deaconess Medical Center and poetry editor of JAMA, opened the afternoon symposium with a reading of a poem he composed for the event.
The poem, "Hopefully," explored the power and strength that can be drawn from patients, teachers, students, colleagues and neighbors who have diverse life histories: "In healing their own wounds, they save us all. Their balm is justice. The cure they found is hope," Campo's poem concludes.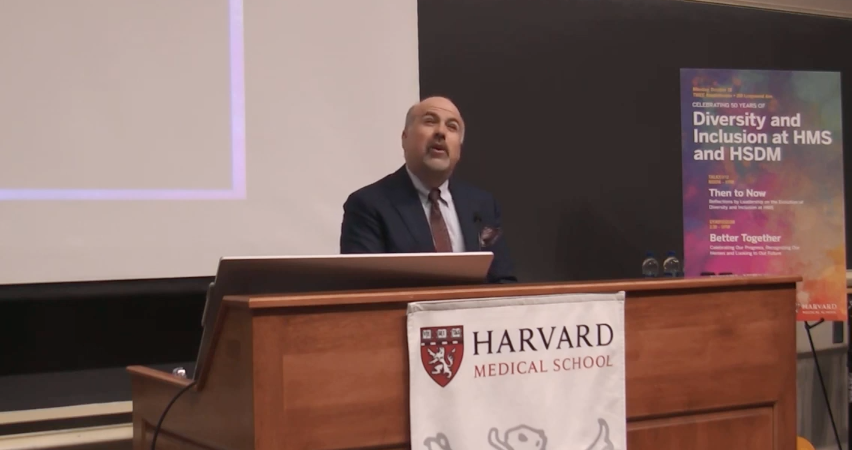 Emotional stories shared by former HMS students admitted through the initiative highlighted the personal challenges the students faced in the early years of the diversity program and recounted the key role Poussaint played in making the students feel welcome and in educating faculty members and leaders so that they could better understand those students' academic experiences as members of a minority group on campus.
Speakers at the event said that the School's diversity and inclusion program proved to be a source of great strength for the institution, noting the achievements of the students who have passed through the program, including deans of medical schools, deans of students, leaders in global and community health and top clinicians, researchers and educators.
"It is indeed the diversity of Harvard Medical school that makes us excellent," said Mary Tate, MD '18, an OB-GYN resident at Northwestern and Cook County Hospital.
Daley led a town hall meeting, where members of the community were asked to share their thoughts on the importance and benefits of diversity and inclusion and the most important things the School could do to improve diversity and inclusion.
Daley concluded what he called an amazing, inspirational day by saying, "Although it's clear we have much more to do, it's also clear to me that we have a community that's dedicated to doing it."
Fidencio Saldaña, HMS dean for students, outlined ways that the School's diversity activities have evolved over the past 50 years, as the distribution of underrepresented minorities has broadened to include more first-generation and LGBTQ students. The School has also increased how it provides support to underrepresented students, introducing a new focus on educating the entire community about diversity, cultural competence and health equity.
Even as a great deal has changed, one important constant remains, he said.
"After all these years, with all the changes, our focus remains on how to best take care of a diverse population by recruiting and developing a diverse workforce," Saldaña said.
In between a panel discussion and the afternoon symposium, returning URiM alumni met with current students for discussions and networking. Event attendees also took part in a number of immersive experiences and learned from interactive exhibits, including presentations that highlighted historic, current and future HMS initiatives, projects and activities designed to foster diversity and inclusion at the School.  
Additional presentations highlighted the diversity archives of the Countway Library, the School's health equity and community engagement curriculum, the HMS MEDscience high school STEM program, the Office for Diversity Inclusion and Community Partnership, the Office of Recruitment and Multicultural Affairs and the School's community health outreach program, the Family Van. Jacqueline Boehme, MD '16, a clinical fellow in anaesthesia at Brigham and Women's Hospital, concluded with a musical performance.
Many speakers throughout the day emphasized the importance of recognizing that diversity is not about a single action or metric, but an ongoing process of setting intentions and following through with evaluation, accountability and continuous improvement.
"Diversity, inclusion, belonging and advancement don't just happen because you talk about it; you have to act on it," said Joan Reede, HMS dean for diversity and community partnership. "And you must be persistent and vigilant in your actions in order to sustain change."