Making History
Dr. Alvin Poussaint reflects on a lifetime of achievement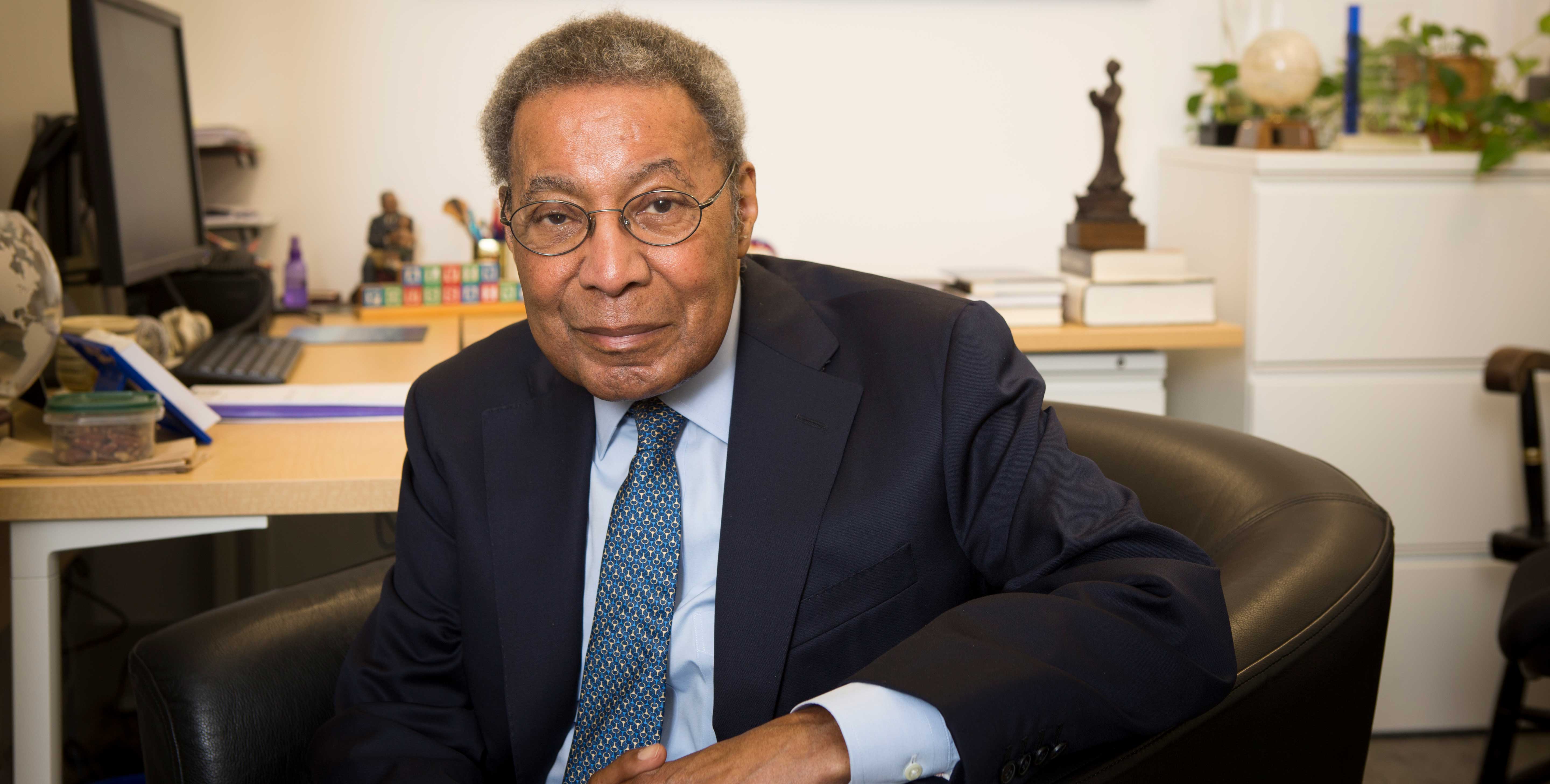 Dr. Alvin Poussaint in his HMS office
Fifty years ago, when Alvin Poussaint, professor of psychiatry and faculty associate dean for student affairs, first arrived at Harvard Medical School, he was a relatively young man. But he had already lived more than a few lifetimes and fought more than a few battles.
A Cornell-educated physician, Poussaint had marched from Selma to Montgomery just four years before in a demonstration that became one of the nation's pivotal civil rights protests.
Poussaint joined the marches to ensure that demonstrators would have medical care if it was needed. He served as the southern field director for the Medical Committee for Human Rights, a position he had taken at the request of a friend from high school days.
Along with more than 100 other volunteer health care professionals, Poussaint risked his life to coordinate and administer medical aid for civil rights protesters, many of whom were attacked and beaten during the 1960s marches.
Working alongside colleagues such as Reverend Martin Luther King Jr. and Reverend Andrew Young in the Deep South during the powder-keg years of the U.S. civil rights movement, Poussaint had seen much, and overcome much. The same could be said of his personal life.
Now, not long after arriving in Massachusetts, a mentor, renowned psychiatrist and educator Leon Eisenberg, and Harold Amos, an esteemed black professor of microbiology, recruited Poussaint to join the faculty at HMS.
"At first, I was ambivalent about it. I didn't know if it would change me too much," Poussaint said. "But then I felt that if I came here, and I created some change and got them more interested in minority students, that it would have a ripple effect across the country. Because Harvard was doing it, that would make a lot of people get on board. And I thought that was important."
Poussaint, 85, is poised to retire from HMS having recruited and mentored nearly 1,400 students of color to the School. He has also been instrumental in building a firm foundation for diversity and inclusion at HMS. Reflecting on what many would consider to be monumental achievements, he is understated and humble.
"Well, I think I had an important impact. I helped move things along and opened things up and helped a lot of students. Both minority students and majority students, in terms of their educational images, and modeling what they should do as good medical students. And they appreciated that," he said.
Poussaint sees those students, and his work, as a legacy, but he cautions that there is much more work to be done.
"I think it will make a difference," he said of his efforts. "I just don't know how much it will make a difference, and that's what counts, that it's not all for naught."
Music and medicine
Misfortune combined with music to bring Poussaint to medicine when he was a young boy growing up in New York City's East Harlem in the 1930s.
Together with his parents, Christopher and Hattie Poussaint and seven siblings, Poussaint grew up in a neighborhood above Manhattan's 96th Street, in a railroad-style apartment that had its bathtub in the kitchen. Although home quarters were cramped and poverty prevailed in the neighborhood, Poussaint does not remember his Depression-era childhood as one marked by deprivation. His father, a printer, had a shop around the corner from their home; he printed Harlem community newspapers until taking a job as a typographer with a city newspaper.
Recalling the neighborhood and its conditions at the time, Poussaint said, "That was all you knew. You didn't know how the other world was. I didn't know there were, like, rich people, or that there were people who had more than we had. We didn't have much, and we were a very large family."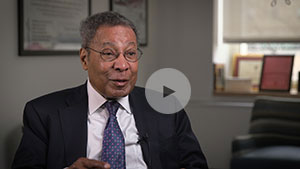 His life in East Harlem might have taken a very different track had he not fallen seriously ill with rheumatic fever when he was 9 years old.
"I didn't know how sick I was, but when they took me to the hospital, I couldn't move because my joints were so swollen—and they kept bringing doctors in to see me. It scared my mother that I wasn't going to make it, that I had severe heart disease from the rheumatic fever," he said.
After three months in Mt. Sinai Hospital, and two more months in a convalescent home in Far Rockaway, Queens, Poussaint was allowed to return home with the stern medical directive that he was not to engage in any strenuous physical activities for fear of further damaging his heart.
Family and friends carried him up and down the stairs to the family's flat, and his elementary school teacher brought him his lessons so he would not fall behind in school work. She needn't have worried. Poussaint made good use of the time he was bedridden and recuperating—he became a voracious reader.
"By the time I came out of the convalescent home I was pretty smart. I'd read so much, about so much I didn't know about, that it kind of pushed me ahead in school. I began to do very well academically in elementary school and in junior high," he said.
It wasn't only the reading, however, that propelled Poussaint into Stuyvesant High School, a college-prep high school that was then all boys.
Poussaint had taken up the clarinet during his convalescence after one of his older brothers had left the instrument behind when he joined the Marines in World War II. Because playing clarinet was not a strenuous activity, Poussaint was allowed to practice all he liked. Eventually he took lessons.
After rehearsals one day in junior high, his music teacher asked him if he'd considered taking the entrance exam to one of the science high schools in the city. In East Harlem, no one had ever mentioned these schools.
"So I said no, and he said, 'Well, why don't you take it? You just might pass,' and he directed me to the principal's office to get an application. I walked in blind. I did not know what the test was about…. So I went down and took it and got in."
The decision to go was not easy. Poussaint loved playing clarinet and considered going to a music and art high school in the city instead, but his father forbade that. His father was "dead opposed" to his son going into music and instead advocated for a career where he thought his child could make a more predictable living. He encouraged his son to go to Stuyvesant. Today, the school is recognized as one of New York City's most elite public schools, boasting many notable alumni, including four Nobel laureates.
Besides music, medicine appealed to Poussaint, not only because he was good in the sciences—chemistry, biology and math—but because it had touched his life so deeply, first as a child hospitalized for rheumatic fever and then in high school when his mother died of cervical cancer at age 46 following months of suffering.
"I knew what cancer was. I didn't quite understand it all, but I remember vividly because they had no treatment for these things," Poussaint said, recalling how hospitalized cancer patients were given IV fluids but not much else, because little could be done for them. "I still have images of it. They literally wasted away, like the cancer was eating you up."
Like many who go into medicine, Poussaint said his mother's death came to mind when he considered career paths. Like many medical students, he said, he was drawn to the profession after seeing a loved one affected by illness.
"In your fantasies, you think you might have been able to save them," he said.
Soon Poussaint went from being enrolled in a mostly black and Puerto Rican junior high school to Stuyvesant, mostly white and middle class. He wondered how he would fit in and whether he would be able to do the work.
New challenges
Poussaint didn't have to wonder for long. Although he doesn't recall experiencing a great deal of overt racism at Stuyvesant, there were still roadblocks to acceptance and success. One of his teachers decided he had a speech impediment due to his East Harlem accent because he would say things like "erl" instead of "oil." He was sent to a speech therapist to work on his pronunciation.
"It wasn't a speech impediment. If it was a speech impediment, you should just gather up all of East Harlem because that's the way we all talked," he said.
Not only did Poussaint overcome these biases, he excelled, doing so well at Stuyvesant that he was accepted to Columbia University upon high school graduation. Few people—black or white—easily achieved that in the early 1950s.
According to a 1993 National Center for Education Statistics report detailing more than a century of progress in U.S. education, in 1940 "more than half of the U.S. population had completed no more than an eighth-grade education. Only 6 percent of males and 4 percent of females had completed four years of college." Even by 1960, the report says, "42 percent of males, 25 years old and over, still had completed no more than the eighth grade."
Poussaint's achievement was all the more remarkable given the conditions he was contending with at home; he shared a room with his older brother Kenny, a heroin addict.
"He was in and out of jail, and I mean it became like a tragic novel or something. He would go to jail, and I would get an award for academic work. It was bizarre. He at times tried to disrupt my studying, things like that," Poussaint said. "I would hold back.… We were roommates so I would never put on the wall any award I got because I knew it would upset him in some way."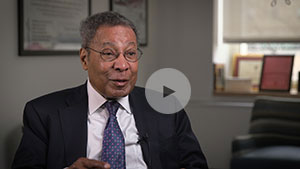 The situation was so intense that Poussaint hesitated on deciding whether to go to Columbia. If he attended that university, he would have to commute across town to attend classes while continuing to live at home and sharing a room with Kenny.
"I saw so much violence," he recalled. "I saw overdoses on the street. I didn't understand how someone wanted to be a heroin addict because they would shoot up and then pass out."
Poussaint longed for nothing more than to get away.
"The more I saw people shoot up or get into fights and stompings and gang stuff, the more I felt I had to get away from it all. It was a motivator to get out of the neighborhood," he said.
But for a black student in the conservative 1950s, Columbia University was an uneasy place. Poussaint said he thinks he was one of only about five black students out of 600 or 700 students who were enrolled. Many of those students, he said, were "not so progressive." He had to be careful not to sit next to white women when in the cafeteria or the library. Sometimes, when he did find a seat, white students would get up and leave.
Poussaint recalled that it was "kind of taboo or forbidden to socialize" with white students outside of classes. He spent time just trying to figure out where he was allowed to go and what he was allowed to do, knowing that "there were lines that you didn't cross."
He was a member of the school's marching band and recalls a game where Columbia played the U.S. Naval Academy. The viewing stands were segregated, and black fans had to stand at the goal posts to watch the game, he said. His bandmates, however, got him special permission to play with them in the stands. Even so, other white classmates would disinvite him from coming to their homes for dinner when their parents learned he was black, he said.
"Those things hurt," said Poussaint, "but that's the way things were structured, so it didn't come as a surprise."
The hurt, however, led to activism. Poussaint joined the NAACP and began learning more about the nascent civil rights movement.
Poussaint doesn't believe it was any unusually strong well of self-esteem that carried him through Columbia. In fact, there were many days he worked hard to prove that he was worthy.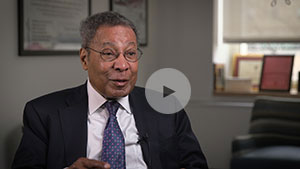 "There was a sense of trying to prove yourself constantly, that you were OK and that you were smart and you were a nice person, that type of thing," he said. "I became resilient, I think, because … I was a good student. That gave me a sense of power, that I could overcome," Poussaint said.
Poussaint further attributes his resilience in the face of overt bigotry to his family, his teachers and the Catholicism of his youth. His parents were always supportive of education and his aspirations, and the academic recognition he received was a potent spur. When, at his graduation from Stuyvesant, he received the award for creative writing, "It blew my mind," he said. "That was the best award that I ever had."
Room, board and an MD
After earning a bachelor's degree at Columbia, Poussaint fervently wanted to get out of New York City—and the shared bedroom at home. His feelings on this were so strong that he nearly rejected the idea of applying to Cornell University Medical College, fearing that if he attended another New York school he would have to continue rooming with his difficult sibling.
But a Columbia premed advisor suggested he apply to Cornell, and Cornell made Poussaint an irresistible offer: a full scholarship, which included room and board. He accepted, becoming the only African-American student admitted to Cornell's medical school that year, he said. Once there, he thought, he might forge a path for others to follow.
"I did see myself opening doors, being the exception. I always thought that by opening doors, and if I was acceptable, that this would make people less prejudiced. Again, faulty thinking, but that's what I thought," he said.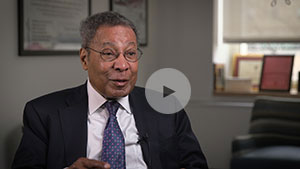 It was 1956, and in many ways, Cornell was Columbia all over again, with professors who resented having him in their classes and students who refused to sit at the same tables with him. There were a few students who would hang with him, Poussaint said, and others who wouldn't. It was a "mixed bag."
Poussaint said he kept a low-key, nonthreatening profile and tried to fit in. With the exception of a few mentors who helped him, "I felt that they didn't bring me into the fold, the school didn't."
But it was here that Poussaint's focus began to sharpen as to the kind of medicine he would practice. He had entered medical school with an interest in becoming a pediatrician but found it "too painful" to be around sick children, watching them suffering or dying. He didn't want to feel that children were afraid of him because he wore a white coat.
"I gravitated toward internal medicine and then to neurology and to psychiatry. When I took my internship in internal medicine, I thought I would become a neurologist. The first paper I ever published with a co-author was in a neurology journal, not a psychiatry journal," he said.
His next step was residency at the University of California, Los Angeles (UCLA) where he hoped to pursue dual studies in neurology and psychiatry, but this idea proved to be ahead of its time. He was told he had to choose one or the other. He chose psychiatry, which he felt was as much a social science as a medical specialty, giving the field added appeal for him.
Even as he began to devote increasing focus to his career, there was still much to contend with on the streets of Los Angeles. California, as far as he could get from New York City at the time, was no progressive haven. At first, he was unable to even find lodging near the hospital. Landlords there appeared to have an unspoken agreement not to rent to blacks, Japanese or Hispanics. Although fellow trainees tried to outsmart the system by renting for him, the ploy never worked.
"When I showed up, people would direct me to the welfare hotel or welfare apartments. Low income housing.… I finally got an apartment in Westwood in a building that was for international students; it took in students of color from Africa and other countries," he said.
On the hospital wards, it could be just as challenging. There were doctors who did not want him assigned to their patients. There were patients who didn't want a black doctor. Some would call him names. One psychotic patient attacked him, knocking him out of his chair onto the floor and then throwing a ping-pong paddle at him.
"She was Southern and got assigned to me, which she thought was the deepest dark well she could have fallen into," he said. "She was trying to get rid of me."
But Poussaint prevailed. He developed a reputation as a good psychiatrist, doing research and getting published, a record of accomplishment that led to a position as chief resident at the UCLA Neuropsychiatric Institute, supervising some 40 trainees. Before leaving he had earned a master's degree in psychopharmacology.
"I was heading into a university-type academic career, and that's when I shifted," he said.
Civil rights movement
In 1965, Poussaint made a momentous decision, putting all he had worked for at risk for a greater cause. While mulling a list of career opportunities after he finished in Los Angeles, he received a phone call from Robert "Bob" Moses, a friend from Stuyvesant High. Moses, a leader of the Student Nonviolent Coordinating Committee (SNCC), had been fighting for voting rights in Mississippi.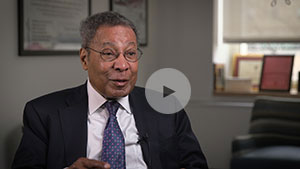 "This was after the three civil rights workers were murdered in Philadelphia, Mississippi," Poussaint recalled. "He called me and said, 'Can you come down and help us? We need help. Things are really shattered. The civil rights workers need help. We need help in desegregating the hospitals.'"
Moses asked if Poussaint would come down for a week. The Medical Committee for Human Rights needed physicians to work full time with them. Poussaint said he'd think about it.
A self-described idealist, Poussaint recalls being influenced as a teen by liberal high school friends, "Kids who were very radical, who were engaged in trying to change society and fight for human rights and civil rights." He decided to bring his intellect and abilities to the battle. He left for Jackson, Mississippi, in March 1965.
"It was all antebellum, if you know what I mean. It was like slavery had ended three months ago," he said.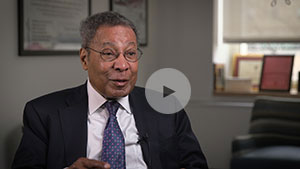 Poussaint spent a few weeks volunteering and then took part in the infamous Selma marches. When organizers asked him to stay on for a two-year commitment, he gave it long thought and then agreed.
"My psychiatric colleagues thought I had gone nuts. They were coming up with all kinds of things—that I had a death wish, I was suicidal … nothing about me being committed to human rights," he said.
But the civil rights protests in the South, although clearly dangerous, also sparked a spirit of hope and change in the country, he said, a belief that with enough determination things were going to get better, despite the resistance and the violence.
"That was a risk we were taking. I felt that if these 19-year-old college students could do it and take the risk, then I could take the risk in supporting them. So I did. There were plenty of times I was scared," he said.
He had good reason to be. The marches had been spurred by the killing of Jimmie Lee Jackson, a 26-year-old deacon who had been shot and killed by a state trooper during a peaceful march in Alabama; a Boston minister, James Reeb, had been beaten to death after marching peacefully earlier in the day; and Viola Liuzzo, another civil rights activist, was murdered by the Ku Klux Klan after transporting fellow activists to the Montgomery airport. During the marches, unarmed demonstrators were attacked by state troopers and men armed with billy clubs and tear gas.
Poussaint well understood the perils inherent in an area of the country where he said people sometimes disappeared on dark country roads, never to be seen again. On one occasion he was driving some associates to Mississippi from Chicago after they had attended a medical convention at which King had spoken.
"Some of the driving was going to be at night. One of the people I had to take back from the meeting was a white nurse. I said, 'I am not driving through the Delta with you being visible'" Poussaint remembered saying. "She had to get in the back seat of the car with a blanket over her head as I drove through the Delta of Mississippi back to Jackson, cause if they had seen her with us.… That's how you'd get killed."
Knowing that he was part of a mass movement for human rights, and sharing the experience with others who were as worried as he was, helped give all of them the fortitude to carry on, he said. Still, these were perilous years. As the southern field director of the medical committee, Poussaint said he had a high profile and was aware that he was under constant surveillance by state troopers at a time when lawmen might stop a black driver in Alabama for the innocuous offense of having Mississippi license plates.
"There was this NAACP leader in Hattiesburg, Mississippi, while I was there. They wired his car and blew him up. For weeks, I would not start my car without lifting the hood and looking for wires …" he said.
"I could really feel it when I was in Mississippi and Alabama, that a black life is not worth as much as a white life. And you knew that at any minute you could be knocked out, shot and no one would even be prosecuted. That's how worthless your life was."
Massachusetts, Boston and Harvard
But the beatings, threats and stress that threatened the lives of those in the civil rights movement, history has shown, were not endured in vain. Five months after the Selma to Montgomery marches, President Lyndon Johnson signed the Voting Rights Act of 1965, calling the right to vote "the most powerful instrument ever devised by man for breaking down injustice and destroying the terrible walls which imprison men because they are different from other men."
After two demanding years in Mississippi, Poussaint resumed his academic medical career, joining Tufts University Medical School as director of the psychiatry program in a low-income housing development in Boston. He planned to gain more experience as a psychiatrist before heading back to New York. But in Boston in the late 1960s, Poussaint faced the same bigotry he had at Columbia, Cornell and in the South: He was warned to stay out of South Boston and to avoid the North End if at all possible. The busing desegregation riots that erupted in the 1970s took the city's racist tendencies to ugly extremes.
The bigotry, Poussaint discovered, was not limited to Boston's city streets and neighborhoods. Even at Harvard, as an associate professor of psychiatry and an associate dean of student affairs, his efforts to diversify the medical school classrooms were met with resistance.
"You had some professors who didn't like what you were doing. I had a big Afro. That would scare people," he said. "And some would support it [admitting black students], but I had gotten used to not expecting 100 percent support on any of these things, because you were pushing people to change their attitudes and practices, or assumptions."
Some would tell him, "'You admitted 14 black students,'" he said. "And they felt there were not 14 black students in the country who deserved to be at Harvard. I mean, that's what they felt.… They would consistently use the word 'qualified' … 'We're willing to take qualified black people.' But the assumption was that [black candidates] weren't qualified."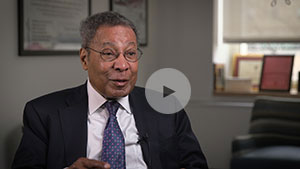 In the face of this, Poussaint saw that another part of his work would involve getting black students to believe in themselves. He encouraged them to form groups to support each other, but even that became an issue. Some faculty questioned why black students needed a separate black health organization, then suggested he was trying to resegregate the school.
Over time, however, progress was made. In 2018, of the 232 medical students admitted to HMS, nearly one-quarter were from groups underrepresented in medicine, and the majority, 58 percent, were female.
"If you take a look at just what's happened at Harvard Medical School, with underrepresented students, that's definitely progress. And at all the colleges around the country, the emphasis on [diversity] and the importance of it is a big change, I think, in the mentality of the country," Poussaint said. "There's disparities, but you see more black people, Latinos, in the corporate world. Not at the numbers that they should be, but they're there."
Poussaint did not limit his teaching, mentoring and integration efforts to the HMS Quad or its classrooms.
In 1965, Daniel Patrick Moynihan, then an assistant secretary in the U.S. Department of Labor, had issued a controversial report titled "The Negro Family" which released findings on black family life and described a crisis Moynihan called a "tangle of pathology."
To counter this negative stereotype, Poussaint co-authored books that had a focus on black children and families, such as "Raising Black Children," first published in 1975, and "Lay My Burden Down," published in 2000. He felt it was critical for families to lay the groundwork for productive lives when their children are young.
"I felt that parents are very key and very important in helping the kids in success and in being involved. So I wanted to reinforce that, particularly at a time when people were attacking the black family as pathological," he said.
Poussaint's work eventually drew wider attention, and invitations for media consultations soon followed. He was eventually asked by "The Cosby Show" to vet scripts and ensure that the writing and scenarios were reality-based, challenging the writers to be mindful of cruel or unnecessary stereotypes.
On one occasion he questioned why characters dressed as pirates in a Halloween scene had to have peg legs and eye patches, causing writers to rethink portrayals of the handicapped and disabled. The humor, he advised the writers, should never come from put-downs but from genuine human interactions.
In another instance, he called out writers on a script that had the family frying up pork chops, he said. They changed the dinner meal to a more healthful choice, grilled chicken. He insisted that any medical procedures on the show had to be portrayed correctly.
"I was influencing health, mental health and the physical health of millions and millions of people by doing that," he said.
It's work that Poussaint continued for the next quarter century at HMS. He has written more than 100 articles for lay and professional publications covering topics such as black suicide, interracial relations and prejudice, black-on-black homicide and racial issues in medicine, as well as examining the question of whether extreme racism is a mental illness.
As an acknowledged expert on race relations in America, he has served as a consultant for governments and private agencies. He is a distinguished life fellow of the American Psychiatric Association, a fellow of the American Association for the Advancement of Science, a life member of the American Academy of Child and Adolescent Psychiatry, and a member of the American Academy of Arts and Sciences.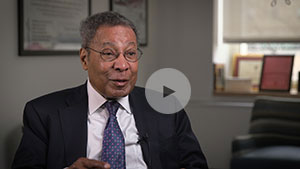 Poussaint is optimistic his work will continue long after he's gone. "I don't think they can go back," he said, explaining that diversity is too important to the future of medicine.
"It helps to bring more ideas to the table, more approaches, more perspectives. Which is important to the practice of medicine and the patient population," he said.
Poussaint sees great promise in the students entering HMS in recent years, many of them infused with a passion for social justice and equality, not unlike the passions that inspired him as a young physician. Over the decades he has mentored many, showing by his life's example what can be achieved despite formidable obstacles. His advice to students remains unchanged.
"The most important thing is, you let them know that they can overcome and that they shouldn't quit. That they should keep their nose to the grindstone and keep on pursuing what they should be pursuing," he said. "And that they have the talent to make it."
Image: John Soares