HMS Withdraws From U.S. News & World Report Rankings
Dean announces decision in letter to campus community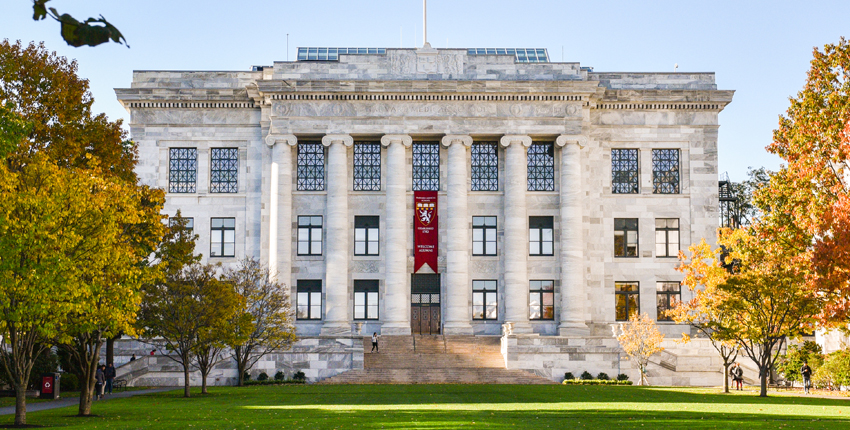 Gordon Hall. Image: Maya Rucinski-Szwec

Dear Members of the HMS and HSDM Community:
Following careful consideration and consultation with colleagues and stakeholders across Harvard Medical School and beyond, I write today to announce that HMS will no longer submit data to U.S. News & World Report (USNWR) to support their "best medical schools" survey and rankings.
Educational leaders have long criticized the methodology used by USNWR to assess and rank medical schools (see references below). However, my concerns and the perspectives I have heard from others are more philosophical than methodological, and rest on the principled belief that rankings cannot meaningfully reflect the high aspirations for educational excellence, graduate preparedness, and compassionate and equitable patient care that we strive to foster in our medical education programs.
As unintended consequences, rankings create perverse incentives for institutions to report misleading or inaccurate data, set policies to boost rankings rather than nobler objectives, or divert financial aid from students with financial need to high-scoring students with means in order to maximize ranking criteria. Ultimately, the suitability of any particular medical school for any given student is too complex, nuanced, and individualized to be served by a rigid ranked list, no matter the methodology.
I have contemplated this decision since becoming dean six years ago. The courageous and bold moves by my respected colleague Dean John Manning of Harvard Law School and those of peer law schools compelled me to act on behalf of Harvard Medical School. What matters most to me as dean, alumnus, and faculty member is not a #1 ranking, but the quality and richness of the educational experience we provide at Harvard Medical School that encourages personal growth and lifelong learning.
I recognize that prospective applicants have legitimate interests in evaluating attributes of our school. I also value transparency and accountability, which is why HMS will continue to publicly share key information on our admissions website. Comparable details for all U.S. medical schools, including HMS, are available in their raw, unweighted form via the Medical School Admission Requirements (MSAR) Reports for Applicants and Advisors, part of the Association of American Medical Colleges website. We trust these resources will prove valuable for students as they make thoughtful and meaningful decisions about which medical school is the best fit for them.

Sincerely,
George Q. Daley
Dean of the Faculty of Medicine
Harvard University
For Reference:
America's Best Medical Schools: A critique of the U.S. News & World Report Rankings
America's Best Medical Schools: A Renewed Critique of the U.S. News & World Report Rankings