Drawing Inspiration
André Churchwell celebrates creativity, diverse paths to excellence at annual Howard, Dorsey, Still Lecture and Diversity Awards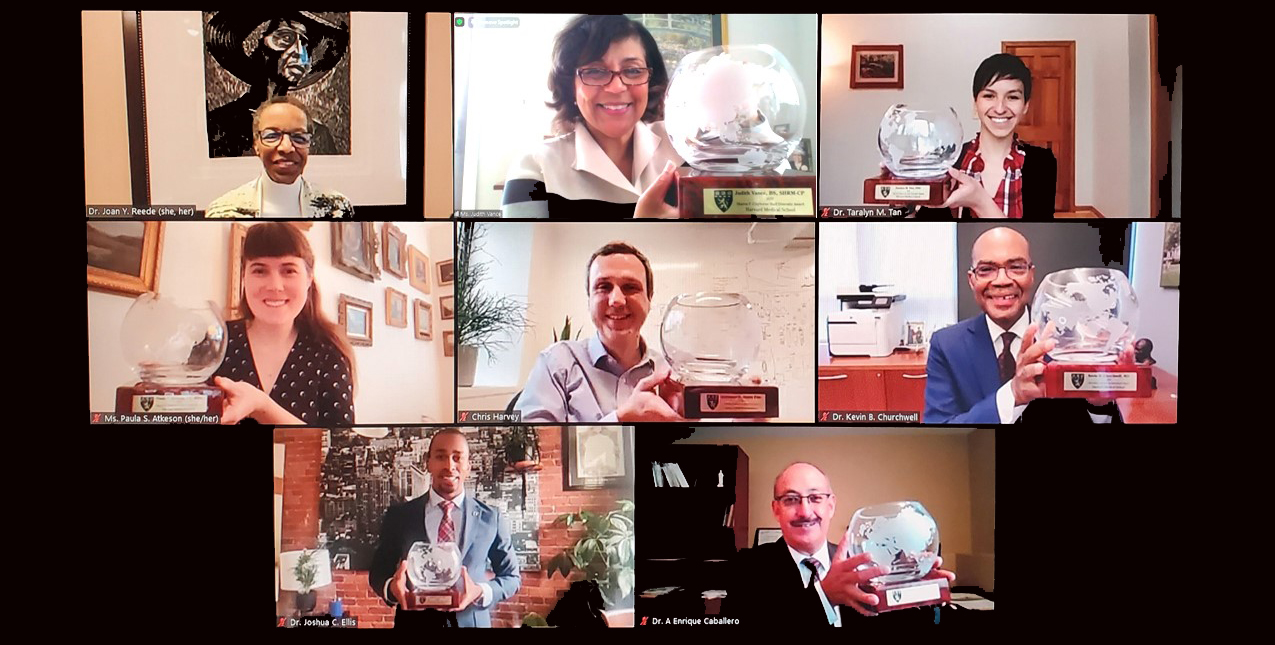 Joan Reede, Harvard Medical School dean for diversity and community partnership, celebrated with the recipients of the 2022 Harvard Medical School and Harvard School of Dental Medicine diversity awards. Image: HMS
Sketching fashion designs or creating superhero characters might seem like skills far removed from the world of cardiology and biomedical engineering, but André Churchwell, MD '79, believes that cultivating creativity and visual thinking has been crucial in many aspects of his work as a physician, researcher, administrator, and mentor.
Churchwell, Vanderbilt University's vice chancellor for equity, diversity and inclusion and chief diversity officer, and the 2022 Howard, Dorsey, Still Lecture and Diversity Awards ceremony keynote speaker, said that scientists and physicians can benefit from deepening skills in visual arts, writing, music, and other creative pursuits.
"Listen to the voices of creativity," Churchwell said, noting that while lifelong learning in medicine is crucial for physicians, it is also important for all people to engage in a lifelong commitment to exploring other skills and ways of thinking about and seeing the world.
Churchwell delivered his remarks on March 31 in an online presentation of the annual lecture and HMS/HSDM diversity awards.
The event and the awards honor the legacy of the first three African American graduates of Harvard Medical School: Edwin C. J. T. Howard and Thomas Graham Dorsey, both from the Class of 1869, and James Still, who graduated with honors in 1871.
Event speakers, including the award recipients, their nominators, and other leaders from across the Harvard medical, dental, and scientific community, said the event is an important opportunity to honor the award winners, to celebrate progress in building diversity inclusion and belonging in medicine and medical education since the time of Howard, Dorsey, and Still, and to reflect on how much more work remains to be done to create an environment that truly supports equity and diversity.
Churchwell, who recently shared his reflections on his time as a student at HMS with Harvard Medicine magazine, cited his own diverse set of role models and heroes, including comic book artist Jack Kirby, one of the creators of Marvel Comics, as well as the great fashion designers of 20th century menswear.
Within the world of science and medicine, Churchwell said, he also draws particular inspiration from creative polymaths, such as Leonardo da Vinci, whose everyday notebooks recorded a mind-boggling set of activities across the disciplines of architecture, engineering, anatomy, natural history, and fine art.
He also mentioned the late Thomas McMahon, a novelist and the Gordon McKay Professor of Applied Mechanics and professor of biology at Harvard, and the late Arthur Guyton, an HMS graduate who became a leading cardiovascular researcher and inventor.
Churchwell cited many examples of ways those individuals harnessed their artistic insights, visual problem-solving ability, and innate creativity to produce groundbreaking innovations in science, engineering, and medicine.
He added that he also has often found solutions to complex clinical and organizational challenges by drawing and mapping the connections between seemingly disparate elements of the task at hand.
Creating a welcoming culture
Joan Reede, HMS dean for diversity and community partnership, said this year's award winners represent the best of a community working to create a culture that is welcoming for all, where everyone can fulfill their potential to contribute.
Reede emphasized that diversity is not just about race or ethnicity, sex, gender, language culture, or economic groups.
"It's about all of us in one way or another," Reede said. "It's the richness of our diversity that brings us our strength. It's the richness of our diversity that makes us excellent."
Other speakers emphasized how important diversity is to ensuring excellence in service to community, in health equity, and in improving representation and performance across the many dimensions of medical education, research, leadership, and care delivery that are at the heart of the HMS mission, community values, and diversity statement.
HMS Dean George Q. Daley extended congratulations to the award recipients and emphasized the importance of diversity inclusion and belonging in his recorded remarks. Diversity in inclusion is not just a matter of achieving fairness, Daley said, but of ensuring inclusive excellence in all the core elements of the School's work: education, patient care, and research.
"Diversity inclusion and excellence go hand in hand. They are prerequisites for world leadership and essential for transforming culture, and we see that right here at HMS and HSDM," he said.
The 2022 Diversity Awards Recipients are:
Diversity Lifetime Achievement Award
Kevin Churchwell
President and CEO, Boston Children's Hospital
HMS Robert and Dana Smith Associate Professor of Anaesthesia
Harold Amos Faculty Award
Enrique Caballero
HMS Associate Professor of Medicine, Brigham and Women's Hospital
Faculty Director of International Innovation Programs, HMS Office for External Education
Joshua Ellis
HMS Instructor in Emergency Medicine, Beth Israel Deaconess Medical Center
Director of Recruitment, BIDMC Emergency Medicine Residency
Christopher Harvey
HMS Associate Professor of Neurobiology
Taralyn (Tari) Tan
HMS Lecturer on Neurobiology, HMS Program in Neuroscience
Director of Education in Neurobiology
Sharon P. Clayborne Staff Award
Paula Atkeson
Player Engagement and Outreach Project Coordinator
Football Players Health Study at Harvard University
HMS Clinical and Translational Science Center
Judith Vance
Director of Human Resources, Harvard School of Dental Medicine