Diversity Pioneer Tells Her Story
HMS alumna Shirley Marks to give Howard, Dorsey, Still Lecture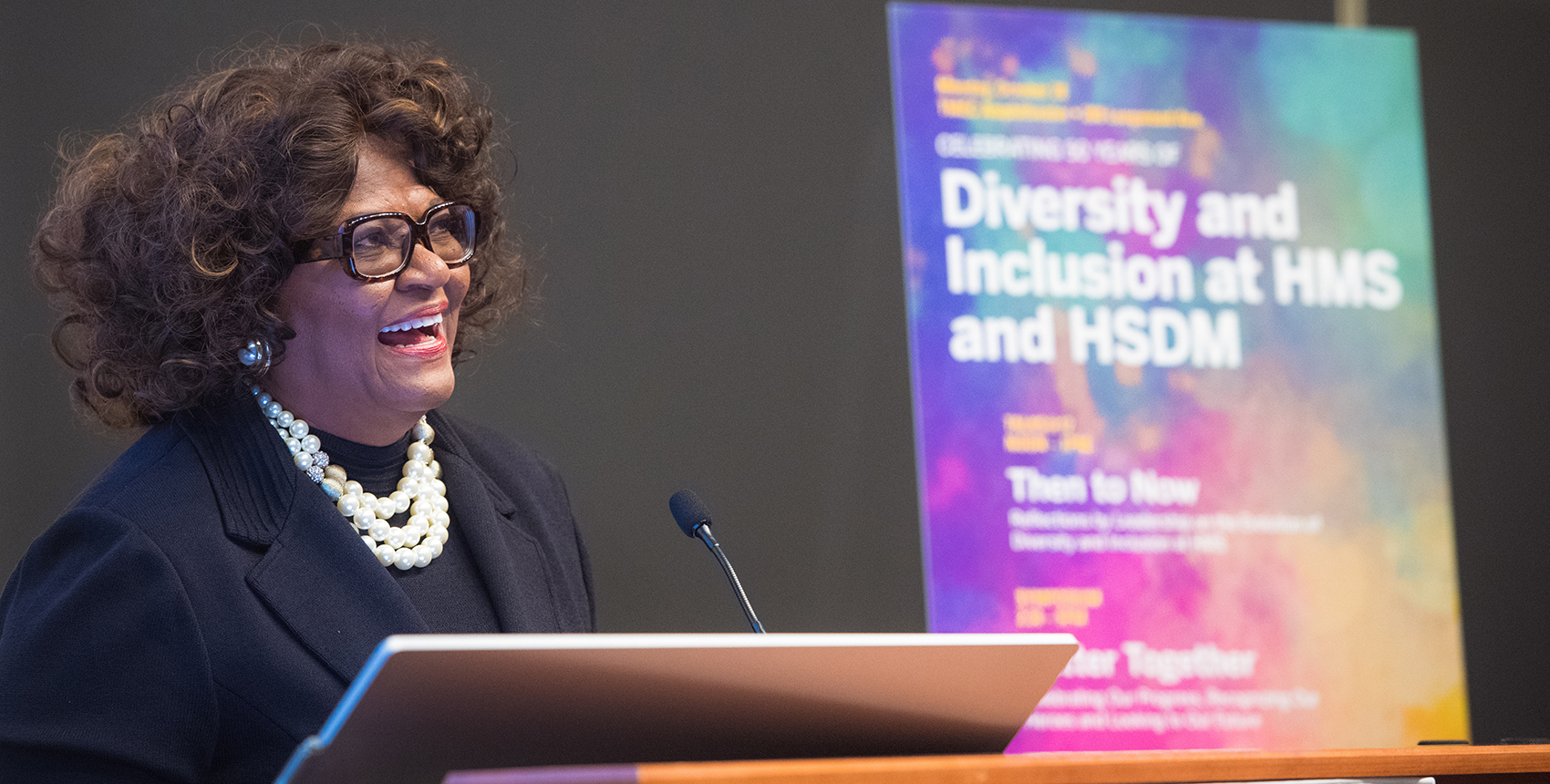 Shirley Marks speaking at a 2019 event marking the 50th anniversary of efforts to promote diversity and inclusion in the student body at HMS. Image: Gretchen Ertl
When Shirley Marks entered Harvard Medical School as a student in 1969, she was not only the first Black woman to be accepted to the School in decades — and only the second Black woman ever accepted — she was part of a broader, diverse cohort of students entering that year who changed the face of medicine.
"We made history," Marks recalled in a 2017 audio recording of recollections of her time as a student at HMS, produced as part of the Perspectives of Change exhibit. Developed by the Countway Library's Center for the History of Medicine and the HMS Office for Diversity Inclusion and Community Partnership, Perspectives of Change tells the story of civil rights, diversity, inclusion, and access to education at HMS and the Harvard School of Dental Medicine.
On March 28, Marks returns to campus deliver the 2023 Howard, Dorsey, Still Lecture, highlighting her remarkable personal and professional journey as a clinician, a leader, and advocate for health equity and educational inclusion.
The awards ceremony is scheduled to take place in the Minot Room in the Countway Library at 2 p.m. ET, with a hybrid option for people who wish to attend remotely.
Building diversity, inclusion, and belonging at Harvard
According to a 2019 report, before 1969, only 64 African American students had graduated from HMS, and there were even fewer students from Hispanic, Asian, Native American or other underrepresented groups who graduated from the School.
Since then, more than 1,350 physicians from minority backgrounds have received an MD from HMS, according to a 2019 report on 50 years of diversity and inclusion at HMS and the Harvard School of Dental Medicine.
Notably, the year Marks arrived, she recalled that she was one of 16 Black students to matriculate and one of 11 women in her entire class, which was about 10 percent of the total student body. Today, women typically make up more than half of each entering HMS class.
A career focused on equity and inclusion for all
After graduating HMS, Marks built a career as a psychiatrist who is "nationally recognized for her efforts to reduce the stigma associated with mental illness and for advocating parity in mental health treatment and access," according to the National Institutes of Health's Changing Faces of Health, which highlights the history of women's contributions to medicine.
She has also served in a variety of professional and student associations to promote more inclusive medical education and health care.
Lyme Wellness Initiative
Actionable information. Practical support.