Connecting Across Borders
HMX courses help prepare future doctors to work in both Mexico, U.S.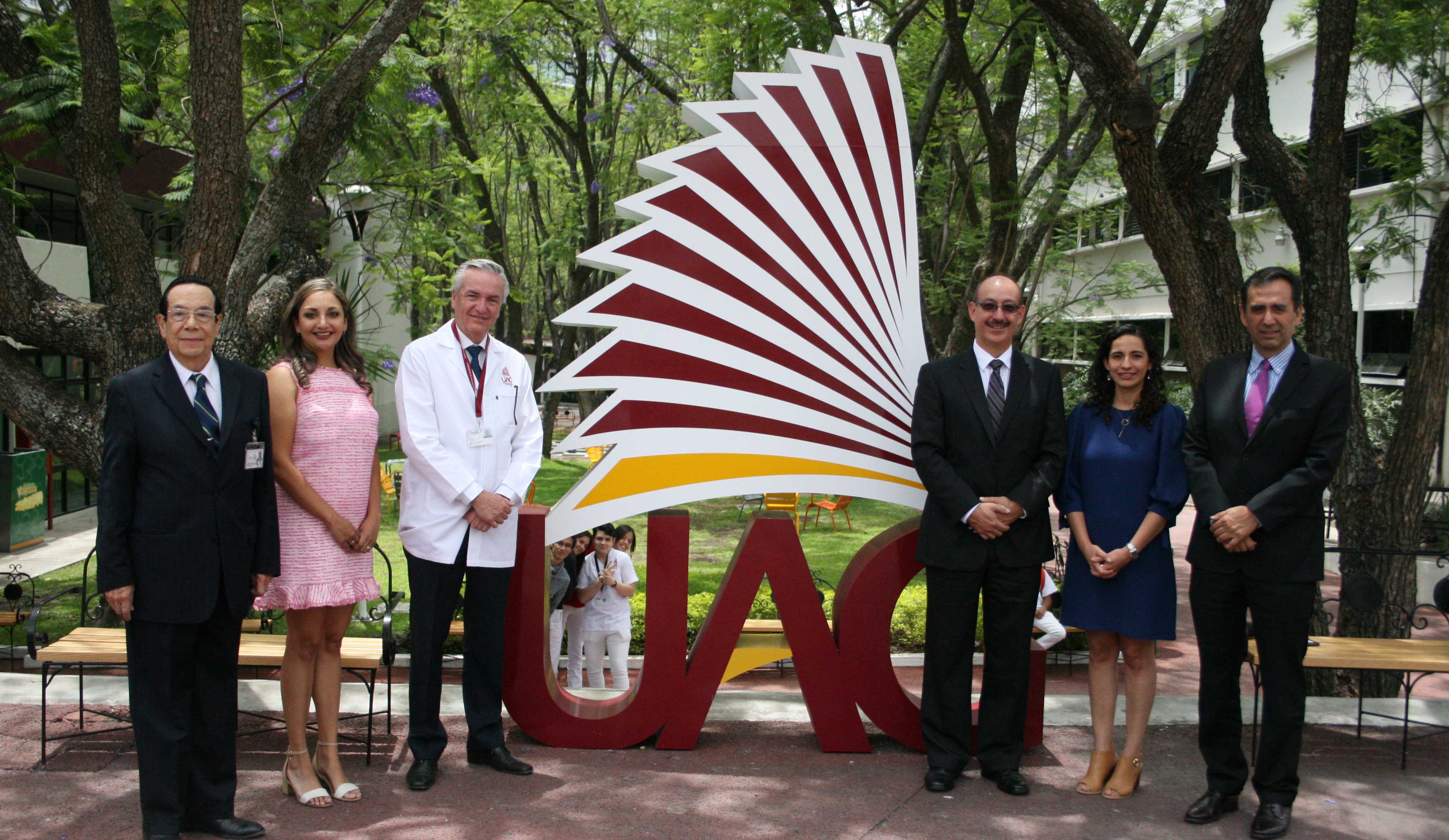 From left: Humberto García Ulloa, UAG, Ana Beatriz Meza Ontiveros, UAG, Alfonso Petersen Farah, UAG, Enrique Caballero, HMS, D. En C. María Guadalupe Zavala Cerna, UAG, Hugo de la Rosa Peña Loza, UAG
The Universidad Autónoma de Guadalajara (UAG) in Mexico has begun offering Harvard Medical School's HMX online courses to students in the UAG International Program of Medicine. This launch marks the start of a collaboration aimed at helping prepare future physicians who will be practicing in both Mexico and the United States.
UAG is offering all five HMX courses—biochemistry, genetics, immunology, physiology and pharmacology—to first-, second-, and third-semester students in its International Medicine Program. The goal is to help students acquire more in-depth knowledge of the basic sciences and then tie those concepts to clinical practice. UAG is the first institution in Latin America to offer all five courses to its students.
"We are excited to use HMX courses to inform and inspire medical students who will make a lasting impact on patients around the world," said David Roberts, HMS dean for external education and the Steven P. Simcox, Patrick A. Clifford and James H. Higby Associate Professor of Medicine. 
"We believe this material will greatly reinforce the teaching that we provide for our students, and will particularly impact their future professional success," said Alfonso Petersen Farah, vice president of health sciences at UAG.
Students in the UAG International Medicine Program hold bachelor's degrees from institutions in the United States, Mexico and other countries; all courses are conducted in English. The first two years of the program are completed on campus in Guadalajara. Students can then choose to complete the final two years in Mexico or in the U.S., with many graduates going on to practice medicine in the U.S.
In May, Augusto Enrique Caballero-Robles,  faculty director of international innovation programs in the HMS Office for External Education, visited Guadalajara to mark the collaboration and to deliver a lecture to students in the International Medicine Program. 
"This will be a unique educational experience, and one of great benefit for the students," said Caballero. "Irrespective of what their future will be, it is important to have a solid foundation. The use of these courses allows a greater integration of basic and clinical sciences." 
HMX online courses have been developed by an interdisciplinary team of HMS educators and creative professionals. The program features detailed animations and illustrations of key medical science topics, as well as case studies recorded in clinical settings at Harvard-affiliated hospitals that allow students to work through real-life applications of concepts. 
"We're building a unique learning experience around topics that are essential for students' future care of patients," said Michael Parker, associate dean for online learning and faculty director of HMX. "The addition of these courses to the UAG curriculum will give students a valuable perspective on how medicine is taught and applied in the U.S., preparing them for the next stage of their careers." 
HMX courses are currently offered to students at HMS and the Harvard School of Dental Medicine, as well as through institutional partnerships around the globe.